3 Do's And Don'ts Of Link Building Strategies 
As a business owner or digital marketer, you probably have come across different strategies to market your business. 
One of these may be ranking your business website higher on search engines to increase visibility and online authority. 
This is because more visibility results in more traffic and, subsequently, more conversions for your business. 
However, ranking on search engines can't be achieved overnight. Instead, it requires a series of strategies that should be well implemented over time before getting there.
Such strategies are referred to as search engine optimisation (SEO) and include link building, producing quality content, social media SEO , creating user-friendly websites, and similar practices. 
Some of these SEO strategies are easy to implement as they are straightforward. However, when it comes to link building, it's easy to get it wrong. 
It's because people may not consider the different  types of links for SEO strategies  to use for their content. 
Additionally, marketers can link to unrelated sites that don't add value to their ranking. 
The best practices in link building and what to avoid when applying this strategy are discussed below.
What 3 things to do when link building
Link building is more than what it seems and can have some complexities. So here are some tips for you to get the best results. 
1 – Produce quality and relevant content 
Asking blog owners or content creators to link your website on their resource pages could be a win-win situation for them and your site. 
But for this to happen, the content you provide should be valuable to their audience and worth linking to. (1)
One of the things to remember when creating content is to avoid making it promotional. 
If your content sounds like a sales pitch, publishers might not want to link to it. 
Also, your content should be comprehensive, evergreen, and relevant to the target audience. 
Making it niche-specific instead of generic would also make it more relevant and worth linking to. (1)
2 – Look for quick-win link building strategies
You can employ link building strategies that would require little effort but would offer you high rewards. 
First, find quick-win links by looking for broken outbound links from relevant sources, recreating their dead content, and then asking them to link to your recreated content instead. (2)
Second, turn unlinked brand mentions into links. Unlinked brand mention happens when a particular resource mentions your brand for any reason but doesn't link to your site. 
What you can do is ask them to hyperlink your brand mention or create a natural anchor text and link it to a relevant piece to your site. (2)
Third, look for supplier links, which means  getting relevant links  from your list of suppliers or manufacturers. 
Check their websites or blogs to see if they're linking to retailers, and if they are, find out if you're included. 
If you're not, ask them to mention your brand or use a natural anchor text, which they can link back to your website. This way, your business can get quick-win links from your suppliers. (2)
When looking for links, check pages that are relevant and authoritative. These sites include reputable organisations, publications, government websites, and educational sites. 
When you gain links from these authoritative sites, your links will carry more quality. Therefore, the audience will likely click through the links to your websites. (1) (3)
Additionally, it would help if you looked for pages that have high authority in your niche. 
High-ranking websites mean potential high traffic to your website. However, even if the pages aren't highly authoritative but still relevant to your company, they're worth getting links from. (1)
What 3 things to avoid when link building 
When link building, you can easily make mistakes, which may backfire on you. Therefore, be aware of what to avoid to refrain from committing mistakes. 
Here's a list of what not to do when building links. 
1 – Don't only link to the homepage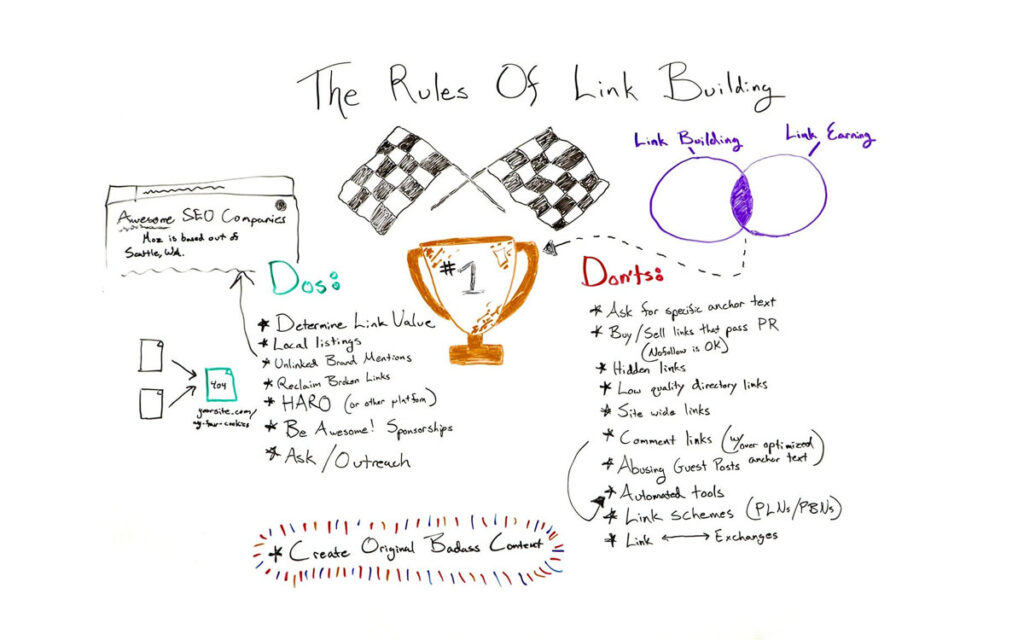 Knowing what pages to link to is vital in your link building strategies. However, people make the mistake of linking only to the homepage. This practice isn't entirely wrong. 
Especially if someone is writing about your brand, naturally, they'll link to your homepage as it provides all the required information about your brand. 
However, if all the links you receive are only to your homepage, this would look spammy and won't provide specific information about your content, products, or services. (4)
So if someone is writing about your products, the right page to link to is your product page. 
On the other hand, if they're writing about news or information about your company, this should naturally be linked to a news page or blog. 
You can close deals faster and get better conversions by getting the links to your specific pages instead of your homepage only. (4)
2 – Don't trade links that lead to spamming
While  exchanging links  may be okay to get links from high authority sites, you should avoid spamming. 
Trading links happens when you exchange links with any website that agrees to carry your link. 
In some cases, the websites may not be related to your company or niche. Therefore, it wouldn't enhance your SEO value. (5)
When trading links, it's important to prioritise quality over quantity. 
One high-ranking resource with a link to your website can have better SEO value than several low-ranking websites with low traffic. 
3 – Don't buy specific links 
While it's not recommended to buy bulk links from companies that promise to give your website higher rankings faster, you shouldn't also pay for one link from a specific company. 
When a company sells one link to you, it can also sell more links to other websites. 
Also, while buying one link may not possibly send warnings to search engines, if these questionable links increase on a particular website, there's a possibility they would be tracked by search engines, hence attracting penalties. (4)
Conclusion 
Link building strategies are crucial to SEO as it ensures that relevant and high-authority resources carry links to your website. 
However, there's no guarantee that your link building strategies will work as you could make mistakes down the road. 
Therefore, try to familiarise yourself with the best practices and avoid them, as discussed in this article. 
That way, you can get the best out of your link building strategies.