6 Best Steps to Build a Productive Workplace at Home
Ever since the COVID-19 outbreak, working from a home office has become the new normal. 
And many people are delighted about saving commute time and working from a more comfortable space. 
Understandably, employees request staying at home even after the quarantine.
Remote workers save 2–5.5 hours a day without commuting and in-person meetings Not only are people working from home more productive, but they also spend less of their day on work-related tasks. – RescueTime
But while working from home has indeed brought us more convenience, companies and staff members are also facing new challenges. 
And here's the main issue: employees who work from home online can develop problems with productivity. 
Someone who was able to handle multiple tasks in a busy office environment now can struggle to meet deadlines from the comfort of the home. 
Habits and activities that would be impossible to indulge in at an office could quickly become great time-consumers at home. 
A productive employee who only enjoyed playing Viking Runecraft on lunch breaks can now start spending several hours on online games and forget the work-related responsibilities. 
The biggest distraction from working at home is social media. Nearly one-third of respondents – even many of those with children – reported social media was their biggest distraction, devoting nearly two hours to it. – ZDNet
So, what's the solution?  
Not allowing people to work from home on full-time jobs? Not necessarily. 
This article will discuss the six best steps to build a more productive workplace at home. 
Let's get started. 
1 – Work From Home Without Changing Your Routine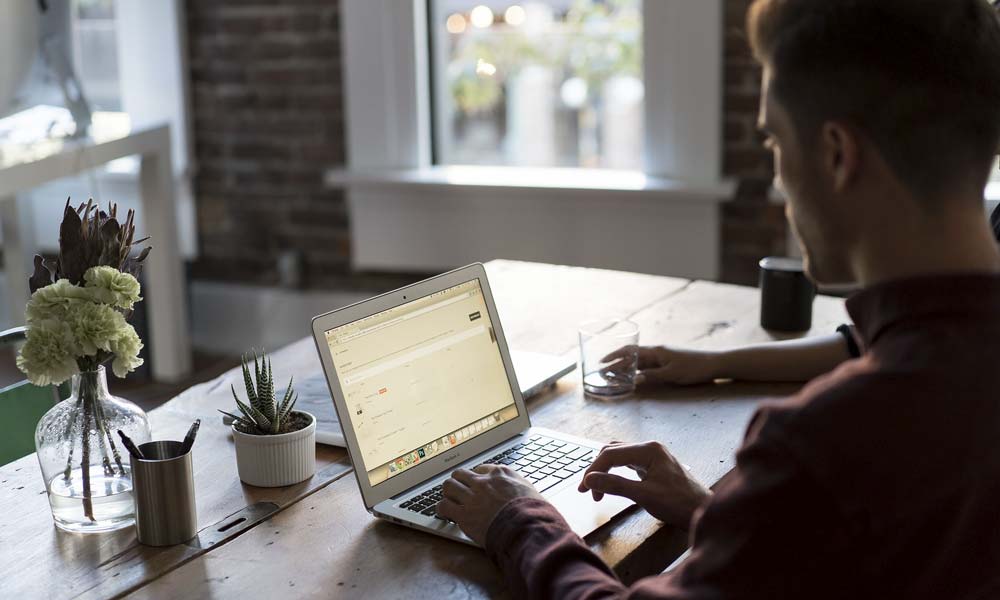 If you work, eat, and sleep at the same place, it's easy to start performing less (or more) than you usually would. 
A smart way to avoid this is to organise your day to resemble the usual office routine. 
No matter if you work from home sporadically, a few days a week or all the time, you'll need to plan out your daily schedule.
Firstly,  you can wake up at the same time  as  usual . 
Then brush your teeth, take a shower, and even get dressed, like you always do. 
Replicating an ordinary working day will get you focused on everything that needs to be achieved. 
We usually don't notice it, but a routine is essential in getting our work done efficiently. 
A balance between work and leisure time makes us more productive in our tasks. 
Hatch Restore - Sound Machine, Smart Light, Personal Sleep Routine, Bedside Reading Light, Wind Down Content and Sunrise Alarm Clock for Gentle Wake Up
Sleep better: Personalize a sleep-wake routine to help you fall asleep, stay asleep & wake up refreshed.
Wake up naturally: Gently wake to a custom Sunrise Alarm Clock that supports healthy cortisol levels.
Sounds + lights + more: Create a mood any time with a library of soothing sounds, white noise & lights at your fingertips. Relax with a soft-glow reading light without the eye-straining blue hues.
Relax your mind: Enjoy soothing content to help you wind down and prepare your mind & body for sleep. Includes free trial of Hatch Sleep Membership — an optional in-app subscription that gives you unlimited access to an ever-growing library of new content such as meditations, sleep stories, soundscapes & more. (Subscription sold separately)
Control via app or touch: Control with soft-touch buttons on the device, or use the free companion app for iOS (iOS 14 or higher) or Android (Marshmallow or higher). Device requires Wi-Fi and Bluetooth.
Sure, it would be nice to spend a few extra hours in bed, but  sleeping too much  can throw you off balance and reduce productivity. 
Another reason why not to change the routine, which must be among your work from home guidelines is that it helps with team productivity. 
When you need to communicate with clients and colleagues, the regular working hours help keep everyone on the same page. 
It would be impossible to hold effective virtual staff meetings if everyone checked in at different times.  
And don't forget to put regular breaks into your schedule. 
Believe it or not, but people who work without a pause are much less productive than those who take frequent brakes. 
Successful companies are always encouraging their employees to take moments to relax. 
What counts is the amount of work that gets done. 
2 – Keep the Workspace Separated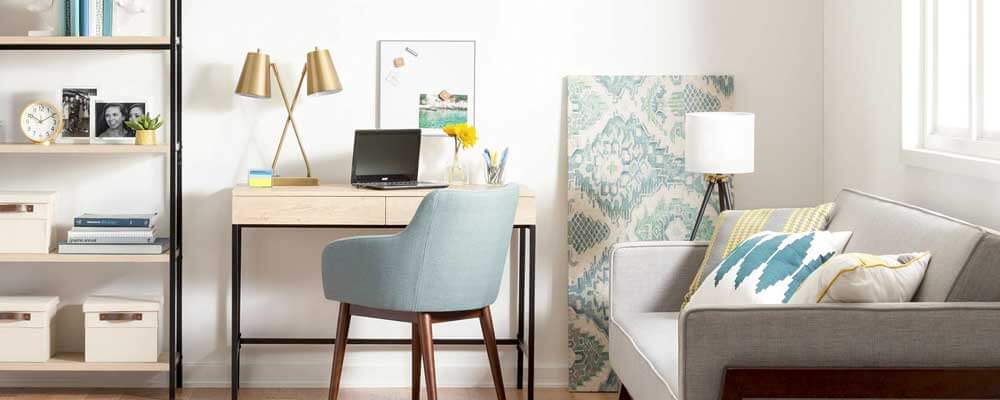 One of the main reasons why work from home during COVID-19 becomes less productive is that the personal and work time gets mixed. 
Having a designated productive workplace at home gives you a place to "commute" to every day. 
This makes you psychologically ready to complete the tasks. 
Location, Location, Location Try to find yourself a dedicated and comfortable spot to work that you can associate with your job and leave when you're off the clock that means get off the couch, and definitely out of bed. "It definitely helps if you have a dedicated space for working from home," says remote worker Matt Haughey, creator of the long-running community weblog MetaFilter, and writer for Slack. "I started doing this kind of work sitting at a desk in the middle of my living room of a small San Francisco apartment 20 years ago, and it was a pain to stay on task and not get interrupted." Since then, Haughey has set up a dedicated home office where he can close the door and shut out distractions. – Time  
Having an extra bedroom to convert into an office would be ideal. 
But honestly, you can work from home wherever possible. 
Even a separate dining room corner with a desk and a laptop are enough. 
Sale
Laptop Stand Adjustable Laptop Computer Stand Multi-Angle Stand Phone Stand Portable Foldable Laptop Riser Notebook Holder Stand Compatible for 10 to 17" Laptops
Adjustable - Eight heights can be freely adjusted from 5.5inch to 7.0inch. You can straighten your waist and relieve cervical and neck fatigue, feel comfortable to work.
Durable - Made of lightweight ABS with non-slip rubber surface pads to keep laptop in place, strong and reliable, not easy to fade. Compatible with all laptops 10-15.6", durable enough to support up to 44 lbs (20kg).
Portable - Foldable and easy to place. Convenient to carry and use at home, the office or somewhere else.
360° Rotatable - The bottom design has a turntable, easy to rotate the computer and share with others. The mobile phone bracket is designed on the side, easy for placement and viewing.
Hollow design - Reduce the contact area with the desktop, which provides a cavity and is more conducive to heat dissipation.
Just try to avoid the temptation to do your business from the bed or couch. 
Too much comfort can become distracting. 
Work from home during the COVID-19 pandemic means that either your spouse, children, or flatmates are sharing the space with you. 
It's up to you to let everyone know that you're at work. You can even hang a curtain around the workspace . 
3 – Eliminate Distractions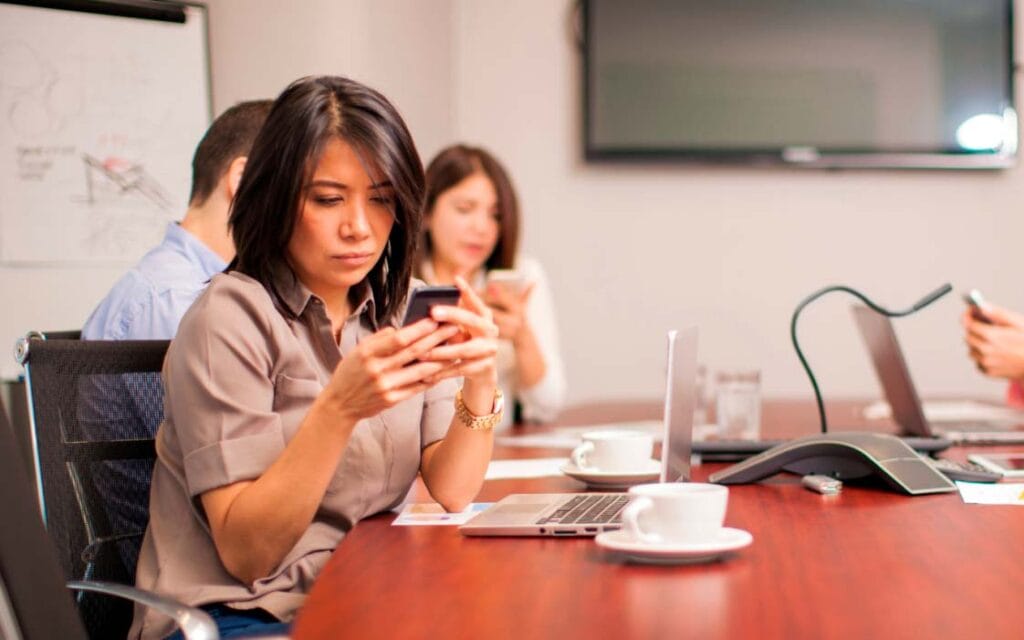 People who get easily distracted may find working from home on full-time jobs extra challenging. 
It can be tempting to start doing the dishes or vacuuming the living room floor in-between tasks. 
But look, a few minutes of household chores can quickly turn into a few hours. 
Before you know it, you have fallen hopelessly behind on your assignments. 
Here's how to avoid this situation: set aside some time for all the chores. 
Schedule dedicated time for focused work Working from home also comes with its own set of unique interruptions and distractions. Studies have found that an hour of deeply focused work can be up to 500% more productive than when you're interrupted or multitasking. – RescueTime
Only start handling your home responsibilities after the workday is over. 
You may be wondering how to handle distracting children and roommates? 
It's simple. You need to set your  work from home rules . 
Your family can assume that since you're somewhere in the house, you're not working. 
It's up to you to let everybody know that you don't want to be disturbed during your working hours. 
And the sooner you set the boundaries, the better. This avoids any unnecessary conflicts later. 
If you're working in a spare room, you can put a sign that says "working" on your door. 
And ask everybody to address you like they would in an office. 
However, it's not always easy for your family to adapt to the new situation. 
They may be tempted to ask you to run some errands. 
Try not to take on responsibilities you would refuse to do in an office. 
But when it comes to distractions like attention-seeking pets and noises from outside, it's not always possible to cut them off. 
Luckily, work from home accessories like noise-cancelling headphones can help you out. 
Anker Soundcore Life Q20 Hybrid Active Noise Cancelling Headphones, Wireless Over Ear Bluetooth Headphones, 40H Playtime, Hi-Res Audio, Deep Bass, Memory Foam Ear Cups, for Travel, Home Office
Incredible Sound Loved by 20 Million+ People
Hi-Res Audio: Custom oversized 40 mm dynamic drivers produce Hi-Res sound. Life Q20 active noise canceling headphones reproduce music with extended high frequencies that reach up to 40 kHz for extraordinary clarity and detail.
Reduce Ambient Noises By Up to 90%: Our team of engineers conducted more than 100,000 tests in real-life scenarios to fine-tune Life Q20's 4 built-in ANC microphones and digital active noise cancellation algorithm. As a result, the hybrid active noise cancellation can detect and cancel out a wider range of low and mid-frequency noises such as cars and airplane engines.
100% Stronger Bass: Our exclusive BassUp technology conducts real-time analysis of the low frequencies to instantly strengthen the bass output. Double press the play button when listening to bass-heavy genres like EDM and hip-hop for an amplified listening experience.
40-Hour Playtime*: Up to 40 hours of non-stop playtime in wireless active noise cancellation mode (at 60% volume) is extended to an enormous 60 hours in standard music mode. A single charge gives you enough juice to listen to over 600 songs or soundtrack multiple long haul flights. And when you're in a rush, charge Life Q20 active noise canceling headphones for 5 minutes and get 4 hours of listening.
They're great to reduce noisy distractions and make you focused. 
They can be a bit pricey, but the investment is well worth it because it increases your productivity.
4 – Don't Let Your Productive Workplace Get Messy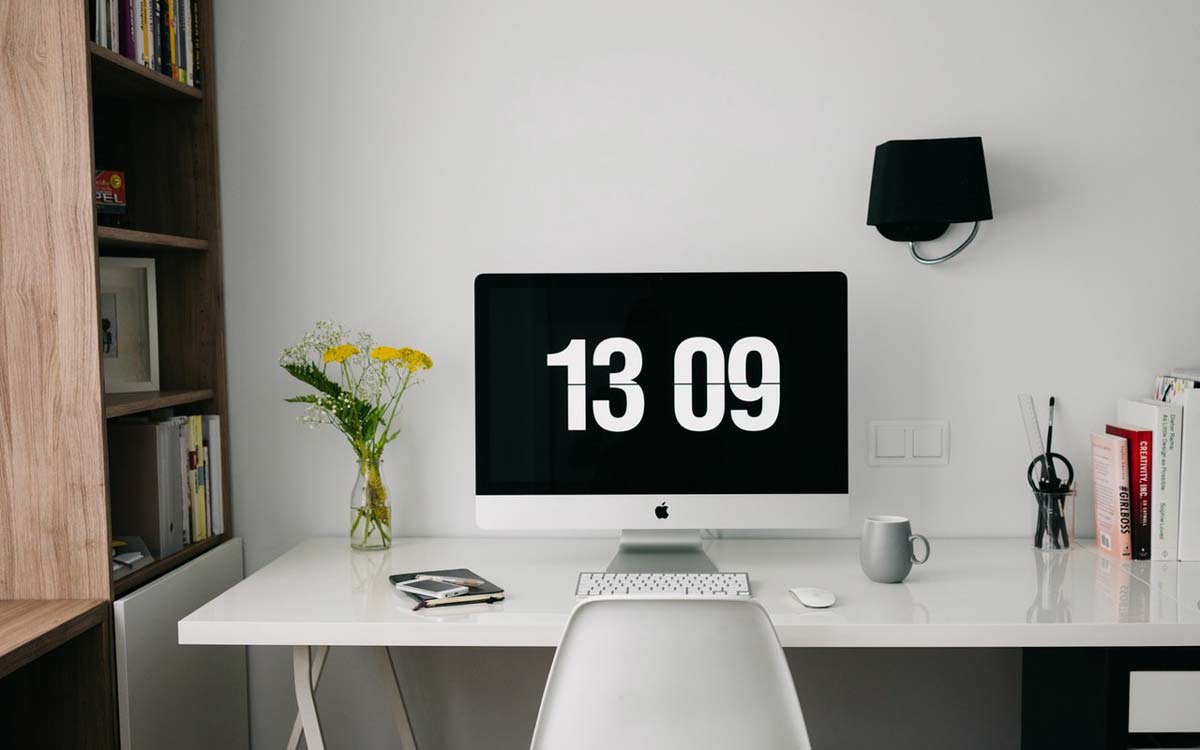 Sitting in a messy area can become quite distracting. 
If you haven't taken the time to tidy your place up, you can find yourself torn between wanting to work and to clean. 
You can avoid this easily by giving yourself a few minutes every day to dust and wipe your workspace. 
It's best to do this after the workday is over so that you wouldn't waste time in the morning. 
After work, "go home" (even if you're home) "When I stop working, I clear my desk, turn off my computer and 'go home' by changing my clothes and leaving the office for the evening," says Phil La Duke, a remote global business consultant and author. "There is a real danger of working yourself to the point of fatigue and one way of transitioning from work life to home life is to change the atmosphere. – NBCNews
In addition to cleaning, you should organise everything in ways that help you work efficiently. 
Remove all the items that you wouldn't usually keep at an office workplace. 
However, it may be tempting to personalise it and put your pencils, documents, charts, and books so that you can quickly find them. 
Even though personalising the space is a great way to build an emotional connection with the work, watch out for cluttering the desk. 
The best personal items are those that motivate you to stay productive. 
It can be a photo of your family, for example.
5 – Try Not to Forget Your Co-Workers
Not being able to see your colleagues face-to-face doesn't mean you should stop communicating with them. 
Approximately 29% of telecommuting respondents said they had a hard time maintaining a healthy work-life balance. – BusinessNewsDaily
Because here's the thing: frequent virtual meetings are essential to ensure the whole team stays in a productive workplace. 
Sure, a 15-minute session with colleagues may seem like a lot for every morning. 
But keeping each other updated on the previous day's achievements is essential to make adequate plans for the current day. 
What's more, seeing each other regularly gives you all an opportunity to cooperate and join your efforts for more difficult tasks. 
One thing everybody still needs when working from home is advice from more experienced co-workers. 
6 – Technology Is Your Friend
Another reason you should stay in touch with your team is that it's just super simple with today's technology. 
You can use Google Hangouts or Skype for video-calls, share documents through Google Docs, or even share screens via WebEx. 
The best part is that most of these applications are available free of charge. 
When working from home, questions that need a quick answer are often left unasked. 
With the right technology, it doesn't have to be this way. 
According to the report, in addition to Web and videoconferencing tools, 12 per cent of workers are using online collaboration and document sharing tools such as Slack, Salesforce Quip, or Google Docs. – ZDNet
Keeping a Skype conversation open during working hours prevents anyone from getting stuck. 
And this can boost your whole team's productivity.
Conclusion
Working from home doesn't have to be less productive workplace than an office routine. 
If you keep the same working hours and find ways to work without getting side-tracked by distractions, your productivity levels can remain high. 
And thanks to modern technology, you can easily keep in touch with your colleagues every day. 
Team managers don't even have to skip the regular morning briefs. 
When you work from home, health and safety issues become secondary because they're usually already pretty well handled in everyone's homes. 
So, both employers and employees should take this experience as a fun challenge.
According to researchers, the average remote worker saved more than $4,500 on yearly fuel costs. – BusinessNewsDaily
What did you think of our work from home ideas to boost productivity? 
Do you have a secret tip of your own that helps you complete all the tasks while staying self-isolated? 
Let us know in the comments section. We'd love to learn a new hack from you in your productive workplace.
Author's Bio:  Ellen Royce is a dedicated online entrepreneur who believes in helping others using informative articles. Ellen has over 15 years of experience working with different online platforms and helping them transform their business models. During these challenging times, Ellen understands that working from home is a necessity for most workers.
Last update on 2022-09-20 / Affiliate links / Images from Amazon Product Advertising API