Restaurant Logo Design Tips – a Branding Guide for Restaurants
It is almost impossible to find a place on Earth without a whole bunch of restaurants.
As a matter of fact, each provincial town or village has at least a few diners or bars where you can order a meal.
According to some studies, there are more than 15 million restaurants and cafes in the world.
In other words, we have one outlet per 500 people worldwide.
It is a considerable number, which means that competition in the food and beverages industry is severe.
If you want to develop profitable business with so many different restaurants all around, you need to establish a  solid restaurant logo design .
In this article, we will show you how to design your effective restaurant branding .
8 Tips for Superstar Restaurant Logo Design and Branding
The most successful restaurants in the world build a reputation by making tasty food and providing customers with the best service.
However, this is only one side of the coin because it takes a lot more to establish your place as an industry leader .
Namely, it is becoming increasingly difficult to stand out from the crowd of competitors without a good restaurant branding strategy.
If you are hoping for the long-term success of your outlet, you need to make it a superstar brand.
We will show you eight tips how to achieve it.
If you are new to the entire logo design process and wish to create the best possible branding identity for yourself, here's a basic logo design guide catered for restaurant businesses: A good restaurant logo design should be able to effectively communicate the restaurant's purpose and message to others at a single glance.  (medium.com)
1 – Start with a plan
Expert designers at Rushmyessay UK claim that the most significant mistake that restaurant owners make is entering the branding procedure without the corresponding plan.
You should avoid this mistake at all costs and pay attention to elements that contribute to the overall notion of your brand identity .
Here is the list of factors that influence the restaurant branding strategy:
A – Food type
Branding often relies on food elements, so think about the type of meals you offer.
Do you prefer vegetarian, red meat, sea fruits, or pizza?
You might find branding ideas here.
B – Restaurant style
Is it a luxurious dining restaurant, a casual place, or a barbecue-type outlet?
C – Nationality
Customers can recognise national cuisine at a glance, so don't be afraid of emphasising this aspect of the business.
D – Chef
If you have a superstar chef, perhaps you could build the brand around them.
E – Target group
Who are your target clients?
Would you like to attract high school kids or middle-aged family people?
F – Pricing
Are your consumers wealthy and classy or casual with average purchasing power?
Branding should reveal what to expect regarding prices, too.
2 – Choose a unique name
First of all, the name of your restaurant should reflect all of the elements that we just mentioned.
For instance, Pizza Hut says it all – you go there to eat pizza in the casual atmosphere, not spending too much money on your meal.
However, you should keep in mind that the name has to be unique.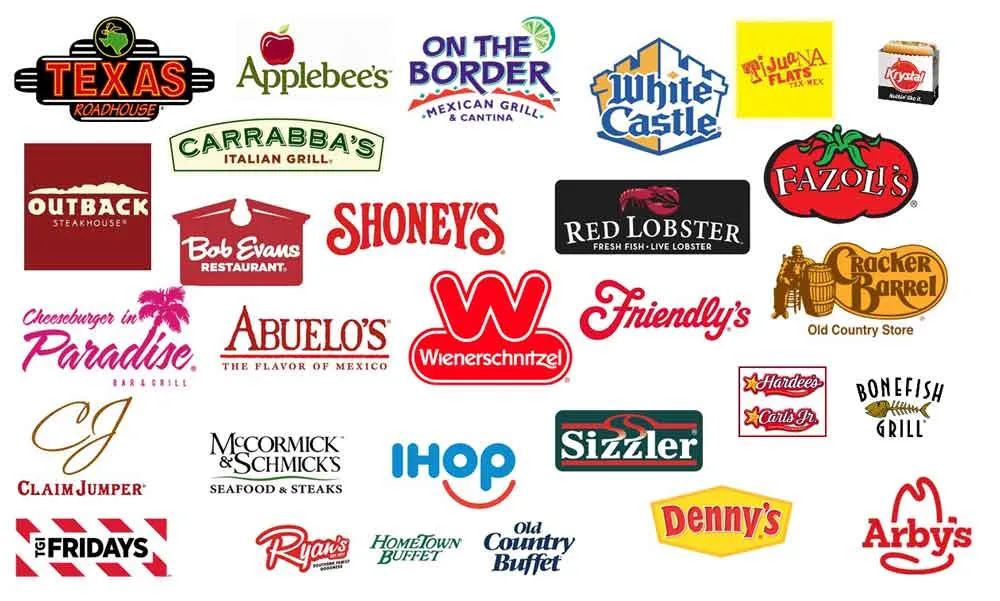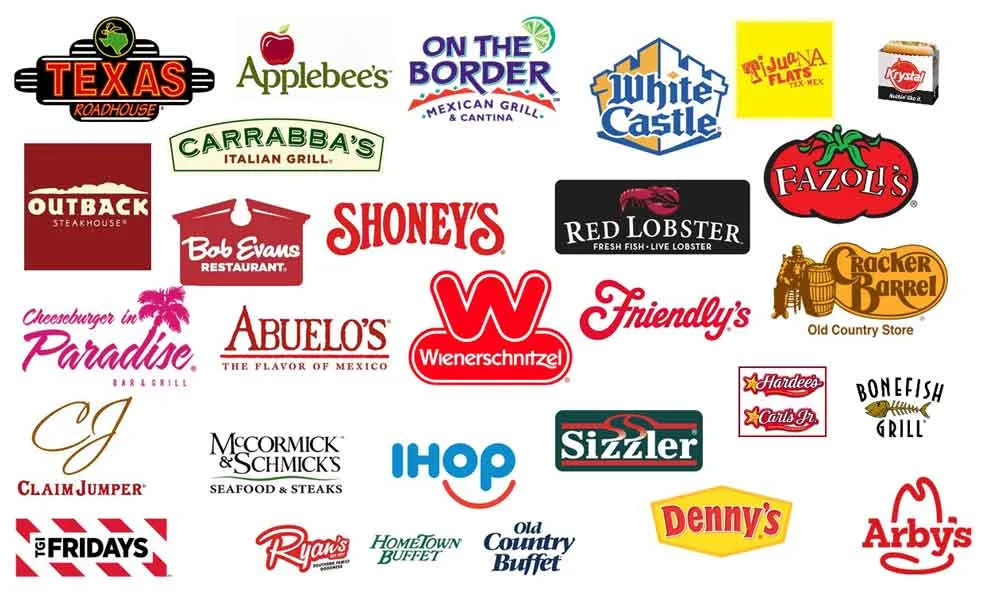 Always conduct Google search before picking a name for your business .
You do not want to steal someone else's brand name, but you also need to protect your franchise, so be careful about the name you choose.
3 – Mind the colours
Colours are one of the essential elements of restaurant logo design and branding .
Although it seems irrelevant to average consumers, colours make a significant impact on the subconscious level .
Each colour has its meaning: red represents energy and passion, blue is strong and confident, green is peaceful and natural, yellow is energising, etc.
You will probably mix different colours while creating a restaurant logo design and motto, so try to stick to one of the standard models of colour harmonisation .
You can use complementary or analogous colours, but there are many other unusual combinations on the colour wheel.
Reinforce your brand standards: Your brand's restaurant colour scheme, values, and theme all play a role in determining your restaurant's logo. – Upserve
Additionally, colours have different cultural meanings.
For example, yellow represents jealousy and weakness in France, while in China it has pornographic connotations (so you might want to avoid it if opening a Chinese food outlet).
If you're a fast-food restaurant, you may consider red or orange, as they allude to joy and speediness.
Western cultures see white colour as something clean and pure, while Japanese people associate it with mourning.
To cut a long story short, think twice before making a final decision here.
4 – Be careful with fonts
Besides colours, fonts are another critical factor in restaurant logo design.
We suggest you use clear and readable fonts because it makes the branding much more straightforward and more understandable for an average customer.
The name of your restaurant will be everywhere – from entrance and napkins to social networks and traditional media .
That is why you should stick to the fonts people will understand instantly .
You can find an excellent example of font simplicity in one of the highly prestigious British diners, The Fat Duck .
Namely, this 3-star Michelin restaurant uses old-school letters that apply correctly to each branding surface.
A strategy like this should be your goal, too.
Simple fonts and vintage graphics elicit a sense of tradition, just like the tried-and-true dishes you serve in your restaurant. – 99 Designs
5 – Shape and size
Even the most beautiful logo design can turn out to be useless in case you neglect the issues of shape and size.
You should avoid unorthodox solutions and stick to basic geometric shapes like circles or squares.
It allows you to combine and adjust all other branding elements – colours, fonts, etc.
Additionally, you should find the right proportion of images and letters because they need to be visible both on large and small-scale surfaces.
Some logos lose transparency as soon as you shrink or stretch them.
On the other hand, McDonald's made a simple design solution, which allows the company to resize the logo whenever needed.
6 – Creativity
Creativity is one aspect of restaurant branding that goes beyond technical solutions.
Almost half of the consumers claim they are more likely to become loyal to a brand during the first purchase or experience.
In such circumstances, you must be creative enough to design a brand that can catch customers' attention instantly.
It is not only about making an appealing brand but also about proving that you are trustworthy in all areas of the business.
The logic is simple – if you cannot come up with a nice logo, how can a customer expect you to prepare a beautiful dish?
In that regard, we strongly advise you to hire a professional graphic designer to help you with branding.
You should explain your basic demands, describe the type of food you serve, target audience, and all other relevant restaurant features.
Once you have done that, a professional designer should be able to create a visual identity that fits your style and the corresponding demands.
7 – Consistency
Building a well-known restaurant brand is not a short-term process.
On the contrary, you need to think strategically and work in small stages.
For this reason, it is crucial to maintaining consistent brand communication over the years, avoiding significant changes in the process.
Do not change fonts or colours often because you will confuse and lose loyal customers, while new ones will not be able to recognise you.
Simplicity is also very important, as the same logo will be replicated on other promotional material, including the napkins and the table cloths. This is where simplicity plays an even more important role. – Design Your Way
Keep in mind how Coca-Cola functions in that regard – they keep almost the same logo for more than a century.
Okay, we know that it is hard to copy Coca-Cola, but it should be your role model regarding branding.
8 – Branding is everywhere
Successful brands utilise each opportunity to show off.
There are various channels of communication in that regard, and you should not neglect any one of them.
You can use social networks, website, paid advertising, and local media to boost the brand .
However, you must also pay attention to on-site details.
Begin with restaurant entrance all the way to the toilets.
You can find excellent branding positions everywhere: from napkins and silverware to uniforms and menus.
Small details like this do not disturb customers, but they keep reminding them of your brand, building a secure connection with the clients.
By fostering healthy restaurant branding strategies , business owners can spread awareness of their business through others and improve the general recognition of their restaurant. Some business owners establish restaurant branding by incorporating cuisine based on nationality, or the food that their particular restaurant specialises in.  (medium.com)
Conclusion
It is not easy being a restaurant owner these days.
You get to struggle with dozens or even hundreds of competitors and give your best to satisfy the needs of picky customers.
At the same time, you need to build a famous restaurant brand if you want to be recognised by wider audiences.
I've been designing logos for a variety of clients for over 30 years and to add my two cents: Creating a professional image is one of the most crucial steps to obtain new business. – Logo Design Love
In this article, we explained eight tactics to use while developing a strong restaurant logo design .  
Don't hesitate to use our tips and feel free to let us know in comments if you need additional explanations about these suggestions.
Author Bio:  Brandon Stanley is a professional independent journalist. He is interested in writing articles concerning marketing, advertising and branding . Apart from that, Brandon loves travelling and playing the piano.