16 Best Apps for Designers on iPhone, iPad & Android
There was a time when desktops were the only option for designers to pour out their creative juices. 
Times have changed, and apps for designing have overtaken traditional desktop software. For designers, apps have become an essential part of their workflow. 
Apps can do everything from creating cool designs to jotting down quick notes to organising projects.
However, there are just too many options out there to select from. It is virtually impossible to pinpoint the best apps for designing your workflow. 
Despite intense competition, the iPhone is still one of the best devices for getting everything done on one device. 
It offers many apps, from organising projects to sketching ideas and managing your time and money. 
Along with iPhones and iPads, Android-based tablets and phones are other great alternatives. Android is widely used and easily accessible, and most apps are free. 
In this article, we have handpicked our 16 best apps for designers to help them manage their workflow easily.
1. Adobe Creative Cloud Family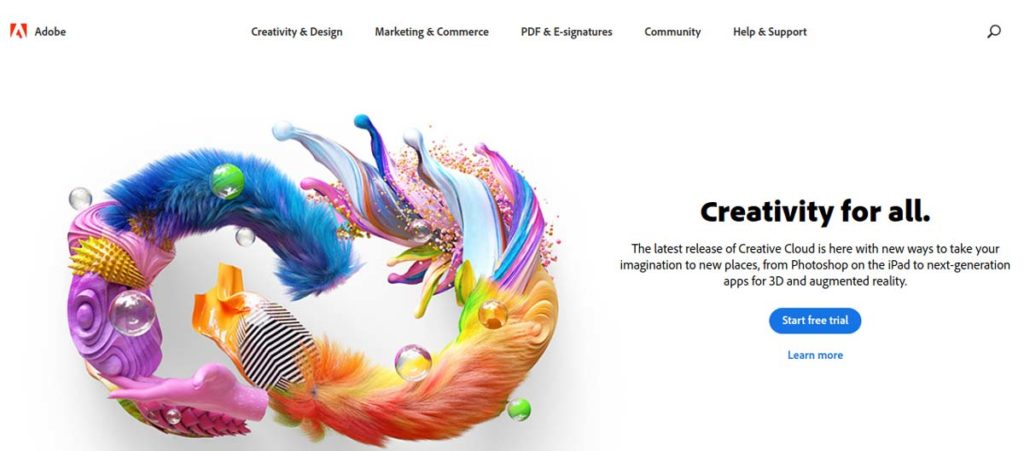 Adobe has launched a series of mobile apps under its creative cloud family. There are 16 adobe apps for designers available for android and iOS. 
Being one of the most widely used creative tools, Adobe has a wide variety of apps for image manipulation, photo-retouching, sketching, sharing your designs with the world, and so on. 
It would be best to discuss these apps under one umbrella rather than discuss them separately. 
The desktop version of Adobe Photoshop is still one of the best software for intense photo editing . However, if you want simple edits and easy touchups, then Adobe Photoshop Express is a great mobile app. 
If you are already using Adobe products, you have a minimal learning curve. The interface will feel familiar to you, and it won't be much of a hassle to grab hold of its working.
The tool offers an in-app advance feature apart from the simple tools included in the download. The app is available on  iPad/iPhone  and  Android .
Adobe Illustrator Draw is a powerful tool packed with all the free tools expected by an illustrator from Adobe. 
It is packed with everything you need to deliver a layered or flat artwork, letting you draw with vectors, access high-res, royalty-free images, and sync assets to appear in your workflow wherever you need them. 
So, if you are going to  set up a blog , having access to such apps can profoundly help you create original graphical content.
Draw puts your favourite vector drawing tools and features into a simple, modern interface, so it's easy to turn any idea or inspiration into a gorgeous design. 
You can even launch Adobe Capture from within the app, create a new shape and have it immediately appear on your Draw canvas. 
And because Draw is part of the Adobe Illustrator family, you can send your designs directly to Illustrator to refine on your desktop.
It's one of the best apps for logo design and is available on iPad/iPhone and  Android .
Adobe Comp CC
Adobe Comp are excellent apps for designers by Adobe that lets you convert your rough lines and shapes into crisp graphics. 
It lets you pull in vector shapes, images, colours, and text styles from your Adobe Libraries and professional fonts from Adobe Typekit. Send your comps to Adobe Photoshop, Illustrator, or InDesign to finish on your desktop.
The app is available on iPad/iPhone and Android.
2. Behance
Behance is Adobe's online community where you can showcase and discover creative works. 
The apps for designers allow you to create a portfolio and showcase it to potential clients and other designers. 
The community-based app lets you explore other graphic design work and illustrations for inspiration. 
The portable app has the functionality of a full-fledged website. 
Users can also access their profile and collections and view stats about their work, all on the go, all for free.
The app is available on  iPhone/iPad  &  Android .
3. Paper
Paper offers apps for designers who love sketching. It is the current Go-To app right now. Paper works with touch but works better with a stylus. 
With Paper, you get an array of  tools for sketching , outlining, writing, colouring and mixing. You can quickly share whatever you create on social media. 
Paper lets you quickly create checklists and notes with its Swipe-to-style formatting. Previously costing $0.99 each as in-app purchases, the Sketch, Outline, Write, Color, and Mixer tools are now available to all comers as soon as they download Paper. 
They add a watercolour paintbrush, a sketching pencil, a marker, and a ballpoint pen to the app's default fountain pen while allowing users to mix colours in a simulated palette.
Paper is available on  iPad/iPhone .
4. Autodesk SketchBook
SketchBook by Autodesk is one of the most popular apps for designers among creatives.
The app has an interface much similar to that of its desktop version. 
The app offers a platform for designers to create beautiful designs. 
The mobile app contains more than 190 types of brushes which are all customisable. 
The UI stays incognito until you're ready to snag a pencil, pen, marker, or paintbrush. 
The app lets you go big with a drawing engine that can handle a 100 million pixel canvas while maintaining the zoomed-in feeling of traditional drawing.
SketchBook is a great way that lets your device's camera just become a scanner. Scan Sketch imports your line art with a transparent background, ready for inking and colouring.
The app is free and has a premium fee of $85/year. The app is available on  iPad/iPhones  and  Android . 
5. Coolors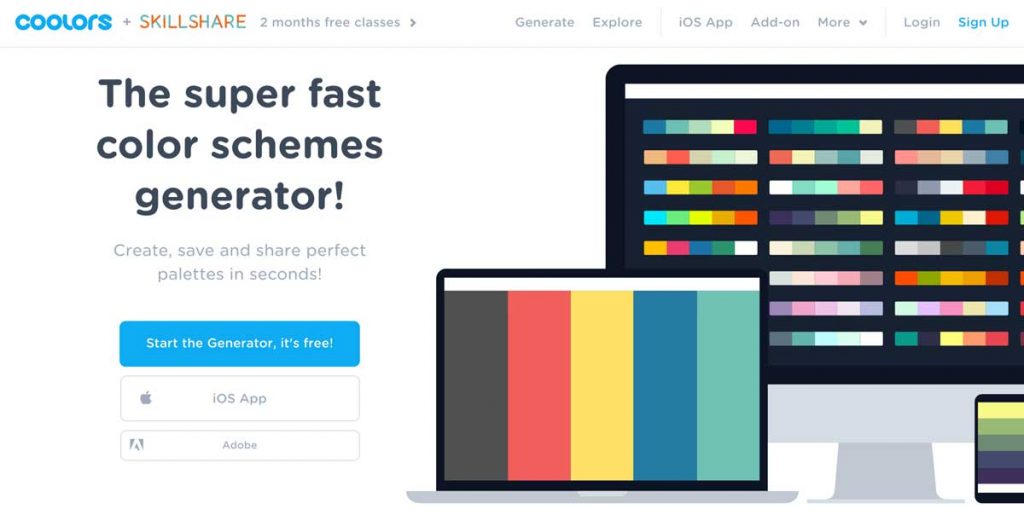 There must have been times when you felt inspired by colours in real life and wanted to use them in your designs. 
Coolor lets you create palettes out of photos and browse palettes made by other users. 
The colour palette is an essential aspect of your brand identification, and Coolor lets you generate endless colour palettes for your brand. 
Coolors allow you to experiment with shades and set your theme. 
You can select hues from the real world and set your themes using them. 
Coolors can amazingly customise your palette with over a million different colour combinations. 
The official COLOURlovers iPhone app lets you take the COLOURlovers community wherever you go and syncs your palette with your iPhone so you can access it wherever you desire.
Coolor is available on iPhone/iPad.
6. Pantone Studio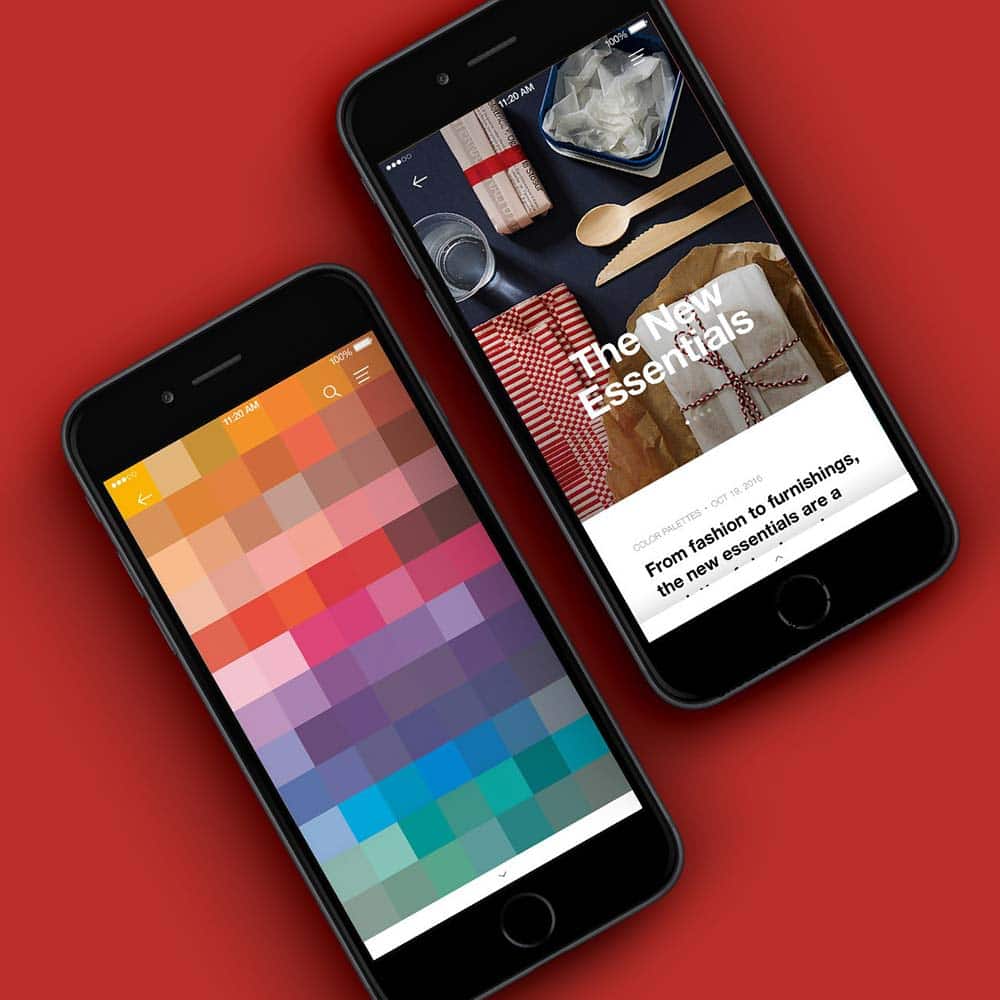 Pantone Studios is the official app from the developer Pantone. 
It lets you build and create palettes to test on 3D-rendered materials & designs and share PANTONE Colors with your Creative Cloud® account, clients, and social networks. It has more than 10,000 standardised hues across all libraries and disciplines.
Pantone Studios is a replacement app for its predecessor MyPantone which did not do well among designers. The app was glitchy and full of errors. 
However, Pantone Studio came to become the undisputed king of colours. Those who previously purchased the myPANTONE app get full access without a subscription. 
The studio features external sources of content to pull in the inspiring, colourful work of others. 
Users can scroll through artists' designs and images organised by PANTONE Color and select their palettes for use.
It is compatible with  iPhone, iPad, and iPod touch .
7. Assembly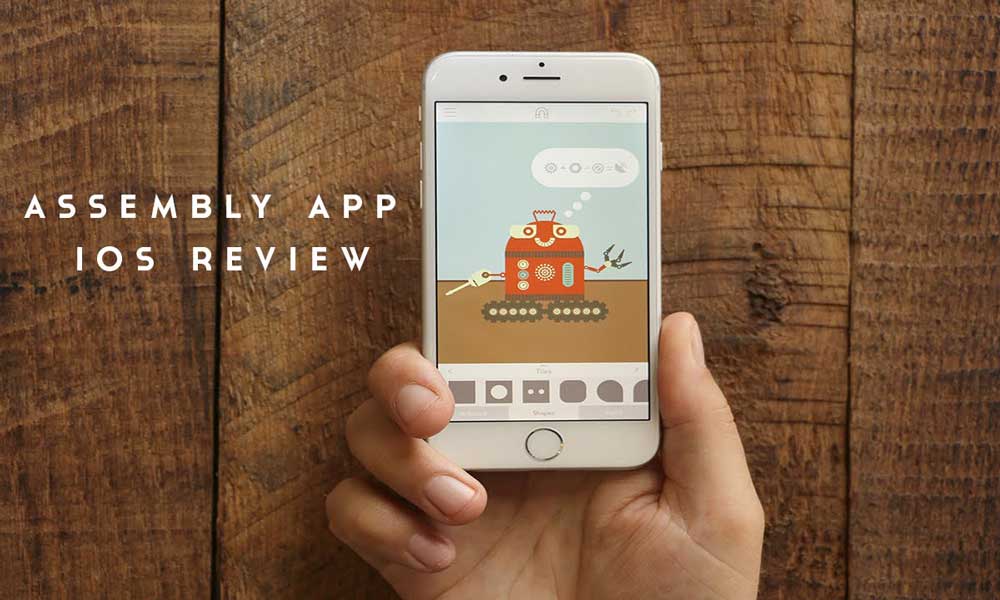 Assembly is one of the best apps for designers that will change your life forever. Whether you are a designer, you can still use Assembly quite easily. 
It lets you create beautiful drawings without mastering the art. Assembly was designed to replace the traditional paper sketchpad.
You can easily create simple sketches and vector images using Assembly. It is a free app for iPhone users that has earned its place in the list of top iOS apps for designers with its extensive library of shapes and excellent user experience. 
You know how tiresome it can be if you are a designer and have to create vector graphics from scratch. Assembly has a library of over thousands of basic shapes that designers only have to assemble to create complex forms to create some beautiful vector graphics. 
The app is not only a fun-to-use app but can also be used to create very detailed and intricate designs.
You can pay and upgrade to Assembly Pro, which allows you to access more features that are not on the free version. 
Before making the subscription, you can have a 7-day trial version, which will be automatically renewed to the weekly subscription and can be cancelled at any time. 
The app is available for  iPad/iPhones .
8. What The Font
What The Font is another fun tool for Typography lovers, which lets them identify a typeface based on the photos in the device library. 
However, the app can often miss the accurate typeface and instead try to sell you a font. It is perfect for when you see a great design and want to identify the fonts or when your client sends you an image but doesn't know what fonts were used.
It is powered by AI and is natural to use. WhatTheFont uses deep learning to search its collection of over 133,000 font styles and find the best match for the fonts in your photo. 
It even works with connected scripts and when there's more than one font in an image.
The app is available for iPad/iPhones and  Androids .
9. Screenshot Journal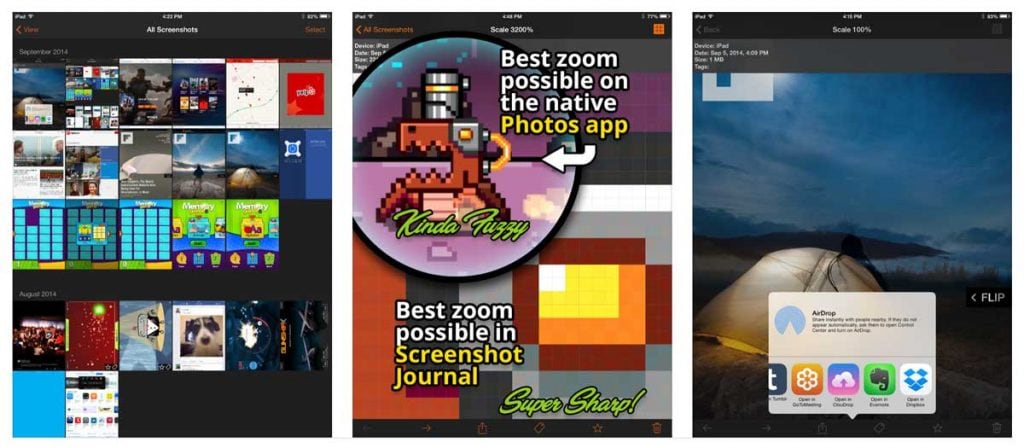 You must be visiting tons of websites every day. With so much information constantly flowing around the web through various websites,  social media platforms  and apps for designers, there are moments when you must have captured screenshots of essential things that you could use afterwards in your design projects.
With so many screenshots flooding your device library, it gets irritating to manage and organise all of them. Here the Screenshot Journal comes into play. 
It is a tool that lets you organise and collect your screenshots in a more useful way. Screenshot Journal has a neat grid overlay feature that helps you determine how big something is on the screen.
It is one of the best design apps for archiving, organising, and inspecting iOS screenshots. Pixel-perfect zooming lets you check screenshots at up to 3200% without blurring.
Screenshot Journal is available for iPhone/iPad.
10. Evernote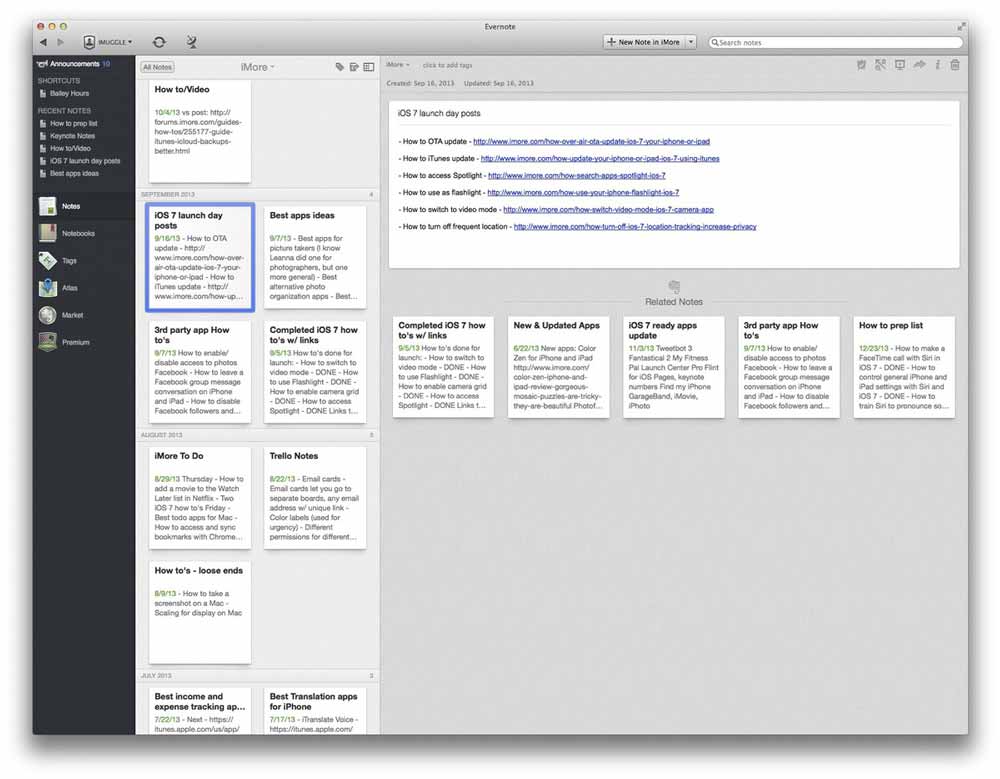 Evernote can be ascribed as the undisputed king of organising your ideas and notes in the most efficient and useful fashion. 
It is the best app to keep yourself organised. The app works across devices like smartphones, tablets and desktops over cloud networking. 
It auto-syncs across all your devices, and once you save something on Evernote, you can retrieve it anywhere, anytime. 
You can save webpages using ' Web   clipper ' and ' Skitch ' and mark them up for reference. You can create bookmarks and reading lists which you can return whenever you like. 
Evernote lets you add to-do's, photos, images, web pages, or audio and is instantly searchable. 
You can create notebooks, organisers, and planners, organise notes any way you want, and share them with anyone. 
When it comes to taking all manner of notes and getting work done, Evernote is one of the essential apps for designers.
It is available on  Desktops , iPhone/iPad  and  Android devices .
11 – Loose Leaf Notes
Inspiration for a new design can come at any time. As a designer, you should always be ready to capture such inspiration. 
Loose Leaf would allow you to capture your ideas well. The app makes it easy to annotate and share your thoughts with others. 
Loose Leaf is a scratch paper-type app. The app can allow you to:
Write down mathematics problems. The app supports drawing functionalities which make it appropriate for jotting math problems. 
Capture story ideas. The app is perfect for taking notes. A majority of the note-taking apps available have limited functionalities. For example, you cannot change the page type to grind or line. However, for this app, these functionalities are possible. 
Do modifications to designs and photos. The app makes it possible to modify computer designs. You can also edit photos, where you can crop them and piece them together with other backgrounds.
Design apps are meant to be simple, which works better for designers.  Loose Leaf  is available on the iPad.
12 – Marvel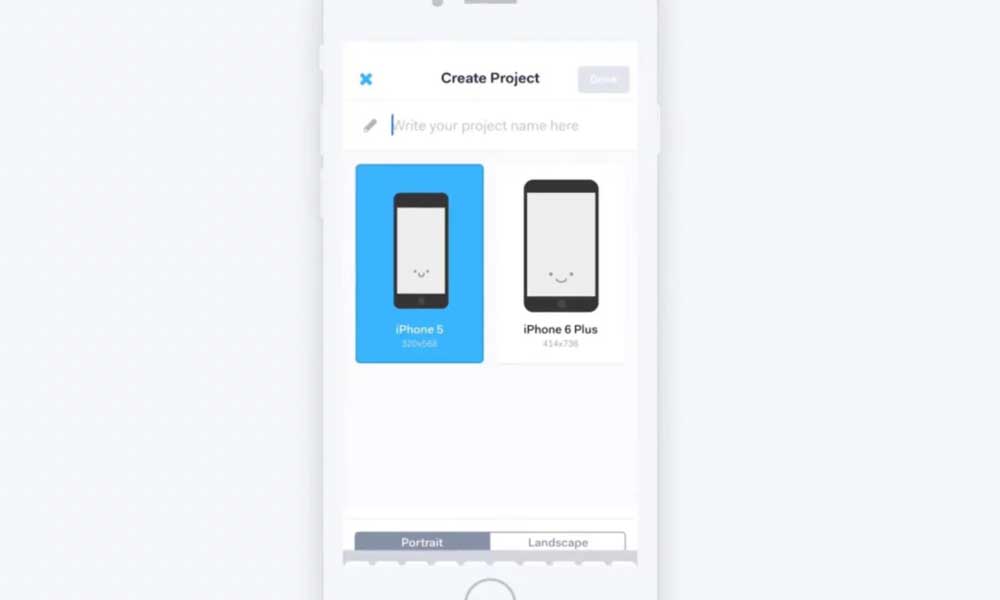 Marvel is available for free for both iPhones and iPad. 
Unlike most expensive graphic design apps, Marvel is freely available yet crucial for designers. 
The app serves to transform sketches on paper or whiteboards into  interactive prototypes . 
This makes it possible to undertake demos of your ideas and share them with others on social media. 
You can be sure designers find it challenging to explain their ideas to others, especially non-designers. 
Marvel comes to the rescue of creatives since it enables them to prototype their ideas. 
The best app for designing prototypes allows creatives to:
Take photos of the sketches. It is possible to move from a napkin sketch to a fully functional prototype within minutes.
Build prototypes. With Marvel, designers are in a position to create both desktop and mobile prototypes.
Offline prototypes. This is one of the significant features of the app, where you can pre-download the prototypes and view them without an Internet connection. 
Sync from the cloud. You can store the prototypes on the existing cloud storage.
View on Apple TV and Apple Watch. Designers can play and preview all the prototypes on Apple TV and Watch.
13 – Canva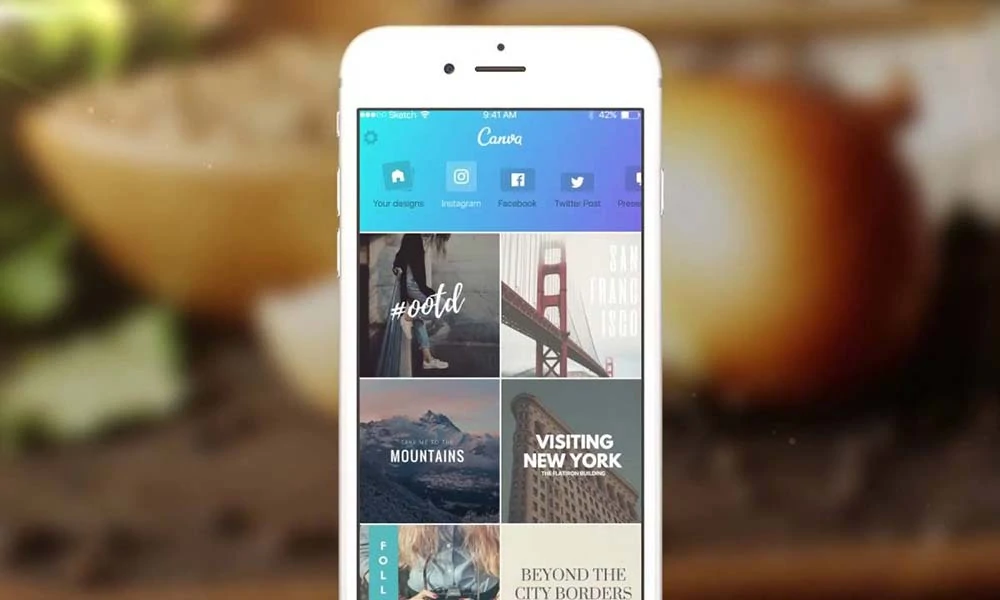 Canva makes design amazingly uncomplicated (and fun)! Create stunning layouts with your photos and videos—even if you're not a design expert!
Whether you need an Instagram story , logo maker, or birthday invitation—create all these graphic design needs and more on Canva. Available on your iPhone, iPad, and computer, you can jump back into your design anytime, anywhere.
• Instagram Story Editor and Story highlights maker
• Create Facebook Posts & Facebook Covers
• Design Twitter banners & Youtube thumbnails
• Make cards, invitations, photo collages and even use Canva as a poster creator for any social media use
• Create a logo, book cover, or blog design for any project
• For any event: birthday card maker, wedding invitation maker, online invitation creator
• Simple and free image editing app
• Photo collage maker, flyer maker, banner maker for any occasion
• Design motivational quotes and humorous memes
• Party invitation maker, school poster maker, video banner maker
• For business: brochure, resume, presentation, promo poster maker
14 – Procreate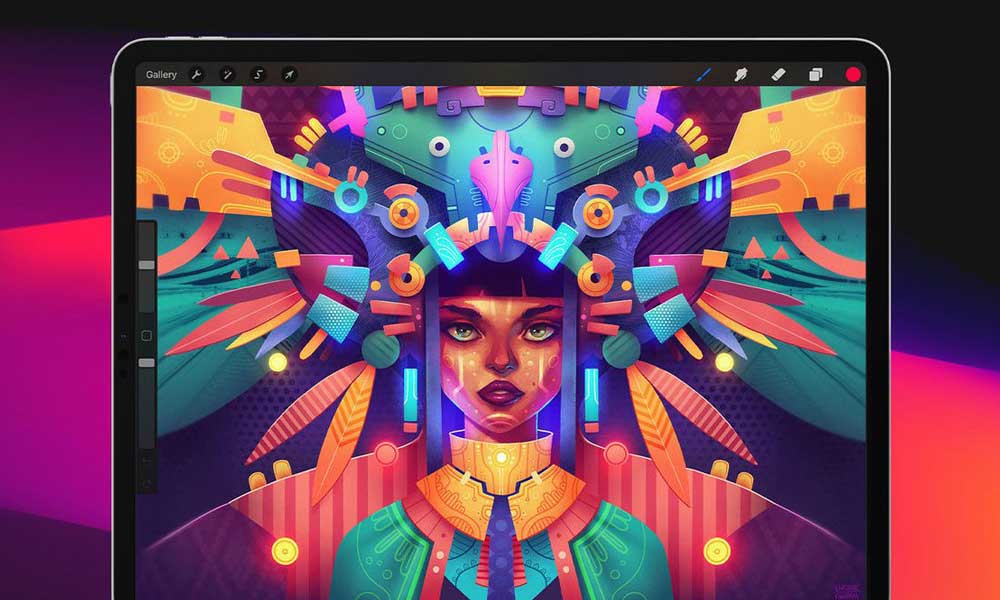 Procreate is one of the best apps for designers and artists. While the app is powerful for advanced users, it is easy for everyone. 
It allows designers to work from anywhere since it is a complete art studio that one can slip into the bag. The app comes with powerful features, including:
Game-changing brushes. The app has hundreds of beautifully crafted brushes. Each brush has more than 50 customisable settings. Users are free to create their custom brushes and sets and then import and export them. 
Layering system. The ability to combine different layers into groups serves to assist designers in remaining organised. This feature makes Procreate one of the best creative apps. 
Design tools. Designers can include tools like vector text in their illustrations. It is also possible to import and export various fonts. Designers are free to refine the text spacing and alignment to ensure the finish is perfect.
Sharing of creations. Sharing has been simplified with drag-and-drop features. It is also possible to export and import files to other supported applications. 
15 – Affinity Designer
Affinity Designer has transformed the graphic design world. The app is a culmination of years of intense refinement. 
The results have been smooth apps for designers that make the workflow easy and enable designers to express their creativity. 
The app is smooth and precise for vector drawings.
It is based on Apple Award-winning technology, making it suitable for different design projects. 
Enhances real-time performance. The gradients are live, with zooming live at 120fps. The app offers seamless switching between tools and editing modes.
16 – Trello
Besides Web design apps, designers need an app to manage their projects .
Trello is a critical app that all designers need to have. The visual tool organises the work and life of users, and for free! 
It is hard to imagine that such a powerful tool would cost you nothing. 
Currently, the app has more than 35 million users who find it critical to organise the way they operate. 
Designers need to  collaborate on various projects . This means they should have an app that allows them to work together.
Trello is the application for such functionalities. With Trello, designers can plan how to accomplish a particular task. 
They can share the progress of their tasks to motivate each other. 
At the same time, designers may want to include a description of their artworks. 
Bonus: Flipsnack 
Flipsnack is a flipbook maker that allows users to create interactive designs for their portfolios, flyers, catalogues, newsletters, company documents, and other materials. It offers the possibility of sharing these documents securely by using the link and adding different types of limitations or by directly creating digital newsletters and sending them to customers and prospects.
This platform makes PDFs more attractive and interactive by adding images, videos, audio, and buttons. 
You can create a design from scratch or use predefined templates that suit your business. Also, you can add your branding on Flipbooks and in your flipbook creation space.
You can share all these through the app or add them to your website. Then, you can check how many times people opened the materials and what impressed them more on the flipbook pages.
Engage with your customers and collaborators or present your work publicly so everyone can see it and discover new ways to market yourself and your business using this software.
Wrapping up the best apps for designers
So here are the 16 best apps for designers we think you should have as part of your app collection. 
These apps can keep your workflow efficient and organised, and you never have to look up from your phone screen to your desktop. 
Go and play with some of the best apps for designing and see which ones work best for you!