How to Improve your Logo Design to Increase Brand Identity
The company logo is considered a protector of every brand.
The business can be successful if its logo design delivers a message to the target audience.
Designing a beautiful logo is not enough.
You have to make sure that the design of the logo is not monotonous.
You need to give new life and improve your logo whenever necessary.
As we are living in a world which is always changing, keeping pace with those changes is very important.
However, how many times an entrepreneur can redesign the logo of their business , and how will it affect the identity of your brand is the central question.
Here are some of the points which can help you to answer this question:

1 – When do you improve your logo?
Redesigning of the logo ends and begins with the redesigning of your branding .
You need to spot the right time to start the rebranding process.
The following points can help you to conclude when to start making changes:
If your sales figures are continually declining and you are losing your customers, then you should begin to redesign .
Fix a meeting to discuss one crucial question, i.e. do you need to redesign your logo ? After getting the feedback from your team members and employees, you can start working on it.
After that, set a meeting with the marketing team and evaluate the data which you have gathered from the above two points and discuss it with them.
The meeting will help you in reshaping your brand and the critical element – the logo design .
2 – Set the audience that you want to target
The first thing that you should consider before redesigning your logo is to decide for whom you are making it.
The decision can vary according to different circumstances.
For example, if your target audience involves younger people, then you have to choose the message, the lines, colours and the shape according to their interests and preferences.
Attracting the people towards your brand involves so many things like it may take months to finalise your drafts and to evaluate different approaches that you have made.
In the case of even a minor mistake in the changes to the logo, it can have a terrible effect if the target audience didn't like it.
3 – Involve your staff
Once you know your target audience and have an idea that your old logo needs to be changed according to the new capacities in the market.
The next step is to call your team members and the other employees to start creative thinking sessions.
Sometimes, even after spending many days sharing your ideas you may still end up with nothing.
Ask your team members to organise brainstorming sessions and to come up with new and different ideas.
You can also hire a professional designer who can easily understand that what type of logo design you need.
4 – Keep some bits of your old logo
You should almost never wholly remove your old logo.
Keeping some elements of your old brand is what you need to do.
However, the question here is what to discard and what to keep?
The answer is to team up with your customers and to understand their likes, dislikes, interests, and expectations.
One way to involve your customers in this process is to upload a questionnaire about your old logo on all your social platforms and to ask them to fill it.
By getting their feedback and opinions through the questionnaire, you can quickly know that which part of the old logo should be used in its new version and which part you should discard.
5 – Keep it simple
Always remember that when a logo is way too complicated, it will never be able to deliver the message to the audience about your brand.
The audience is not able to understand the logo which has too many details.
When you attempt to improve your logo, always keep it simple.
The reasons for keeping the logo simple are:
If you are using too many colours, then it might kill the symbol and will make it gaudy and extravagant. Colours have to be chosen with extra care and attention as it will have a sturdier impact on the audience.
The logo that you have designed should be visually appealing that stays in the mind of the people for a more extended period.
According to the modern design trends , one should incline towards minimalistic ideas.
However, you should never entirely restrain yourself from the traditional approaches.
6 – Choose the tagline carefully
The slogan is considered to be the relative of a logo.
The tagline and the logo always appear together, and the audience uses to connect one feature to another.
If you are redesigning your logo, then you have to reshape your tagline too.
The tagline should be corresponding to your logo and should involve the core of your business.
The other thing to take care of is that the tagline should be such that the people can easily remember it.
A poor tagline will not only deactivate the power of your logo, but it can also damage the entire process of branding.
7 – Choose the colours carefully
Colours are considered to raise your brand recognition if appropriately used.
While deciding the colours to improve your logo design you need to think that how you want to see your business.
Before choosing colours, you can take into account the following guide:
Red indicates passion and excitement:
If you want to display your brand to be energetic and powerful use can use red colour in your logo.
For example red bull and lays.
Green indicates peace and health:
If you want your brand to display health, nature or calm, you can use a green colour.
For example Subway and Starbucks.
Blue indicates trust and dependability:
If you want your brand to display trust, loyalty, and reliability, you can use a blue colour.
For example American Express and Dell.
Black indicates power and sophistication:
If you want your brand to display power, elegance you can use black.
For example Adidas and Armani.
White indicates simplicity:
If you want your brand to display purity and cleanliness, you can use white colour.
For example Puma.
Pink indicates feminine and romance:
If you want your brand to display fun or feminine, you can use a pink colour.
For example Victoria's Secret and Barbie.
8 – Choose the right shape
In case you have chosen a badge or icon logo only then you can apply this step.
You have to choose the right shape which you want your brand to represent.
You can choose from the following two categories to improve your logo:
Abstract forms:
Creativity, innovation, and clarification of ideas are displayed by these shapes.
You can use:
Spiral shape: which displays creativity and growth.
Curves: which displays motion and rhythm.
Vertical lines: which displays courage and aggression.
Horizontal lines: which displays calmness and community.
Geometric shapes:
stability and organisation are displayed by these shapes.
You can use:
Triangles: which displays science, law, and power
Circles: which displays unity and friendship
Rectangles: which displays trust and order.
Choose the right shape which suits your brand.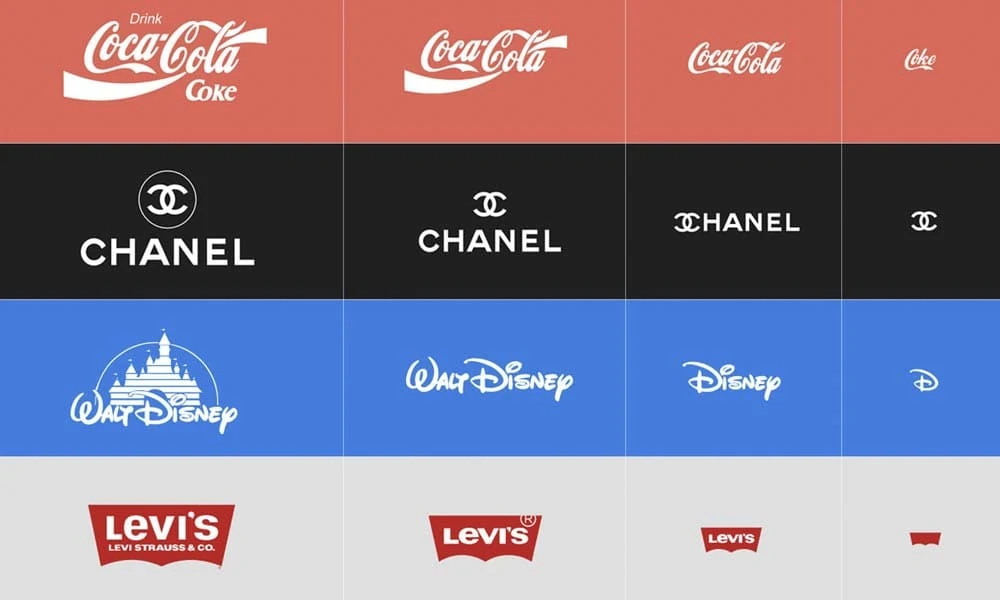 9 – Save your logo in the right format
You can choose from the following logotype formats:
Serif:
It is a simple typeface which includes add-ons at the end of the letters.
This type of setup can be used in case you want your company to look reliable and trustworthy.
Slab Serif:
It is a bold typeface which includes block accents at the end of the letters.
This type of format can be used in case you want your company to look modern and bold.
Sans Serif:
It is a clean typeface which does not have any accents at the end of the letters.
This type of format can be used in case you want your company to look clean and stable.
10 – Placement in the market
Once you are done with all the above steps, the next step to follow is to test the market to find out how the target audience , critics, and the general public reacted to your redesigned logo.
To test the market, you can go through some testing stages to check the market placement of your logo and new identity of your brand .
Ask your loyal and potential customers to express their opinions about what they think about the new logo by inviting them into a group meeting.
You can also take the opinions of professional designers.
Using the logo in the context of the product can also help.
You can prepare your products with the new logo on it.
You can repeat this process if you get negative response and feedback.
On the other hand, if you get a positive response, you can start to improve your logo design along with the brand identity in the markets.
Conclusion
Every business owner wants the best for their company.
There are many factors which they have to take care of.
The end goal of every process they follow is to meet the requirements and needs of the customers to make a unique identity for your business in their eyes.
When you improve your logo design, you can come one step closer to build a unique identity for your brand and business in the eyes of your target audience.