9 of the Best Tools for Freelancers
There's no doubt that a freelance career is less constricting than the average job. However, being your own boss comes with the adjunct responsibilities of managing a business, from supervising your time to keeping track of invoices. 
An estimated 57 million people joined the freelancing community, meaning the industry is growing progressively more competitive. Offering a comprehensive service beyond merely getting the job done can entice new clients and build long-lasting relationships to gain an edge on fellow contenders. 
There are many helpful sites and software at your disposal. Here, we look at the best tools for freelancers to help with all aspects of the job.
1 – Stay Safe: VPN
One of the significant conveniences freelancers enjoy is the ability to work from anywhere in the world . Adding to the convenience, most coffee shops, hotels, and other public facilities like airports have free Wi-Fi. Unfortunately, these open wifi networks pose a  serious cybersecurity risk  to unwary users. 
But fear not,  a simple VPN download  can make you less vulnerable when working on open networks. A  Virtual Private Network  ( VPN ) is a layer of protection between you and malicious strangers using the same network. VPN software routes all activities on the network through an encrypted connection, allowing the user to stay anonymous and secure.
It's relatively straightforward for hackers to intercept information sent across these networks, which means your private data — as well as that of your clients — could be compromised. If you allow file-sharing as you work, malware can be planted on your devices without your knowledge. Make sure you adequately protect your data. 
2 – Protect Sensitive Data: 1Password
As a freelancer, you likely complete digital financial transactions regularly and have a collection of accounts on various websites. Whether you're using freelance or finance platforms, strong passwords and secure data storage are necessary to protect your private information online.
A password management app is a secure method of storing all your data, from complex passwords to financial records. 1Password offers storage on an unlimited number of devices and is compatible with iOS and Android. A digital wallet works to safeguard your online banking details and logins for sites such as PayPal.
The 1Password Watchtower feature alerts you if any of your passwords are compromised and need changing. A subscription for a solo account is around £2.45 monthly, with family accounts for up to five users set at £4.10.
3 – Manage Time: Clockify
Maintaining consistent productiveness is one of many freelancers face, mainly when dealing with various projects in various niches. Self-enforced hours combined with abundant distractions in and out of the home can impact productivity . 
Understanding time allocation patterns can give you a better idea of how long specific tasks take and your capacity for certain services. Additionally, research shows that people  tend to perform better  when they're aware they're on the clock.
Clockify is user-friendly software with paid upgrades available, although the free features should suffice for most freelancers. You can add individual clients and projects and separate between billable and non-billable hours, and timesheets are exportable.
The central dashboard shares how time is distributed throughout daily, weekly, monthly, or yearly increments. Those who outsource certain services can add team members to Clockify as employees or set them as administrators, depending on the nature of the role.
4 – Stay on Schedule: Calendar
Freelancing is a dynamic career: working with many individuals, often across different platforms on separate projects. Using a calendar may seem redundant when you self-manage, but it can be a more straightforward, uncomplicated alternative to spreading reminders throughout devices and apps. 
Another equally important scheduling concern for freelancers, regardless of the level of experience, is setting reasonable hours and taking regular off-days to avoid burnout. A survey by software company FreeAgent revealed that roughly one-third of the UK freelancers claimed to work  over 48 hours per week , and seven per cent stated their workweeks exceeded 64 hours. 
Calendar can sync with Google and Outlook calendars to keep your events in one place and is compatible with Android and Apple devices. The view is customisable to check the day, week, or month ahead. 
The free Basic version has all the core features, except that users only get two customisable links to set meeting dates with clients or colleagues rather than an unlimited number on the Pro at just under £7 per month. 
5 – Organise Projects: Trello 
A fast-paced, changing environment is part and parcel of the job, long-term clients can request new projects out of the blue, and lucky streaks when several proposals are accepted at once can happen unexpectedly. 
Staying organised is vital to avoid falling behind or losing track of a project, and adherence to deadlines is essential to encourage repeat business. Furthermore, listing each project you make a bid for can highlight your success rate and let you know if you need to revamp your outgoing proposals.
Free software Trello is a list-centric, interactive business tool that can help you create separate columns (client names, types of services, etc.) on a board and add cards to each one. You can move cards between columns as needed, for example, from 'in-progress' to 'complete.' 
The system is relatively straightforward: you can add due dates, checklists, members, and attachments to the cards. You can also create new boards to distinguish between projects or clients, although the free version limits the number of boards to ten. 
6 – Market Yourself: HubSpot
Communication is a vital part  of marketing yourself and your services. As you build up your client base, there might come a time when you want to send out regular newsletters or mass emails offering special promotions or discounted services.
Hubspot is an all-in-one marketing platform with several practical features for freelancers. Firstly, you can add multiple email addresses to be able to check in on all incoming communications in one place.
Next, HubSpot has a practical email-tracking feature that, once enabled, notifies you once someone has opened your email and lets you know how many times it was viewed. It can also integrate with Outlook and Gmail if you prefer to handle your communication off-platform.
Lastly, the platform makes marketing strategies accessible for freelancers with little to no experience in the field. Email scheduling is available, as are email templates for more extensive marketing campaigns. 
HubSpot is available free of charge, although the number of advanced marketing capabilities is limited compared to the paid plans, which begin at around £32.84 per month. 
7 – Bookkeeping and Accounts: Coconut
One of the trickier hats every freelancer must wear at some point is that of the accountant. Except for freelancers with previous financial expertise, most will find bookkeeping a tedious and complicated endeavour — albeit necessary.
Income for the average freelancer is unpredictable, with highs and lows that can change abruptly. Depending on how high your earnings are, freelance income can be subject to taxes in the UK .
Beta application Coconut can provide freelancers with the essential tools for financial management. If you earn substantial profits, Coconut can estimate how much your salary must be set aside for taxes. 
The free Start version allows for three invoices to be sent out monthly, a free UK current account, tax estimates, and expense tracking. You can send out unlimited invoices if you upgrade to the £5 a month option. 
8 – Create Graphics: Canva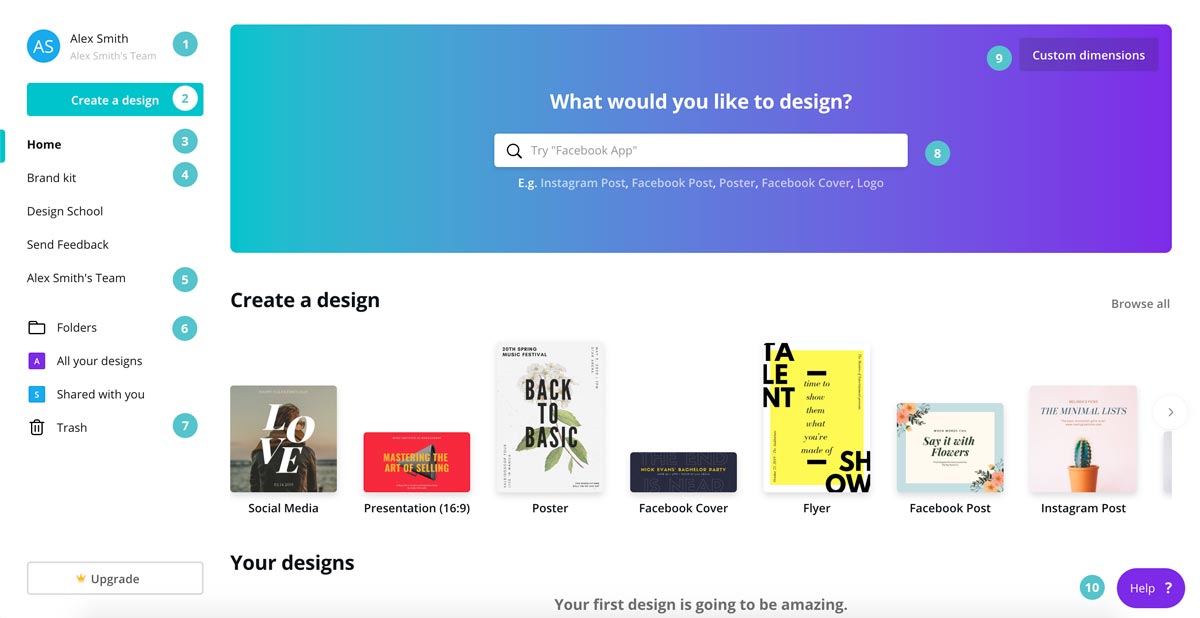 Visuals play a significant role in first impressions; an eye-catching logo or a skillfully designed ad can help  grow your business and brand . You can use graphics to create a unique identity for your freelancing services and attract your target audience. For certain services, such as writing or website design, you can go the extra mile by offering custom images or infographics.
Rather than outsourcing graphic design to another freelancer, you can save costs and ensure your branding is exactly what you have in mind by doing it yourself.
Canva is a website that provides tools and templates to create attractive visuals without the prerequisite of design experience. The free version includes over 8,000 templates and 100 design types, from social media posts to presentations. 
For freelancers who want to go a step further, the Pro and Enterprise versions, priced at around £8.17 and £24.63 per month respectively, offer more advanced options such as branding kits and custom font uploads.
9 – Communicate Professionally: Grammarly
Proper grammar isn't exclusively for freelance writers. Irrespective of your niche, a well-written proposal has a higher chance of attracting a client than one that isn't quite as articulate. A customer is more likely to respect and trust you if your messages are professional. 
Contrastingly, poor grammar can have the opposite effect — not to mention that a misplaced punctuation mark or misspelt word can result in potential misunderstandings.
Grammarly is available as either a paid software or a free browser extension that checks spelling, grammar, and conciseness. The application will highlight dodgy phrases or words in red, whether you're writing an email or typing up a proposal on a website.
Writers might want to invest in the Premium version, which is available at £24.58 monthly, with lower monthly fees if you purchase a quarterly or yearly package. The paid alternative will also check for other issues such as readability, clarity, and style.
Bonus: Indy
Everyone knows freelancers wear many hats. Marketing, billing, finances, project management, and scheduling are all regular parts of the job. Indy gives you the hat rack you need to keep all the parts of your job organised.
Indy  makes freelancing simple by bringing your work together on one platform. Indy's tools work together to give you easy ways to manage all these parts of your work. Here are some of the highlights:
Create and send new proposals and contracts in moments using Indy's simple content editors and templates. E-signature tracking is included automatically.
Stay on top of all your work with Indy's Projects tool. The clear dashboard gives you an overview of all your tasks, deadlines, and files.
Manage your time with Indy's Time Tracker tool so you can get paid for every minute. Use Indy's Invoices tool to create an invoice, add your unbilled hours, and send the bill to your client.
Indy makes freelancing simple by bringing all these tools together on a single platform. The cost is great for freelancers, too, with the Pro Plan coming in at just  $9 per month .
That rounds up our list of the best tools for freelancers – let us know what we have missed in the comments below!
Author Bio:  Brad Smith is a technology expert at  TurnOnVPN , a non-profit promoting a safe, secure, and censor-free internet. He writes about his dream of free internet and unravels the horror behind big techs.