10 Things to Consider When Hiring a Graphic Designer
Hiring a graphic designer can be a hard task.
As an entrepreneur, understanding the fundamentals of  graphic design , can help in hiring a graphic designer for the job.
Also, it will assist with determining if the candidate has the personality to be successful at your company – an established vision for potential designs is essential.
To be competitive in today's market, a graphic designer needs to know more than how to create a  good logo design  or  business cards .
The goal of hiring a graphic designer is finding one that can create designs that are within  branding  guidelines, with a portfolio that is consistent with your current branding.
Be open to the idea of hiring a freelance graphic designer or an independent contractor if the business need is short term. 
Freelancers have the capacity in their schedule to work on indefinite assignments.
It provides a cost-benefit to you because it can reduce the cost of  hiring a graphic designer full time .
A designer that can evoke emotions using a selection of realistic images, with minimal direction, will be a valuable addition to your team.
In this article, we will list ten things to consider when you hire a graphic designer. This will help you to get the right designer for your project.
As every project is different, you need to find the right graphic designer with their specific skills. Let's get started.
Who: The A Method for Hiring
Amazon Kindle Edition
Smart, Geoff (Author)
English (Publication Language)
210 Pages - 08/19/2008 (Publication Date) - Ballantine Books (Publisher)
1 – Graphic Design Goals
The first thing that you need to be clear about is your goals. Do you need a graphic designer for redesigning your whole website or one for just  creating a company logo design ?
By defining your goals, you will make it easy for yourself to find the right fit.
What are your business goals?  If the entire image of the company needs  rebranding , it will be of benefit to hiring a full-time employee.
Some projects are better for hiring a full-time designer, rather than a freelancer.  Freelancers work fine  with the smaller projects, especially if you are looking to build a blog and design it accordingly.
A freelance graphic designer is also great if you need someone to assist a project rather than lead it. Also, they are considerably cheaper compared to full-time designers.
So, only hire one if you think your project needs one or you are on a low-budget. A freelancer can be on call when an assignment is required – a freelancer can work in the office or off-site as it provides a flexible work option.
It is a convenient employment option if the goal is to reduce employment costs.
2 – Online Reviews
A way to find out online reviews of a graphic designer that is a freelancer or completes assignments for organisations in their spare time is to search for reviews online.
You can request a link to their profile on  Upwork ,  Hubstaff Talent , or  Guru .
These sites offer the public freelance job opportunities on the internet for companies to find creatives.
Their profile has a section for organisations that receive completed work to rank them based on a star system and submit their feedback on the quality of work.
It can be tricky to hire a graphic designer online.
You can also go forward and ask them for their  Freelancer ,  Dribbble ,  Portfolio  or social profiles if they have one.
Many of the established online graphic designers should have at least one of the profiles mentioned above.
Their profile should present almost everything that you need to know.
If they don't have a profile, then no need to worry.
You can also ask them for their other online reviews or any personal reviews that they go when working with a company.
Understanding these  testimonials  will give you a good insight into their capabilities and what to expect if you decide to work with them.
3 – A Designer's Workload
When the time comes to hiring a graphic designer, it is essential to ask about their workload.
A freelancer can have a high or low number of clients that can depend on them to be available during business hours.
The worst situation for you to experience is to hire a freelancer with the mindset their schedule is open for work at a last minute's notice.
Tip – Ask the candidate what they need for proper project execution
Information is vital. That's why you should be clear from the start in sharing information. To do so, you also need to understand what the graphic designer needs.
They might require product guidelines, documentation or other design process followed by past designers. Also, they might need core files to work on.
The process of exchange information back and forth should be carried through the project. You can also proactively provide them with the materials that you think that they will need to make the project a success.
By doing so, you are moving your project to success and ensuring that it gets completed within the deadline.
4 – Test Candidates Skill Sets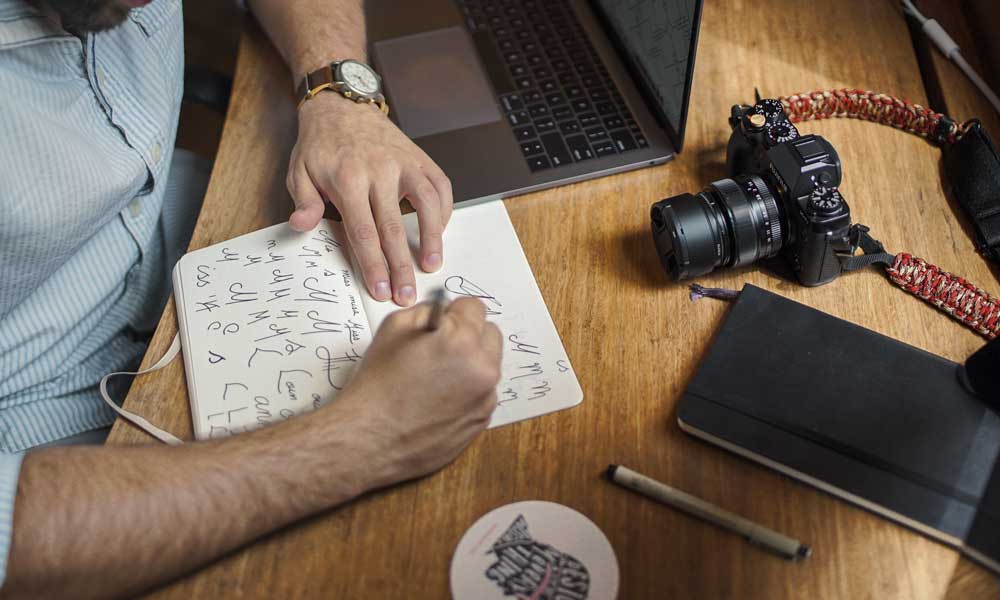 One way to save your time in hiring candidates is to provide a graphic design text before or during a job interview.
Include a list of instructions for the designer to follow branding guidelines and set a deadline of up to 5 days for completion.
It can be a simple test to create a design for business cards , a T-shirt or an image for a label on a product.
An example of a test is to request applicants to redesign a company logo .
After the logo is complete, set up a meeting with your employees to help with selecting the final candidate for a second interview.
Testing skills are essential when it comes to an understanding of the capabilities of a graphic designer. You can either conduct simple Q&A or ask them to discuss a simple task. However, be wary that you don't overburden them with the job.
No one expects to work on a hefty task for the interview process. It shouldn't take more than a couple of hours.
You can also ask the designer to go through your brand and tell you what they think about it.
Some example tasks include critiquing a website, discussing  brand image  for a product or their advice on what to do next.
Once done, meet them up (or do telecommunication) and learn about their thinking on how they accomplished the task.
5 – Experience Managing Expenses
This point applies to companies that work with marketing agencies and a graphic designer working on-site.
A graphic designer that has experience working within a budget by tracking expenses and receipts can make is a desirable skill.
As you focus on servicing customers, a graphic designer with the confidence to negotiate rates and manage finances for marketing campaigns can save you the expense of hiring a marketing manager.
You should always look out for the experience that the graphic designer has.
Generally, graphic designers have experience in working with multiple clients, with diverse requirements.
If you see anyone who has experienced similar projects to your specification, do consider them carefully.
As they have worked on similar projects, there are higher chances that they will have the required skills to complete the job successfully.
Graphic designers who have worked on multiple projects tend to have a sense of flexibility and  can agree on a reasonable project cost .
6 – Start with a Freelance Contract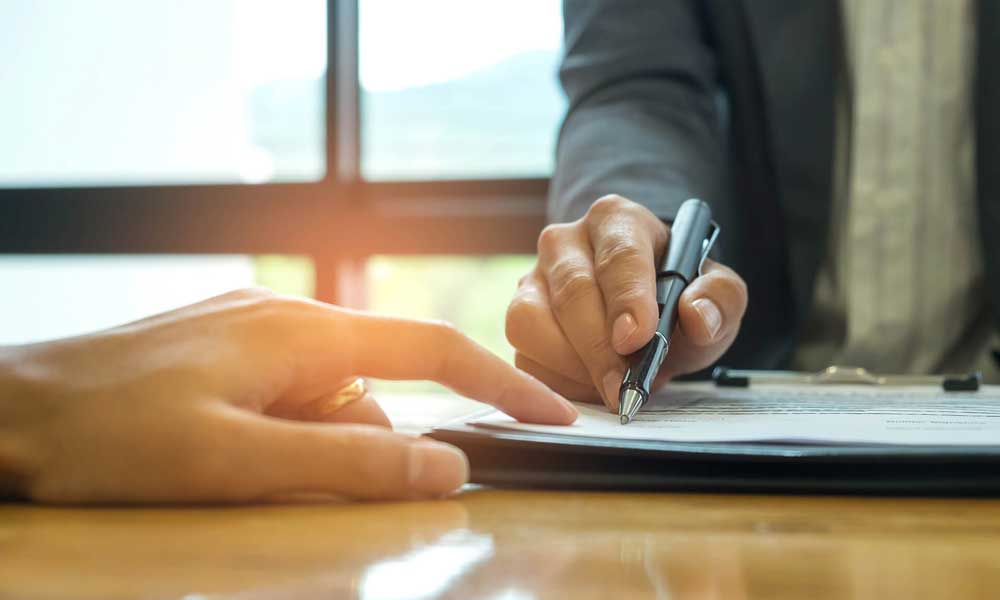 When a new employee works on a freelance contract for three months, it offers a business owner an opportunity to review their work before hiring a graphic designer as a full-time employee.
It is wise to include a non-disclosure agreement (NDA) in the event the graphic designer decides to end the contract.
Furthermore, you can stop the business relationship before the contract ends if the work is not satisfactory.
A list of points to include in the agreement are below:
Payment requirements
Turnaround time for compensation
Length of contract
Expectations
A lawyer can provide insight on how to write a valid contract before sending it to a potential candidate.
7 – An Understanding of Your Target Audience
A graphic designer that understands the demographics of your target audience is helpful.
The overall goal is to educate the new employee about the mindset of consumers that purchase your products, visit the website, request a brochure of your retail items and  social media  users that follow you on the internet.
The information that will help the person you decide to hire is listed below:
Education
Income
Industry (i.e., technology, retail, real estate)
Gender
Culture
It is recommended to hire a graphic designer that has a minimum of 2 to 5 years of experience in your industry.
To ensure that the work is done according to what you are looking for, explain the  brand identity  and target audience.
Each company or business is different, and that's where  brand values  and customer personas come in.
If a designer doesn't know what your brand is trying to achieve, you will most probably get something that is not intended. You can also ask them to do research and ask questions when needed.
However, we would recommend to always brief the designer before starting the project. If you have defined a persona for your audience, don't forget to share it with the creative. It will help them better understand the target audience.
8 – Effective Communication Skills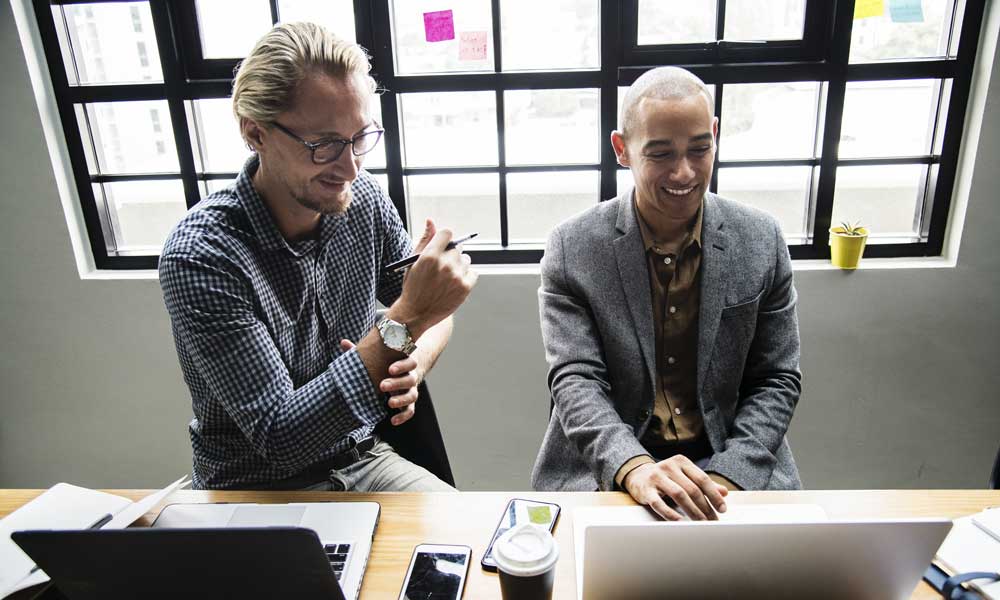 A designer that can understand your vision when instructions are sent via email, telephone or in-person is ideal.
A designer with 5 to 10 years of experience completing assignments for a variety of industries (i.e., healthcare, retail, fashion, technology) has an imagination that can change the entire branding of your current designs.
It is helpful to select a candidate that asks questions, is assertive and can be mindful of the opinions of the team.
Tip – Do a video chat interview
Interviews are crucial when it comes to knowing the candidate. Of course, you can always ask questions in chat, but a video chat is what will make you sure about your choice. You can set up a video chat at a preferred time by yourself and the candidate.
In the interview, try to become familiar with the designer.
You can also go ahead and ask them to present visuals that will help your further gauge their skills. After doing the interview, give them feedback on what do you think about them.
Also, don't call out if you don't like anything. It is always a good idea to interview a few potential candidates before making a final decision.
9 – Subject Matter Expert
A graphic designer that can communicate industry knowledge by studying trends attends industry events and has a network of graphic designers at leading companies is a perfect candidate.
This individual participates monthly graphic design membership meetings in his or her free time.
If the designer is active in the community by teaching graphic design part-time or volunteers their skills to help local businesses learn design fundamentals, it reflects their passion for their craft.
Graphic design is a significant vertical. It also includes experts with specific design skills. Someone may like to do creative work on books or maybe do packaging design . There should be particular skills that you should look for.
If you are not sure, always ask the graphic designer upfront so that everyone knows what to expect.
For example, you might want to hire a graphic designer who can take photographs before using them in your project. Alternatively, maybe a specialist in either  Visual Studio  or  Adobe Illustrator .
Your requirement determines what type of skills you are looking for. To ensure that you get the right talent for your project, be clear and upfront.
10 – A Salary You Can Afford
The salary of a graphic designer varies in the United Kingdom.
PayScale  offers a salary review that states the median income of a Graphic Designer is £21,821.
The range based on the job experience is between £16,009 – £30,011.
A freelance graphic designer earns between £12,040 – £60,343.
However, employee benefits that include vacation, healthcare, and sick days are not involved in employing a freelancer at your company.
There is no scarcity of talented graphic designers. However, you will only get what you pay for.
For starters, simple projects should have a minimum budget of $50. The higher the complexity or requirement, the higher the budget should be.
If you don't maintain this and try to hire someone with less experience and less budget, don't be disappointed if they don't deliver high-quality results.
More significant projects, on the other hand, should have budgets starting at $1000, reaching up to $10,000 or more.
However, there are scenarios where you might only need to spend $500-800.
For example, you can use a website builder like WIX, SQUARESPACE or UCRAFT to build your blog . Once done, you might need some modifications to your design.
In this case, it is better to hire a graphic designer who would quickly do it for you. You should also consider agencies that provide a  complete end-to-end solution .
They are more experienced in handling projects, and would always give you a breakdown before starting your work. They are upfront and will manage the expenses professionally.
Also, it doesn't matter who you hire, always ask for a detailed breakdown of the expenses that will take place during the project.
The Best ways to Find and Hire a Graphic Designer
The freelance economy has developed the careers of educated and highly qualified graphic designers in the industry.
According to a Forbes article , "Since 2009, the freelance economy in the UK has grown by 25% and generates an estimated £109 billion a year."
We include a few reputable sites to help in hiring a graphic designer for upcoming projects.
Upwork
Upwork is a  freelance website  where companies can set up a profile, post a job opportunity and communicate with independent workers.
The website acts as a mediator for businesses to pay freelancers online and review disputes for non-payment or issues with projects.
Guru
Guru is another freelance website with international workers that bid for job opportunities posted by organisations.
You can set an expiration for the job posting and review the applications of freelancers.
Payments can be made based on milestones. For example, if the rate to pay a graphic designer for a logo is £500, you can send £250 as an initial deposit until the work is complete.
Hubstaff Talent
On Hubstaff Talent a job post is free for 60 days. The job can be set to public for hiring a graphic designer searching for freelance work to find the posting.
If Hubstaff freelancers should find the posting, it can be set to limited visibility.
Freelancer
On freelancer, a standard job posting is free with excellent opportunities that require a fee.
Media Bistro
Media Bistro is used by well know companies that include NBC Universal, Bloomberg, Visit Britain and the New York Post.
The benefit to using the site is you can post either a freelance job or an in-house position to find a full-time employee.
Hiring managers in human resources can use it, or an entrepreneur with a  small business  can find qualified talent.
Final Thoughts
Hiring a graphic designer is meant to make your life easier. 
A qualified professional can support a team of in-house designers or can work remotely from home, offering assistance during business hours.
The first step is to determine the skills needed for a designer to accomplish your short and long-term business goals.
Review the budget for hiring a professional to confirm if it is best to hire an employee or reduce costs by working with a freelancer.
Hiring can quickly turn a week into a month. Generally, many businesses try to hire designers in a span of 2 or 3 days. That's not bad.
However, the chances of hiring the wrong person are high if the time is cut short.
It is essential to communicate this in a job posting the business needs.
Also, discussing the needs of candidates to prevent hiring the wrong person is essential.
If the designer has experience working as a freelancer search for reviews online that is available on  Google  or a freelance website.
Test graphic designers that apply for the job posting and request a contract be signed.
A short-term contract provides time to review work completed  to discern if the graphic designer is right  for the company long term.
It is your responsibility to build an engaging relationship with the graphic designer you hire. As usual, a proper communication channel can open tons of possibilities and also make a long-term relationship with your hire.
Always remember, your business is all about the people you work with. It is them that build your business, and you should work hard to maintain a positive relationship.
Being transparent, concise and feedback oriented can help anyone grow under your leadership and also bring your business to new heights.
So, what do you think about the tips listed above?
Comment below and let us know.
Contributor:  A blogger at  WebPrecious  and a digital marketing strategist helping clients to resolve their website woes. When not busy with all things, you may find me occasionally watching movies, travelling and spending time with my family.
Last update on 2022-09-20 / Affiliate links / Images from Amazon Product Advertising API