Popular surveys and research papers have talked in depth about the toxic environments this generation is living in.
The present scenarios are alarmingly severe with the rising amount of pollutants in the air and water we depend on for our survival.
If the present concerns are not catered to immediately, it might be too dangerous a damage to work upon.
Call it consciousness or the threat of a dooming world, this generation is more concerned and responsible about the ecology.
As compared to the previous generations, the present age is more willing to work towards a cleaner environment.
This concern is not limited to individuals, but also to businesses that are booming with technology.
As a business, you might ask, why, when there are other things to focus on in your plate?
This can be answered in 2 ways.
The first being, other successful businesses are doing it and doing it successfully.
Example, Elon Musk!
The second being, you have created your business to cater to people.
The people/consumer needs to see that you share the same concerns and you are taking initiatives to work on it.
This makes you more believable and creates better connections with your business.
Many organisations worldwide, are conveying their concerns loudly about the dangerous environmental hazards.
They want people or consumers to know their concerns and want to show how they are working towards it.
They talk openly about how consumers could help them solve the issue.
Company logos make the first impression for consumers.
And companies today, are using their Logos to show they are working on an environmental issue.
However, these green logos, eco-friendly logos, are designed with particular details to speak to their consumers.
Elements of colour, typeface and symbols are looked into to give the right impression to the viewer.
Each of these elements is supposed to make for an environmentally concerned brand identity .
The primary intention is here, to make use of the power of Visuals (through logos) to attract the right attention to a concern.
The usual colours used in these logos are green, blue and brown.
Lately, companies are making use of unique or abstract ways to depict nature, intelligence and friendliness in their logos.
Here are the Top 10 Eco-Friendly Logos and Brands that you could refer to.
1 – Green Business Alliance
This is an eco-friendly brand that aims to help other businesses become greener.
Their logo is predictably green and has a tree in it.
It has a lot of branches coming out and all going towards the centre.
It has a leaf that also depicts a heart at the centre.
This graphical Logo is a clear depiction of what the company intends to do.
A company Logo in itself can talk a lot about the company.
This is why it is so important to work on designing the best company Logo.
As a business, when you are catering to Millennials, it's important to work on the minute of details.
2 – TOMS
This company started with the simple idea of providing primary footwear to children in developing countries.
The moto was simple; the company donated one pair to a child for every pair sold in their outlets.
They have since expanded to working on clean water, eye services and safe birthing kits, in communities in need around the globe.
Not just this, all their products (even the boxes) are made out of recyclable vegan materials.
Things as articulate as this, might not have impressed consumers 20 years ago, but things have changed since then.
As a generation, Millennials are a unique , highly informed and ecologically aware group.
They are impressed when minute details have been looked into.
3 – Carbon Fund
This non-profit company provides carbon offsets, which are capable of changing the planet.
The company logo is circularly shaped, which demonstrates both inclusion and conclusion.
It looks like a rising sun, which shows optimism and freshness.
They have used bright colours in green and blue to show their dedication to a cleaner and happier planet.
4 – Whole Foods Market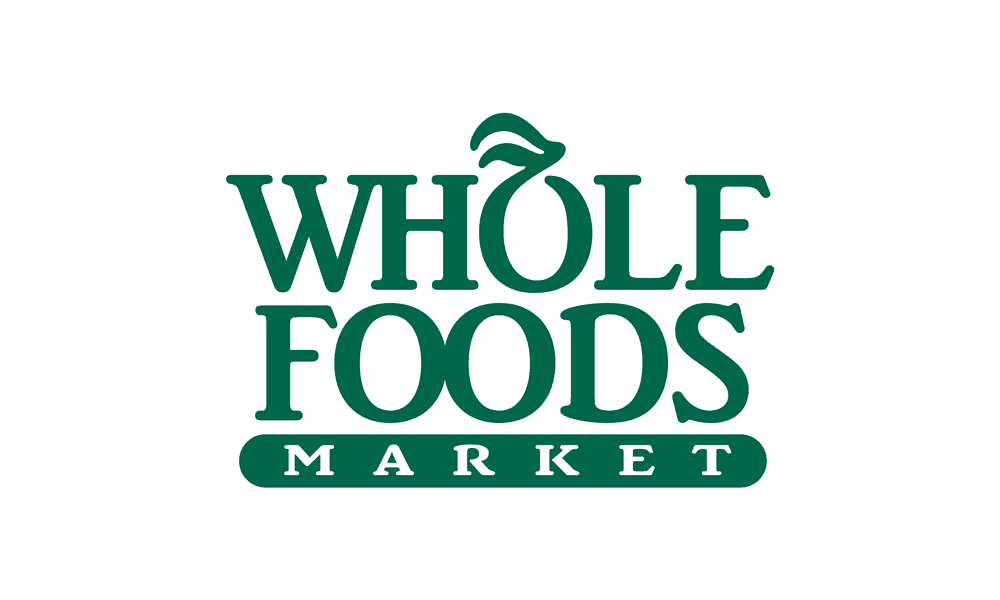 This might not be a company dedicated only to ecological causes, but undoubtedly contributes to fair trade and believes in organic living.
The company logo is in green and white and goes in real line with their values.
The O in whole is designed to look like a whole fruit.
It has leaves on top and made to look complete.
This makes sense for a company which aims to serve whole foods.
5 – Patagonia
It is the world's most successful activewear retailer.
They are a bunch of eco-conscious people with the corporate philosophy of going all green.
They have repair centres in different parts of the world to reduce the damage of products and hence decrease the carbon footprint.
Even though their corporate policy is "100% for the planet", they have not been entirely successful in it and open about it.
They make use of fossil fuels to manufacture shells for their coats; this can contribute to climate change.
But their dedication towards changing and improving on those lines is what sets them apart in the market.
Being transparent about your business and trying continuously will help to connect with consumers.
6 – Beyond Meat
Did you know that "Meat Industry" is the most significant contributor to the ongoing environmental crisis/climate change?
This is for real, largescale production of meat leads to adverse impacts on the environment.
This is where Beyond Meat comes into the picture.
They produce plant-based meat products that are better for human consumption and doesn't hurt the environment.
The brand identity in itself focuses on doing good for the consumer and ecology, that shows in their Eco-Friendly Logos.
They have made use of some excellent pictures and logo designs to how they are benefitting the society and the consumers.
This business is a classic example of how to see the green side of any (absolutely any) company.
Be it a printing agency or a soap manufacturer; there's always a scope to go green.
More and more companies need to think out of the box.
They can put unique environmentally friendly spins to their businesses to make the world a better place.
7 – Green Options
The name in itself speaks for the company's goals and intentions.
Established in 1990, Green Options is a landscape management company with very high standards.
Green Options has brought together qualified greenkeepers, horticulturists, landscapers and irrigation experts to meet the diverse needs of clients.
Eco-friendly logos like these speak for themselves even when it isn't explicitly listed down in websites.
The logo is green in colour, and the circle in it gives the sense of completeness.
The illustrated trees and sun are simple and send a positive image of nature.
8 – Planet Green
This one is as simple as it can get.
This is Discovery Network Channels company logo design.
It has a green circle on a white background, that is it.
The earth is round, and it should be green.
The company logo tells clearly about its concern about a green environment.
Other companies could take a lesson and learn how Eco-friendly logos aren't just about complex designs or graphics.
It could even be a plain design if it speaks the right message to the viewer.
9 – Lush Cosmetics
This marvel is an all-natural bath and body brand that makes everything from shampoos, soaps to fragrances.
It is pretty popular and famous among beauty bloggers to regular humans, basically, anyone who loves taking a good bath.
The company is just not dedicated to making people beautiful but also to beautify the world around.
It is an eco-friendly brand which takes natural initiatives like designing solid shampoo bars to avoid packaging.
Lush Cosmetics rewards its consumer every time they bring empty product packaging to recycle.
The brand logo is simple, fresh and feels pure.
When contemplated along with its products, store image etc. it shows their dedication towards a clean organic planet.
They attract the kind of customers that want to make the earth beautiful while becoming beautiful themselves.
10 – Ausra
This is a solar energy giant that took the risk of not sticking to the regular green conventions mentioned before in Eco-Friendly Logos.
It completely avoids the mainstream green imagery in other company logos .
Instead, it has made use of just orange, black and white.
The company logo is a single orange sun in the white backdrop.
The orange sun is an obvious yet smart depiction, as it is a solar energy company.
This unique selection of colour and font might be risky but has undoubtedly marked this company apart from its competitors.
Author Bio: Swaraj Das Mohanty is a Content Marketer at PagePotato . Being a graduate in Journalism from Bangalore University and an ex-Radio Jockey, he helps brands put their best content up front. Beyond work, he is a bookworm who knows to cook & drive in search of lip-smacking street food. Follow him on Instagram at BoredBelly .
---
If you wish to discuss how we can develop your brand or provide graphic design for your product or business, email us: hello@inkbotdesign.com
Inkbot Design is a Creative Branding Agency that is passionate about effective Graphic Design, Brand Identity, Logos and Web Design.
T : @inkbotdesign F : /inkbotdesign
---