Brand Awareness: How To Create Inexpensive Campaigns
Awareness breeds familiarity, and that in turn rolls out comfort and trust.
Whatever people can correctly identify, amid brand noise, consistently has a worthy edge over anything else that exists in the same niche.
Brand Awareness is the degree to which your ideal clients recognise your brand and feel the emotions you set out to instil in them.
Now, pay attention to the difference between Brand Recognition and Brand Awareness: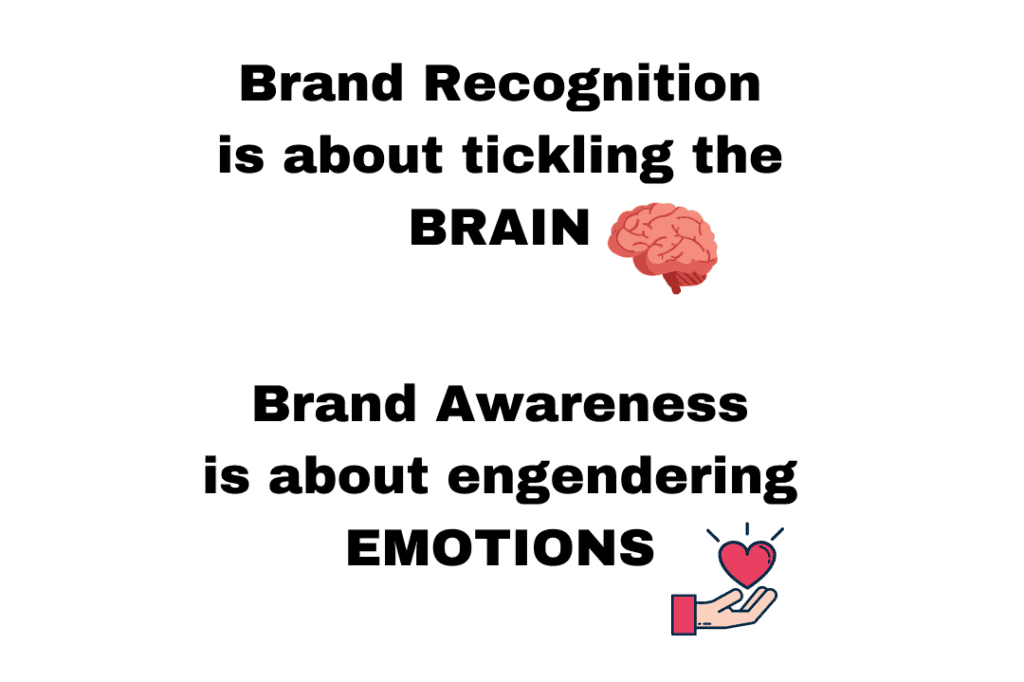 The mere recognition of your brand won't help your sales, as prospects won't be able to get on the boat of trust and land on the shore of customers.
[ Source ]
And how do you make someone feel? By being consistent in your communication, period.
This is true of every relationship that you can have, be it personal or professional.
Remember that the core which controls human relationships is TRADE, and trade occurs only when there is trust.
To generate and establish brand awareness, companies adopt a myriad of ways.
BUT…
Before you Build a Brand Awareness Campaign…
Understand That Building Is Not Enough
It is famously called a 'mistake' to expect that if you build it, they will come.
But I wouldn't do so, as I understand that entrepreneurs tend to pour in their blood, sweat, and tears to build what they must.
Since emotions are involved immensely, business owners expect their ideal customers to find them and buy their product because what they built is purely awesome!
Even though I wouldn't call it a 'mistake', it indeed is wishful thinking.
You have to let people know that you exist.
Then, communicate what you stand for and how that relates to your product.
And then, do those as mentioned above consistently to remain in the minds and hearts of your ideal customers so that they keep buying only from you.
Now that you understand that (just) building a great product is not enough and that you need to  communicate to your ideal prospects consistently , it's a no-brainer that you must have an active outreach system baked into your marketing strategy.
Incorporating that will ensure that you aren't sitting back waiting for your prospects to find you.
It will push you to hunt them down, make them see your product that can transform their lives, and give them innumerable reasons to stay loyal to you.
All this requires a  strategic plan  devised for the short term, medium-term, and long term Brand awareness. 
1 – Build A Buyer Persona
Do you or have you ever felt 'lost in your life?
If you have felt so, what did you not have in that period? DIRECTION, right?
We are designed to find and fulfil our purpose. And when we find ourselves operating in the lack of it, we feel empty inside.
That precisely is mapped onto the business arena.
To sell what you have built, you must have absolute clarity on whom you built it for.
And trust me, your product isn't for everyone.
The more specific your offer is, the better you will be able to serve your ideal customers.
Why? Because your ideal customers look for solutions that solve 100% of their problems.
And the brand that wins them is the one that inches towards that 100%!
So, before you start marketing your business, research extensively to  build a user persona  so that you know exactly whom you're going to talk to and most definitely convert them into a customer.
2 – Stalk Them (Healthily, Of Course)
Now that you have built a buyer persona that helps you visualise what your ideal client looks like, it's time to attain their (online) whereabouts.
Doing that will help you breathe in their interests, online mannerisms, engagement frequency, dominating gender, buying capacity, etc.
And primarily, which platform do they use to hang out.
Is it a forum or Facebook Group, or YouTube?
Getting to know that will help you zero in on the platform that you must invest most of your time and money.
3 – Know What You Stand For
We are judged by our ethics, morals, values, and principles.
We tend to keep people like that at the top of the humanity chart.
The same is true of brands!
Appending 'the thing' that you stand for, as a brand, helps people see you as a human instead of a company.
Drawing clarity on this factor will help you to build marketing material around it. 
And bam, just like that, you'll have a theme that you can stick to in every marketing campaign .
…which implies Brand Continuity.
4 – Test And Improve
Visualise what success looks like for your brand, and direct every effort towards realising that goal.
You need to clearly define Key Performance Indicators(KPIs) for your business to track and see what's working.
We mentioned this point  in our article on Brand Continuity .
What gets measured also gets accomplished!
It's not only enough to market and advertise your brand , but tracking your campaigns' progress is also of paramount importance.
That helps you objectively measure what's working for you and what needs tweaking to  establish your brand  and consistently generate sales.
And yes, you'll have to let go of any strategy that doesn't work in your favour, no matter how much time and effort you put into its execution.
Low-cost Brand Awareness Tactics
Let's take a look at some low-cost tactics that, if used wisely, can help you generate an immense load of brand awareness:
1 – Open Your Doors, Selectively
Clubhouse , an invitation-only audio-chat iPhone app launched in April 2020, offers room for discussions between two or more speakers.
It is still in private beta mode, and its valuation has jumped from nearly $100 Million in May 2020 to $1 Billion in January 2021.
[ Source ]
Its usage by highly influential entrepreneurs like Elon Musk, Bill Gates, Mark Zuckerberg, etc., helped shine a fine spotlight on the new social media taking the world by storm.
Whenever you add an exclusivity factor to your product offering, you project it as a forbidden fruit that makes people want to have it asap.
Just look at the user growth of Clubhouse:
[ Source ]
Can you come up with a way to make your product exclusive?
If there is one, you won't regret going the invitation-only way, as that's the quickest way to build a brand that's both valuable and viral.
2 – Help To Receive
Kunal Shah, the founder of  CRED , published a LinkedIn post that gathered substantial social media numbers and deep engagement:
[ Source ]
Before we move further, just a quick overview of what CRED is:
It is a fintech startup, a members-only credit card bill payment platform that rewards its members for clearing their credit card bills on time.
It is currently valued at $806 Million and is on its way to raising $200 Million at a $2 Billion valuation.
Let's carefully observe the elements of Kunal's post:
He created a campaign around the product offering.
The campaign's outcome is meaningful but straightforward—it takes care of a person's one-month credit card bill!
He didn't put it up as just another giveaway. Still, He put up a condition that participants must share a short story about a person who helped them in a year that was incredibly tough on everyone—manufactures emotions and helps them bond with Kunal and CRED.
The post pushed people to invest their time in pouring out their heartfelt stories:
[ Source ] 
And the stories that come from within help reinstate our trust in humanity. 
Just the basic human emotions. Do you see?
What does your brand stand for? 
Creating a meaningful and helpful giveaway will enable you to help your current customers and acquire new customers via virality and word-of-mouth.
In a world full of companies that are after money, being a brand that cares for its customers is refreshing.
3 – Flaunt Your Testimonials
The world's infrastructure is built on recommendations, which itself is built on top of trust.
Publishing materials that project social proof is one of the quickest ways to convert a prospect into a customer.
And what would be better than a customer writing a genuine and awesome testimonial?
But you don't have to slap that greatness onto your website in a conventional and boring format as all companies do.
You could do something that  Figma  did…
Figma is a free online design tool primarily web-based, with additional offline features enabled by desktop applications for macOS and Windows.
It featured Airbnb's testimonial in a video format:
[ Source ]
I urge you to visit the above link to experience the point-blank awesomeness that the video is.
Just like Figma, regardless of your company's domain, you could do the same.
Imagine the possibilities here!
4 – Highlight The Transformation
All right, this one is especially for local businesses like salons…
The most efficient way to showcase your abilities as a hairdresser is to publish a before/after pic of your clients.
Aalim Hakim , a celebrity hairstylist, does this religiously. He has built a cult following around his skills and consistently lands high-profile clients using this strategy.
Take a look at this:
[ Source ]
How does your business transform people's lives? Is it something that can be seen, and therefore, felt?
If that's the case, I'd urge you to capitalise on this tactic that will help your prospects feel confident in you.
And it's a bonus that social media posts like the ones above encourage viewers to share them, which  results in tremendous organic reach .
5 – Get Flashy With Flash Sales
Providing a high-quality item for a limited amount of time is an age-old technique to boost sales.
This is highly prevalent in the eCommerce industry.
If you own an eCommerce brand, you must give this tried-and-tested method an honest go.
Jack Butcher ,  the founder and CEO of   VisualizeValue , put up a flash sale on one of his best-selling products—Build Once, Sell Twice:
(this is the product that made VisualizeValue a million-dollar brand!)
He does this consistently to boost awareness of the brand and, thus, the sales.
You can implement this on your social media platforms and  email list .
If you've built a brand with loyal followers, it becomes a no-brainer for them to grab a limited-time offer.
Try this, and let me know in the comments how it worked out for you. 
6 – Be A Good Guest
Why would you like to  waste your time  building an audience from scratch when you can capitalise on someone else's?
Yes, use someone else's audience to display your expertise and gain exposure and credibility.
And if you're lucky enough, some of those peeps would even become a paying customer.
The way to do that is to do guest blogging.
Connect with blog owners who have a sizable audience in the niche that you operate in.
Ask them if they would be open to feature a guest post.
And boom, there you have an opportunity to get eyeballs on your brand!
Do this consistently, and you will gain followers and customers, period.
7 – Become Premium By Offering Freemium
Carrd , a simple, free, full-responsive one-page website builder, follows the freemium model.
It's recently become trendy amongst info-product entrepreneurs because it offers them a way to build unlimited one-page websites to try out as many info products as they want before settling down with a winner.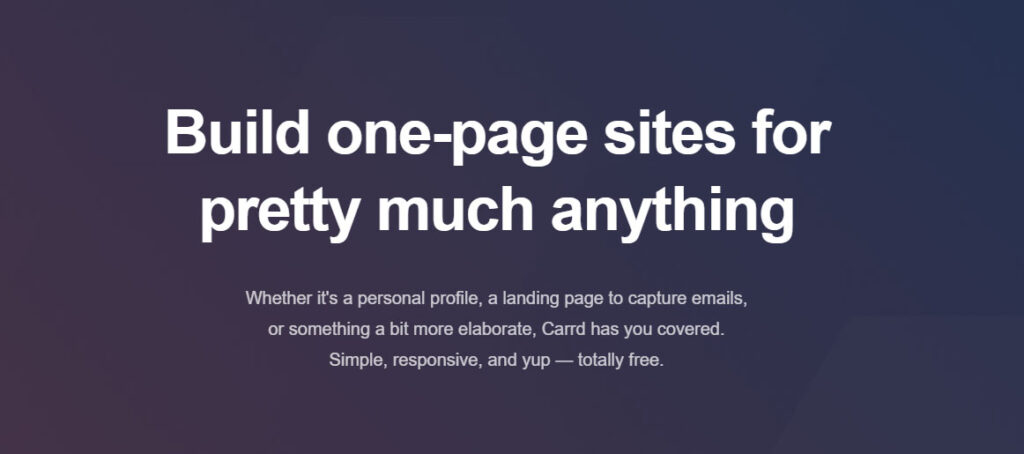 [ Source ]
But, Carrd reserves the most important features for its Pro Members:
[ Source ]
Freemium works sweet for anything SaaS.
If you own a SaaS product, segregate its features and offer it under the Freemium model.
It's (almost) guaranteed to fetch you eyeballs and a good load of paying customers who see value in what you have set out to offer.
It must have become evident to you now that it doesn't require money to make money, especially if you have a business in the niches mentioned above.
Building a successful business that lives in the hearts of its ideal customers that cannot help but pay for the product/service every month depends on your marketing and advertising strategies' depth and consistency.
If you'd like to swell up your brand awareness, let's chat!