Essentials for In-House Product Photography
Doing all your product photography in-house can save you money and give you control over your product catalogue.
There is a lot of preparation that goes into in-house product photography. In this article, we will help you through the essentials that you need to remember if you want to build an in-house product photography studio.
Advantages of in-house photography
The whole process of product photography is in your control. The timings, the cost, the lighting set-up, human resources , and photo quality will all be directed by you.
You will save on shipping fees. Photos are shot in-house, so you will not have to worry about the risk involved in shipping products or the cost.
The communication between the photographers and the production department will be more accessible and better. Both parties will better understand what kind of photographs are needed, what kind of perspective is required, what is the advertising strategy , and so on.
It will save you a lot of time. If you outsource your product photography, there will be instances where the outside vendors will be occupied with several other projects, and you will be asked to wait for shooting or editing. An in-house photographer ensures that your photos are shot as the priority.
Types of Product Photography
There are different types of styles and purposes in product photography. Some are simple and elegant for everyday use, while some are unique and special. 
You can choose to keep a consistent look for all your products, or you can choose to introduce different perspectives on different products. 
The critical part is understanding the difference between each type of product photography and deciding what you want to achieve with your product shots.
Remember to utilise good composition regardless of whichever shot you opt for. There are some great resources to learn about composition in photography:
Individual Shots
Individual shots are the most common option for most beginners in product photography. Individual shots will focus only on one product in the frame. 
These shots are often taken to advertise on product catalogues or banners to highlight an individual product amongst a whole collection.
You can shoot this type of product photography on a clean white background to enhance the product's colour and the most delicate details and keep it simple so that the focus does not waiver from the product itself.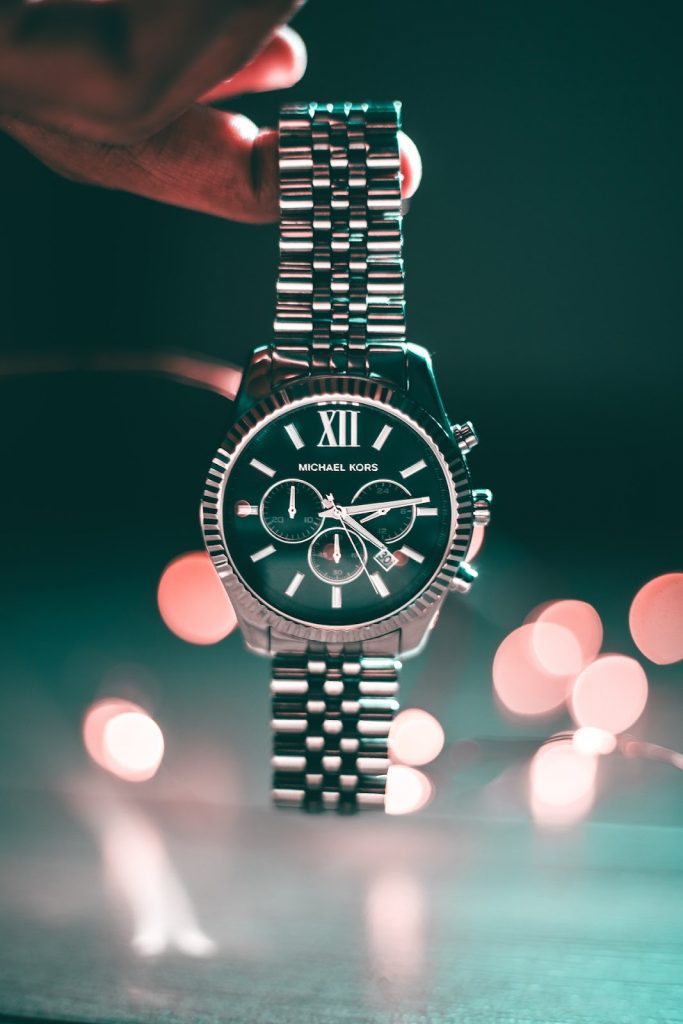 Group Shots
As the name suggests, group shots contain more than one product in the frame. So if you want to display your product's range and variety, this is how you can do it.
Group shots help your customers to have a complete view of your entire product collection and what you are offering.
These photos are best suited for Instagram posts and other social media platforms to advertise your wide range.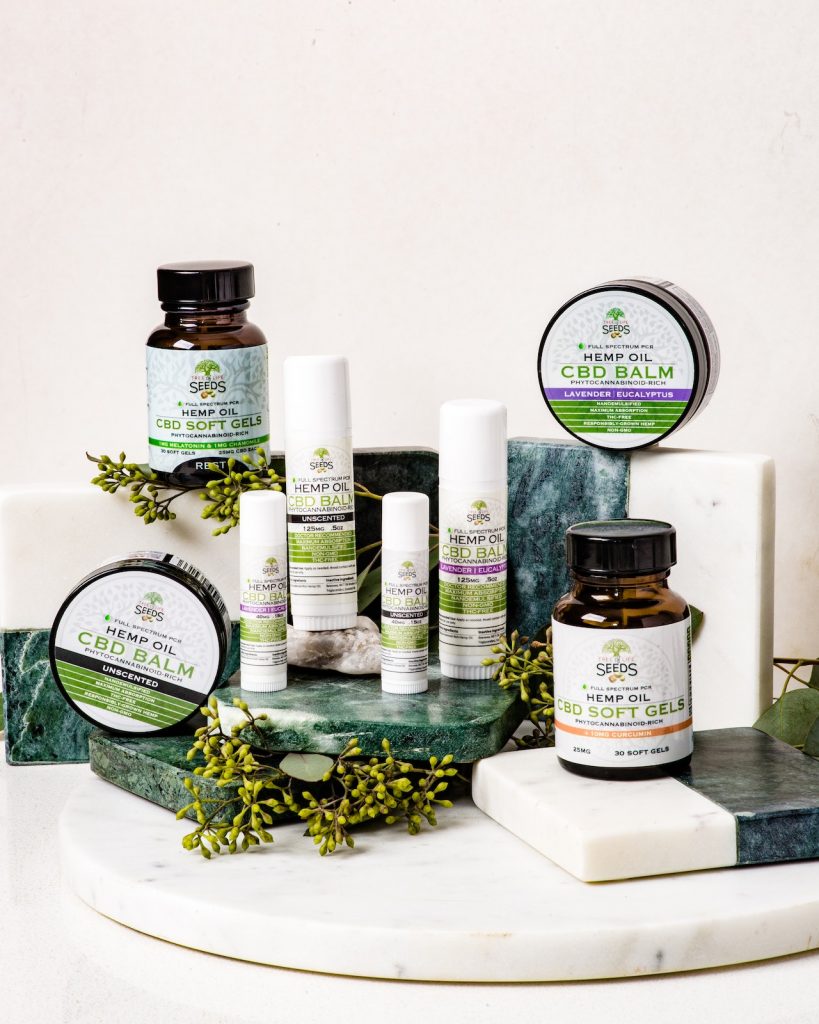 Lifestyle Shots
Lifestyle shots are taken with the help of a model to make your products seem in use.
Lifestyle shots give a little edge to your products as it adds a story and demonstrates to the customers how to use the product in their daily lives.
You can use these shots for various social media handles as well as other visual channels because they tend to make your products feel a little more personal and is suitable to attract many customers.
These shots are also helpful to pepper into product descriptions as you describe the product's features and benefits.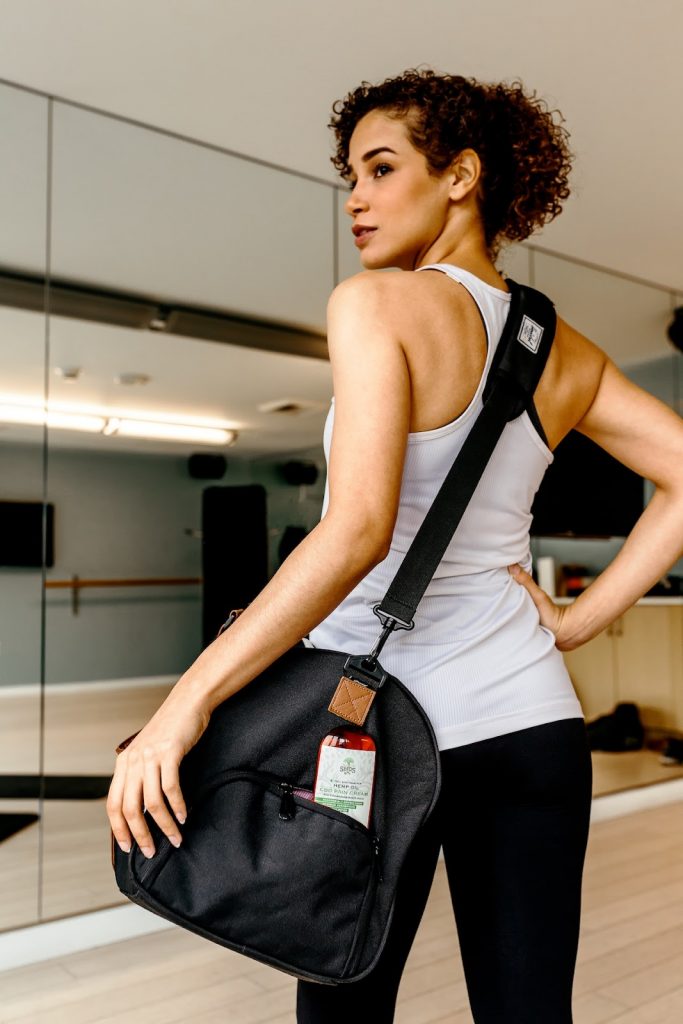 Scale Shots
Scale shots help your customers view the actual size of the product and help them know your product better by comparing it with other day-to-day items.
These shots make purchasing any item online much easier for the customers as a common issue with online shopping is that the customers are always in a dilemma about the size of the product.
Detailed Shots
A detailed shot can benefit products requiring a close-up view, like jewellery or other small items. 
These shots present a highlighted and detailed view of the different product features that a traditional shot might not be able to capture.
For taking a great detailed photo, you will require proper lighting, camera settings, and background set-up.
Packaging Shots
The customers must get the best shopping experience while purchasing your products. To do so, photographs of packaging are an essential part.
You can have a great product, but if the packaging is not up to the level, it might dampen the enthusiasm of your customers. 
But if your product comes wrapped in beautiful packaging , it might increase the selling chances.
Hence, packaging shots showing your packaging techniques can be handy selling tools.
These shots are also really similar to branding shots .
How to take great product photos
Taking great product photos requires a steady process, a few tips and hacks up your sleeve, and a creative perspective. 
Then there are other things you can take care of in your background, lighting, camera, product placing, etc., that will help you take the best product shot.
These preparations are necessary as the first impression of your photos in front of customers is essential. 
In product photography, the product's essence needs to be enhanced to give a back story, which will help with advertising and marketing.
Great photos of your product will testify to the quality and value of your product and establish transparency between you and your customers. 
But, until your product reaches the hands of the customer, your photographs are all they rely on!
Lighting
Having adequate lighting is an essential element in product photography. It is hard work to adjust the lights and create the mood you want for your product, but poor lighting can hobble even the most talented photographer.
For product photography, you can choose from two lighting options – natural light and artificial light.
Natural Light
Natural light is considered the best option among many aspiring photographers. If utilised correctly, it can help you produce high-quality images.
Natural light is more suitable for outdoor or lifestyle shoots with a model. To get optimal light, set the time for the shoot so that the sun is at its peak.
If your product shoot is indoors, you can direct the shooting table and your background near a window that gets natural light. If you feel the light is coming on too strong, you can always use a light sheet or paper to drape over the window to adjust the light.
Artificial Light
If you want to invest in different studio lights to give your product a specific look or don't want to shoot outdoors, you can always use artificial light.
You will require two soft box light setups to soften the shadows, or you can use light clamps or bulbs as artificial light.
After setting up the studio lights, you can decide how to position your product. 
It is worth noting that you can adjust the lights even after taking one or two practice shots if you are not content with how the photos have turned out, but keep one leading light in front of your product and the other for the backside a decent exposure.
Sale
Bestseller No. 1
Kaiess 10.2″ Selfie Ring Light with 65″ Adjustable Tripod Stand & Phone Holder for Live Stream/Makeup, Upgraded Dimmable LED Ringlight for Tiktok/YouTube/Zoom Meeting/Photography
【Dimmable Circle Light & Upgraded Lampshade】Including 3-color lighting modes: Warm Light, Cool White, Day Light, each mode has 10 brightness levels, and a total of 30 options will meet all your needs in different circumstances. It is the perfect extra light to take away all the unflattering shadows. Compare to the flat lampshade, the light of the upgraded arched lampshade is more uniform and balanced, reduce the irritation of light, and protects our eyes. Influencers equipment must have.
【Upgraded Tripod Stand】 Comes With Quick-Flip locks so you can adjust the angle of stand directly and weighted tripod base for increased stability. Extends from 17.5″ to 65″ and made of high-quality aluminum, It can be folded as a table tripod or unfold to stand on the floor.
【USB Powered &Wireless Remote】No battery needed, works with most devices that support USB port, like a laptop, PC, power bank, USB charger, AC adapter, and etc. Switch Lighting modes and adjust brightness levels, allowing you to find your preferred options in seconds. Set your hands free by wireless remote control. Android and iOS are compatible.
【Diverse Application 】 Great led ring light for daily work and life. Ideal for a makeup tutorial, Tiktok short-form mobile videos, Facebook, Instagram, YouTube video shooting & Live streaming, Zoom video conferencing, online teaching. Perfect for all kinds of close-up photography and filming. Such as fashion, advertisement, portrait, wedding. Making you shine like a star.
【Rotatable Phone Holder】 Compatible with ALL smartphones with or without a case, suitable for iPhone X/7 Plus, 7, 8, 8 Plus, X, 6, 6s, 5, 5s, 4, 4s/Samsung Note 8, S8/S9/LG/HTC. 360 degree rotatable, adjustable viewing whether it may be horizontal, vertical.( Package included: 1 x 10.2 inch selfie ring light, 1 x tripod stand ,1 x phone holder, 1 x User manual ,1 x remote shutter)
Showcasing the product
Showcasing the product vision is essential, as displaying them in the correct form has the potential to convert just visitors into regular customers.
When you are selling your product online, the visual appeal or the feel of your product is your best tool to attract more and more customers to your website. Hence, the photos that appear most professional are very impactful.
Different angles
Every customer is curious to look over the product they are buying very closely. So when you are selling online, the customer will look for photographs taken from every angle to help them decide their purchase.
So take photos from as many angles as possible and add a suitable description. Of course, this process gets more manageable if you have a professional camera at your disposal.
If not, make sure that whichever equipment you use to take photos captures the elements and features of the product as closely as possible.
Gear considerations
There are several gears in use during a product photoshoot. One is a shooting table or chair on which you will place your product and then capture it from several angles.
All these things included in his gear to create the perfect look for the product are integral for an in-house product photographer. But, of course, the essential part of his gear would be a camera and then a tripod.
Cameras
Choosing a camera for product photography mostly depends on your style and comfort. If you are comfortable with the settings of a DSLR, then invest in them, or if you prefer a mirrorless camera, that is a good option too.
DSLRs
There are many choices to choose from amongst DSLRs. Some are budget-friendly, while some are expensive, but you can always get a good deal through Amazon or other camera dealers.
According to my research, I have listed a few cameras that are the best picks for product photography:
Bestseller No. 1
Sale
Bestseller No. 2
Panasonic LUMIX G85 4K Digital Camera, 12-60mm Power O.I.S. Lens, 16 Megapixel Mirrorless Camera, 5 Axis In-Body Dual Image Stabilization, 3-Inch Tilt and Touch LCD, DMC-G85MK (Black)
Fine Detail Performance: 16 megapixel micro four thirds sensor with no low pass filter resulting in a near 10 percent boost in fine detail resolving power over existing 16 megapixel micro four thirds sensors; Color temperature setting 2500 to 10000K in 100K
Mirrorless Interchangeable Lens Camera: With 12 60 millimeter lens, Shoot lighter and faster with the modern hybrid photography performance of a mirrorless camera and nearly half the bulk of most DSLRs
Class Leading Dual Image Stabilization: In body 5 axis dual image stabilization works in both photo and motion picture recording including 4K video to produce clear handheld shots even in low light conditions. Diopter adjustment: minus-4.0 to plus-4.0 (dpt)
Live Viewfinder and Flip LCD Display: Integrated eye level OLED live viewfinder (2360K dots) and rear touch Enabled 3 inch LCD Display (1040K dots) adjusts for optimal viewing angles to maximize viewing
4K video Capture: 4K QFHD video recording (3840 x 2160), plus exclusive Lumix 4K photo and 4K Post Focus allows you to record photos up to 30fps and set your desired focus points after the photo has been Taken
Bestseller No. 3
Mirrorless cameras
Mirrorless cameras are better than DSLR cameras in many respects, especially if you're looking for something that's not too bulky and easier to manage.
These are some of the best mirrorless cameras you can use for product photography:
Sale
Bestseller No. 1
Panasonic LUMIX GX85 4K Digital Camera, 12-32mm and 45-150mm Lens Bundle, 16 Megapixel Mirrorless Camera Kit, 5 Axis In-Body Dual Image Stabilization, 3-Inch Tilt and Touch LCD, DMC-GX85WK (Black)
Fine Detail Performance: 16 megapixel Micro Four Thirds sensor with no low pass filter resulting in a near 10 percent boost in fine detail resolving power over existing 16 megapixel Micro Four Thirds sensors
Mirrorless Interchangeable Lens Camera Kit: With 2 super compact lenses 12 32mm F3.5 5.6 and 45150mm F4.0 5.6, shoot lighter and faster with the modern hybrid photography performance of a mirrorless camera and nearly half the bulk of most DSLRs
Class Leading Dual Image Stabilization: In body 5 axis dual image stabilization works in both photo and motion picture recording—including 4K video—to produce clear handheld shots even in low light conditions. Battery AC Adaptor (Input 110 – 240V AC) (Included, connect with USB cable). Battery life (CIPA standard) Approx. 290 images (rear monitor), 270 images (LVF) with H FS12032
Live Viewfinder and Tilting LCD Display: Integrated eye level electronic viewfinder (2764K dots) and rear touch enabled 3 inch LCD display (1040K dots) provides 80 degrees of up tilt and 45 degrees of down tilt to maximize viewing. Recording media-(Compatible with UHS-I UHS Speed Class 3 standard SDHC / SDXC Memory Cards). Direct Print-Pict Bridge compatible
4K VIDEO CAPTURE: 4K QFHD video recording (3840 x 2160), plus exclusive Lumix 4K photo and 4K post focus allows you to record photos up to 30fps and set your desired focus points after the photo has been taken. Minimum Aperture: F22
Bestseller No. 2
Panasonic LUMIX G7KS 4K Mirrorless Camera, 16 Megapixel Digital Camera, 14-42 mm Lens Kit, DMC-G7KS
Superb DSLM image quality without the bulk and weight of traditional DSLRs
Never miss a photo with three unique 4K ultra HD video pause and save 4K photo modes
Fast and precise auto focusing tracks the subject; Focus mode AFS (single) / AFF (flexible) / AFC (continuous) / MF, AF mode face/eye detection / tracking / 49 area / custom Multi / 1 area / pinpoint
Class leading, ultra compact, interchangeable lens and accessory option; HDMI: MicroHDMI TypeD / VIERA Link,video: Auto / 4K / 1080p / 1080i / 720p / 480p, Audio: Stereo
Unwire your creativity with integrated Wi Fi sharing
Sale
Bestseller No. 3
Sony a6000 mirrorless Camera Bundle 16-50mm F3.5-5.6 and 55-210mm F4.5-6.3 Lens, 32GB Card, case (Renewed)
16-50mm F3.5-5.6 lens (SEL1650)
55-210mm F4.5-6.3 lens (SEL55210)
Camera Case (LCS-U21)
Includes: a6000 camera body (ILCE-6000), 16-50mm F3.5-5.6 lens (SEL1650), 55-210mm F4.5-6.3 lens (SEL55210), Camera Case (LCS-U21), Rechargeable Battery (NP-FW50), AC Adaptor (AC-UB10), Shoulder strap, Eyepiece cup, Micro USB cable.
Tripods
Tripods are an excellent addition to your in-house product photography gear. They come in handy, especially when you're playing with the lighting, with a small aperture and slow shutter speed.
And when your camera is at low shutter speed, it is tough to hold the camera still with your hands to avoid blurring the photograph. This is when you will need a tripod to save the day.
Tripods also help you keep the camera in one position so you can just replace the product in your lightbox/photography area and keep clicking away.
Sale
Bestseller No. 1
Aureday 67'' Camera Tripod with Travel Bag,Cell Phone Tripod with Wireless Remote and Phone Holder, Compatible with DSLR Cameras,Cell Phones,Projector,Webcam,Spotting Scopes
【Broad Applicability】Extends from 18.8 to 67in, this tripod fully adapts to a range of different user heights and enables you to compose your photos more creatively than ever before
【 Mutiple Shooting Angles】 Thanks to its versatile central mechanism, it adjusts to multiple shooting angles in only a few seconds, including Landscape Mode, Portrait Mode, Low Angle Shot, High Angle Shot and 360 ̊ Panaromic Shooting, which allows you to discover your potential and shoot like never before
【Universal Phone Holder & Wireless Remote】The tripod provides a universal 360° rotating phone holder, extending from 58mm(2.3Inches) to 115mm(4.5Inches) that fits most smartphones. Moreover, it comes with a Wireless remote, pairs with your mobile so that you can take photos/video from 30ft/10m away
【UNIQUE PREMIUM DESIGN】 Our tripod combines high-quality materials (High-grade Alluminum Alloy with ABS Resin), technological expertise and innovation with superior Italian design, catering to every style and type of camera and is ready to support photographers in every stage of their work
【HIGH COMPATIBILITY 】A Camera Stand for All Cameras(Nikon D3500, Fujifilm X-T200, Canon EOS 250D, Olympus, Panasonic), Cell Phones, Ipad, Projector, Webcam, Gopro and Spotting Scopes
Boom arm 
Boom arms are superb tools for taking flat overhead shots or videos.
If you've ever watched a YouTube video where you're looking straight down onto the workbench, these shots are achieved with a boom arm.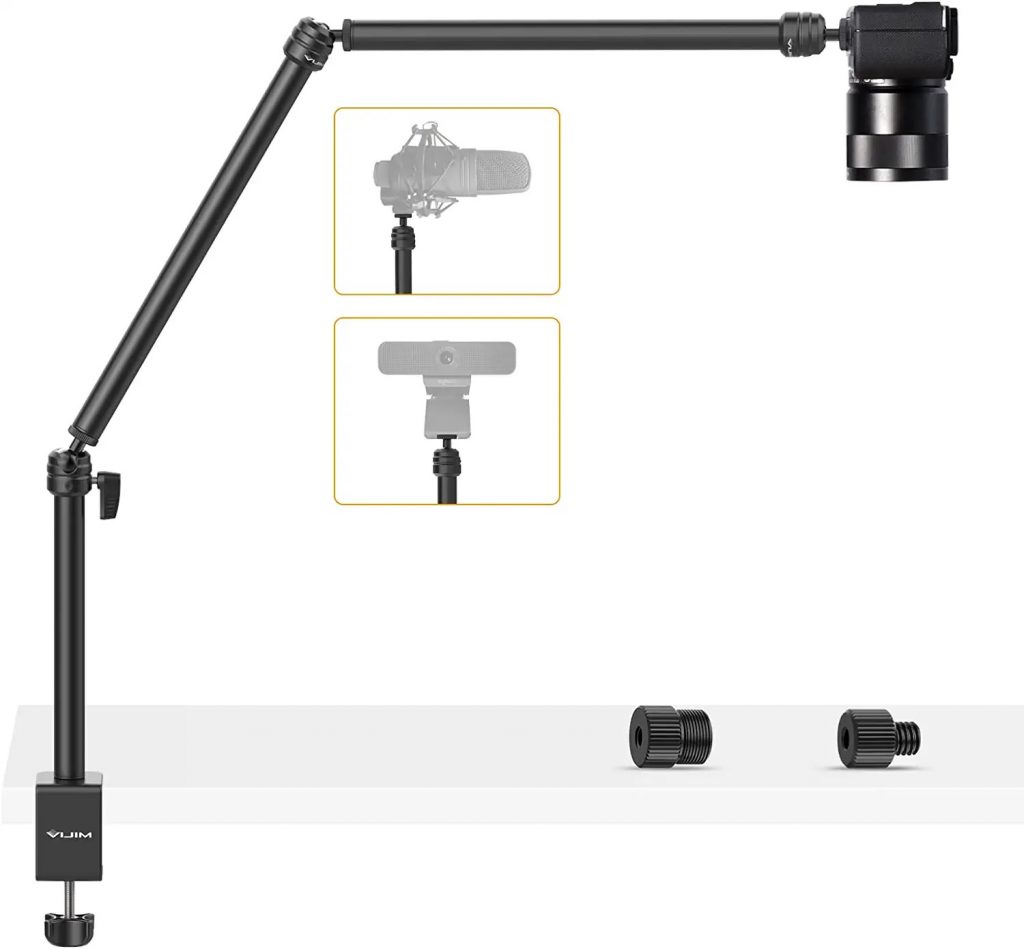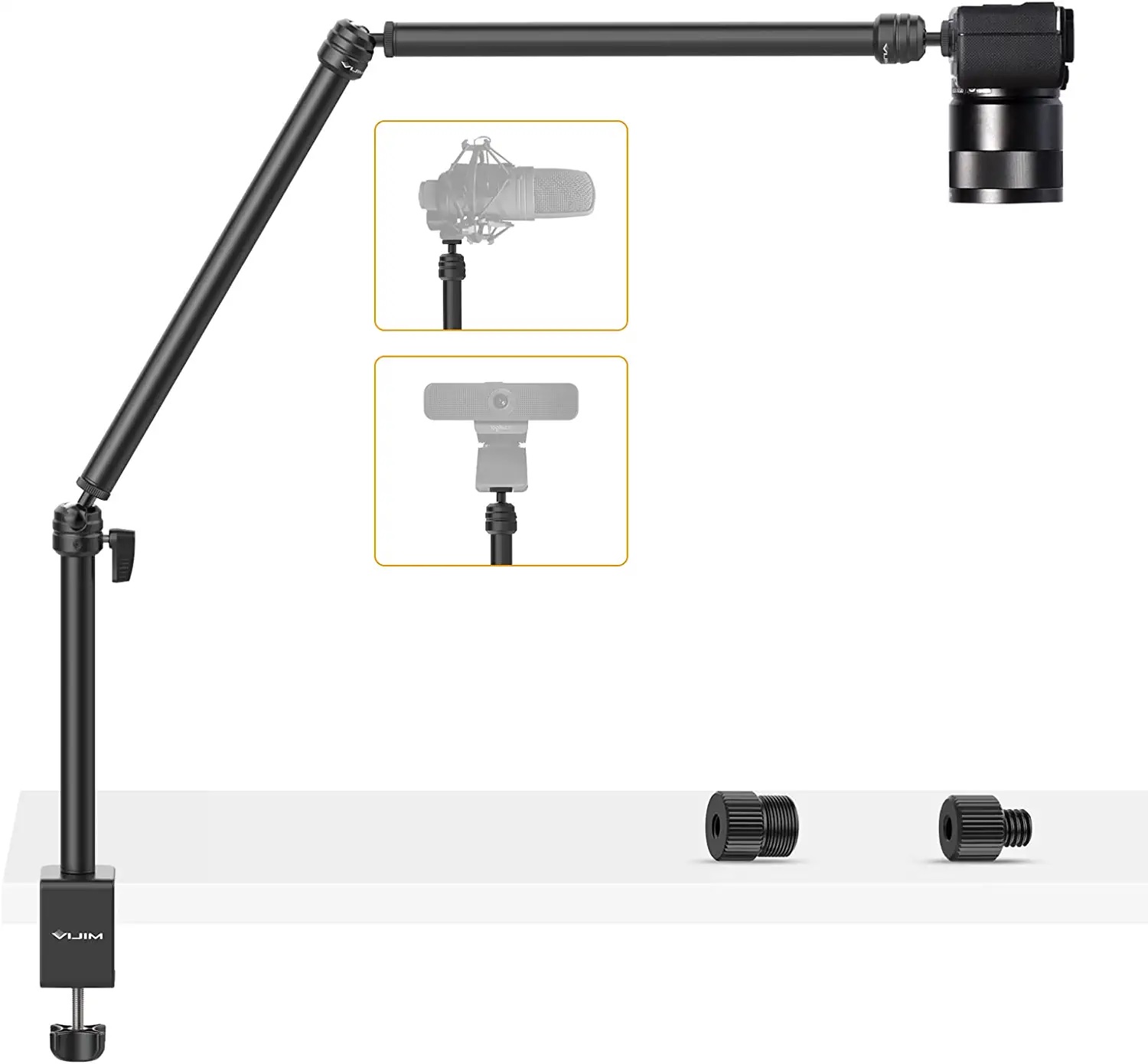 Bestseller No. 1
InnoGear Webcam Stand, Suspension Boom Scissor Arm Stand for Logitech Webcam BRIO C920 C920S C922 C922x C925e C930 C930e, 1/4″-3/8″ and 3/8″-5/8″ Screw for Blue Yeti Snowball Yeti Nano and Other Mics
Strong Compatibility: Two screw adapters (1/4″ to 3/8″ adapter and 3/8″ to 5/8″ adapter) included in the kit. Compatible for you to use not only with webcams that are designed with 1/4″ screw hole (except Logitech Webcam C270 C310), but suitable for microphones (both condenser mics and dynamic mics).
Flexible Arm Stand: InnoGear microphone stand is fully adjustable in 135° back and forth, and 180° up and down. You can set the perfect angle for podcasting and live streaming easily and pull it out of sight when it stands idle. It is both convenient for use and space-saving for storage.
Unique Structure: InnoGear mic stand is upgraded with extended steel structure, which increases the loading capacity and fully protects the spring compared to other mic stands on the market that have knobs getting in the way and causing spring deformed when they are folded.
Lightweight But Heavy Duty: Double-braced arms add strength to stand much more weight, the extra-strong spring prevents the microphone from accidental dropping, noise generation and shaking. The stand itself weighs only 1 lb but can bear almost 3.3 lb compared to the loading capacity 2.2 lb of other mic stands on the market. The improved load-bearing makes it strong enough to support heavy mics.
Thoughtful Design: Extra hole is designed onto the stand to increase the loading capacity up to 4.0 lb. Change to the second hole to bear more weight if necessary.
Lightbox
Using a lightbox for product photography makes lighting and setting up very easy.
All you have to do is place your product inside the box, position the angle as per your requirement, turn on the lights, and then take a few practice shots.
The main advantage of using a lightbox is that it allows you to capture the details without having any distracting shadows or backgrounds.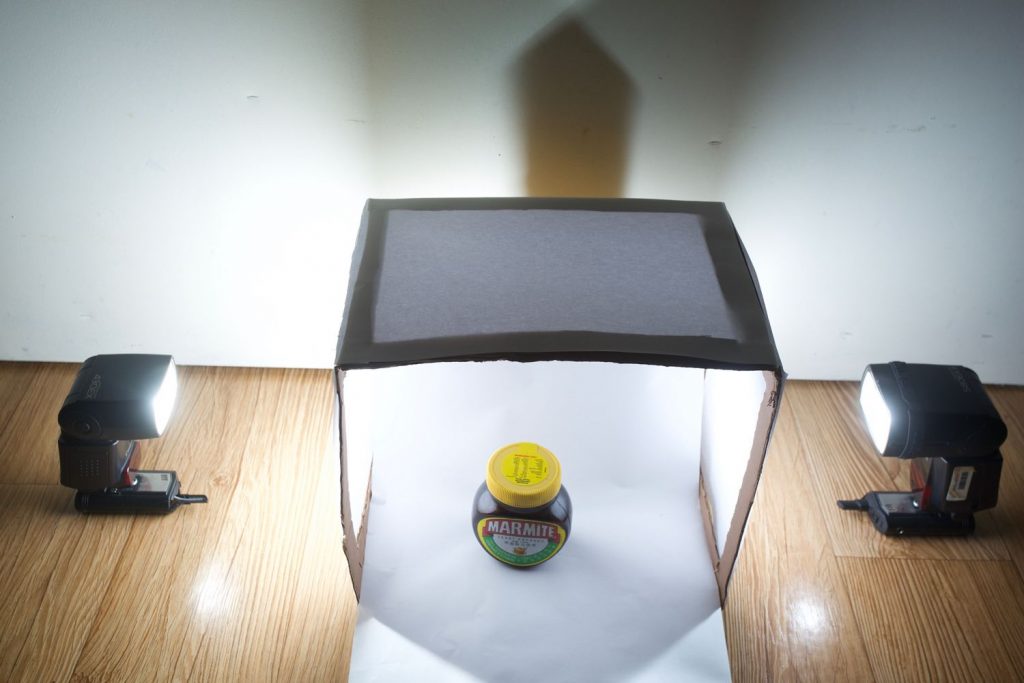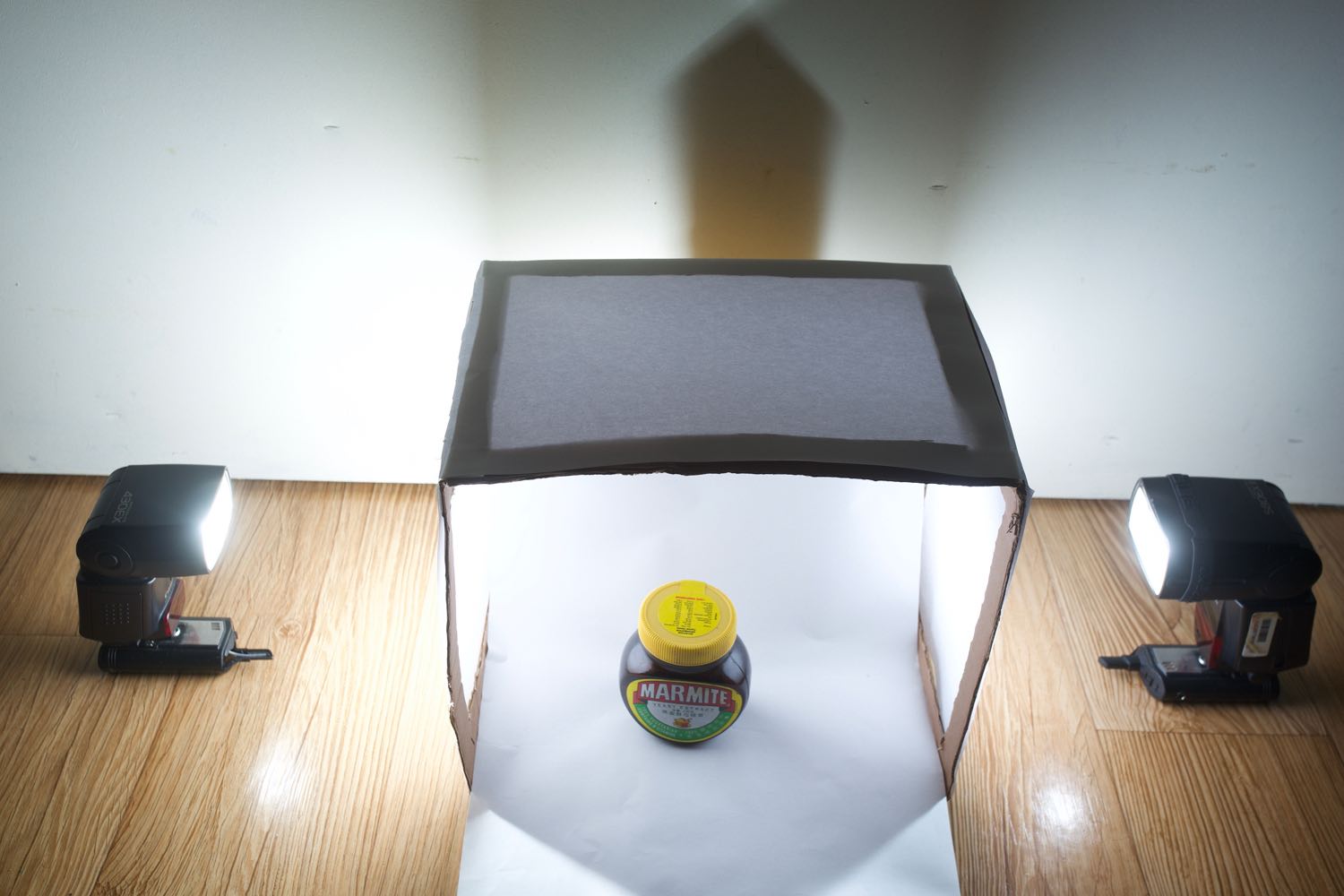 Sale
Bestseller No. 1
Glendan Portable Photo Studio Light Box,12″x12″ Professional Dimmable Shooting Tent Kit with 112 LED Lights & 6 Backdrops for Jewelry and Small Items Product Photography
【Stepless Dimming & High CRI】Integrate 112 high-quality LED Light Beads with Dimmable Range 0-100, You can easily adjust the brightness to get the desired lighting effect. High Color Rendering Index (95+) and no strobe, create brighter and softer lights, help leave your photos looking more natural and great texture.
【Multi-angle Shooting】Multiple openings enable you to choose any photo shooting position for getting more perfect product features and beauty.
【6 Color Backdrops】The photo box comes with 6 color detachable backgrounds(White/Black/ Orange/Blue/Green/Red), made of thicker PVC, which are sturdy enough and no wrinkles, so you can easily change background colors and build up various shooting scenes as needs.
【Assembly in Second】The photography box Dimension is 12*12 inch. With particular folding design, the whole assembly of portable ring light box ONLY needs 10 seconds. No bracket. No screws. No complicated lighting layout. With a durable and waterproof carry bag, it's very compact and convenient to use in many places without taking a lot of spaces.
【Advanced Photography】Extra provided the special inner Reflection Board and Light Diffuser, which is the best practice for fixing the problem of products' highly reflecting light and performing more details of the contours. Not only for junior photographers, but also for advanced photographers and professionals.
How to set up a DIY lightbox
There are seven easy steps you need to follow to make your lightbox.
Choose a giant cardboard box. The bigger your box is, you will be able to use a wide variety of objects of different sizes. You can buy one from a storage business or ask nearby stores to lend you unused cardboard boxes.
Open the flaps of the box in front of you. Mark a point with a pencil approximately 2 inches from every edge on the side of the box. Connect the dots. Repeat the same exercise on the other side of the box. These are the windows for your lightbox.
Cut the rectangular shape with a scissor or a sharp cutter and remove the extra piece of cardboard from the middle.
After your windows are ready, cut out a few pieces of a white sheet of paper to cover your windows, or you can use a white poster board. Make sure that they fit into the box perfectly. The white poster board adds an excellent feel to the product, and you can use different colours.
After you have cut the fabric, fasten it to one of the windows with glue or tape. Then move to the opposite side and let the material hang down over the window.
The sixth step is to apply a large piece of packing or duct tape to the upper edge of the poster. Next, fasten the tape from the inside of the lightbox to the upper part of the backside. Then fasten the opposite edge of the board to the bottom.
After making the entire lightbox, place it on a smooth surface. Make sure of the space for lights. Then, place your product in the middle and shoot away!
Here's a video tutorial you can follow along:
Optimal camera settings for product photography
For all DSLR users, shooting in manual mode can get excellent product photography results.
While it is convenient to set the camera on auto mode so your camera can automatically choose the ISO, shutter speed, and aperture, the manual mode will help you take professional and unique photographs.
The settings you should use are as follows:
Keep the ISO as low as possible . For this setting to work, you will need adequate lighting. Higher ISO is not recommended, as higher ISO settings can lead to grainy photos.
While setting the ISO number, start from the lowest number(100) and then gradually work until you have a perfectly lit photograph.
Keep the aperture as small as possible . By keeping a higher f/stop, you ensure that the depth of field is not shallow and the product is in complete focus. 
With lower f/stops(larger aperture), you can create a shallow depth of field that is best when you want to focus on a specific part of the product and blur the rest.
Keep the shutter speed between 1/100 to 1/200. If you are shooting your product on a tripod, you will not have to worry about motion blur or handshake due to the slower shutter speed.
So, a slightly lower shutter speed will determine that your product images come out crisp and sharp. However, if you shoot a lifestyle shot, you may need to increase your shutter speed to compensate for the motion.
Avoid taking pictures with hand where the shutter speed is below 1/60, as that is too slow to avoid motion blur, even if you have an excellent built-in image stabiliser. Instead, you can start at 1/100 and adjust according to your light meter.
You can also use the aperture priority mode if you don't want to use the manual mode. This mode will allow you to choose your aperture and ISO, and the camera will choose its shutter speed. 
This setting is mainly used outside the studio, where the light changes due to the shade, and you want to adjust the depth of field to attract attention to specific features.
Keep the image format in RAW to store images on your memory card. RAW files are huge, but they produce the best quality images and more opportunities to edit post-production.
Keep your white balance automatic. If you are shooting indoors, it is best to let the camera decide what it wants to do about the studio lighting.
If you are familiar with white balance, you can choose the white balance setting yourself. As you go through the settings, you'll be able to see the live image on your screen adjust if you're using a mirrorless camera.
Choose the automatic focus setting for your camera and lens, so you can lock the product through your lens and maintain focus. 
It is not always feasible to manually focus every shot. After a couple of hours of shooting, your eyes might get tired. Since there is only the product in the frame, you can let the camera do its job and allow your hands to be free of the lens.
Shooting product photos with your phone
If you are not planning to shoot consistently, smartphone technology has come a long way, so instead of a camera, you can take pictures with a smartphone.
Modern smartphones take perfect photos. While the sensor size is not that big, as long as your lighting is fine, the photos are good enough to use for your online store/social media.
You can constantly adjust your angles and backdrops or play around with lighting until you get your perfect shot.
Conclusion
In-house product photography may take a little time to get the hang of, but having control over your product photography can save you time and money and help you get creative.
Having the right gear is necessary, and it's not that expensive. A good camera and a lightbox are all you need to get started, and if you can invest in a tripod or boom arm, that will make a big difference too.
Finally, shooting from multiple angles and getting creative with your display products can help set you apart.
Last update on 2022-09-20 / Affiliate links / Images from Amazon Product Advertising API