Top 10 Airline Logos – Airplane Logo Design Inspiration
With so many different airline companies to choose from when booking your flight, part of the decision will inevitably come down to which company stands out through logo design and brand identity .
Obviously, key points like price, quality of service, reliability and availability will take precedence, but with competition being so fierce, an effective airline logo design is central to success.
So what makes an effective symbol or brand in the industry? – below we will take a look at my top 10 airline logos of all time.
1 – Emirates
Emirates are an airline based in Dubai, and is the largest in the Middle East, operating nearly 3,400 flights per week.
Founded in 1985, they were financed by Dubai's royal family as a result of Gulf Air's cutbacks in the country.
The current Emirates logo (above) is actually a subtle revision of the original, created by Negus & Negus, which consists of the name written in sacred Arabic calligraphic lettering.
The wordmark in English is a bespoke type, aiming to suggest a personal, yet corporate image.
The red of the Emirates brand can be seen as confident and passionate, certainly eye-catching with the white complementing on elegance, nobility and purity.
2 – Fiji Airways Logo
Fiji Airways, previously Air Pacific rebranded in 2013, working with Fijian Masi artist Makereta Matmosi to develop the new handcrafted symbol.
It's simple, distinctive and sophisticated, definitely standing out against the cold, corporate competition.
"We knew the exterior design needed to be just as distinctive, unique, and true to Fiji. Our mission was to create a proud symbol that would stand out at some of the world's busiest international airports, a symbol that would allow us to become the very best 'Flying Ambassador' that Fiji could ever have,"
commented the airline's CEO.
3 – Gulf Air
Gulf Air acts as the primary airline of Bahrain, working mainly across Africa, Asia and Europe.
Initially established by a British pilot called Freddie Bosworth in the 1940s, their brand took a major shift in the late '70s to focus on their middle-Eastern background.
The current airline logo, which is slightly tweaked from the above, retains the elegance and heritage of the brand throughout the last few decades, with the landing falcon and connected English/Arabic typographic forms.
With the minor refreshment to the symbol in 2003, James Hogan, president and chief executive of Gulf Air, praised the revitalised falcon logomark :
"The restyled falcon, which remains the focal point of our new corporate identity, communicates a synthesis of bold, modern entrepreneurial principles and traditional Arabian values, through what we believe is a powerful and prominent icon for a new era."
4 – American Airlines Logos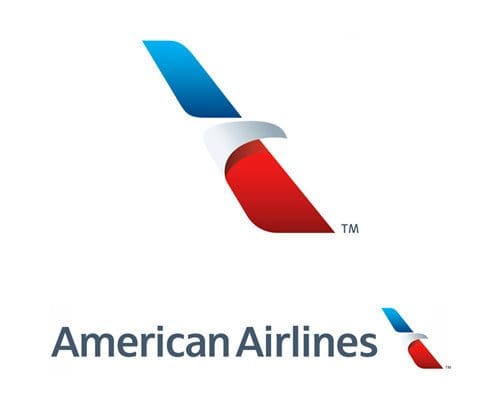 Not without its critics, the new American Airlines logo (redesigned in 2013) offered a more universal, contemporary feel to a classic design.
Personally, I love it.
It's a brave and bold rebrand , they could have played it safe, but didn't, instead changing things drastically.
Admittedly, their previous logo was a classic, but sometimes a change is in order.
The American methodology remains inherent but it's less aggressive, more approachable – in other words, they've favoured the stripes over the stars:
"With stars, the design has a different connotation… It gets you quickly into the 4th of July. It doesn't get you to technology and progress."
Seger says.
5 – KLM
Koninklijke Luchtvaart Maatschappij N.V. (Royal Dutch Airlines), best known by its initials KLM, is the leading airline in the Netherlands.
Founded in 1919, it's the oldest airline in the world that still operates under its original name.
Their current logo is almost as historic, designed in 1961 (admittedly with subtle tweaks in 1991) by F.H.K. Henrion, a renowned German-born British graphic designer .
The stylised crown of the KLM logo is made up of four circles, a line, and a plus symbol. It is regarded as one of the most memorable and instantly recognisable airline logos in history.
6 – Swiss Airlines Logos
Up until 2002, they were known as Swissair, but renamed and relaunched with an image that emphasised personal service, in-depth quality and typical 'Swiss hospitality'.
The original Swissair logo is pretty great ( Google it) but I much prefer the current iteration as it sums up everything great as the combination of the Swiss ethos and Design.
Strangely, criticism has been drawn to the literal concoction of this logo – yes, it's a tail fin with the Swiss cross. Yes, it's literally Swiss + airlines, but does it work? I think so, it's bold and distinctive.
7 – Oceanic Airlines Logos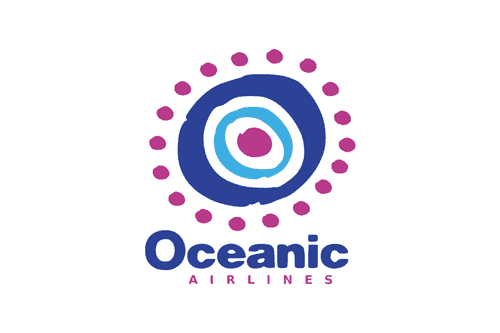 Okay, before you comment… Oceanic Airlines is a fictitious airline made famous in TV shows like, most commonly "Lost", but also, Buffy, Chuck, FastForward and The X-Files amongst others.
Why have they all used the same fictional brand, that's a question for another day, but looking at the conceived logo from an objective viewpoint – it's interesting and stands out from the crowd.
Strangely enough, it's an airline brand that regularly occurs alongside a tragic accident or horrific air disaster, but again, objectively, as an airline logo, it holds up to the competition.
Purely organic, with a very traditional, handcrafted feel, this logomark exemplifies an aerial view of the Pacific islands perfectly.
8 – Cessna Logo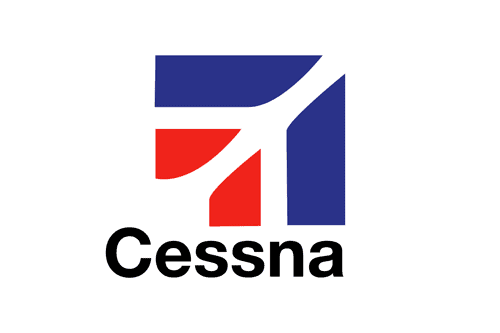 Again, a little off from the specifics of airline logos, Cessna (who actually manufacture aeroplanes) have an effective and visually interesting logo design.
Impeccably simple, and hidden within the negative space lies the centre of attention, this logo works well to define the nature of the work whilst offering brand potential.
One criticism–and this will be subjective–is that I really dislike the typography here.Is that a variant of Arial? I mean, even with better alignment, it feels off, and
Is that a variant of Arial? I mean, even with better alignment, it feels off and detracts from the overall image. In saying that, the logomark still made my top 10, which is saying something.
9 – Australian Airlines Logos
Now defunct, the Australian Airlines with their Kangaroo logo design was a solid brand from 1986-2006.
Originally named Trans Australia Airlines, formed in 1986, they serviced Australian and Asian destinations up until 2006 (today they are owned by Qantas).
Focusing appropriately on a national symbol that also works well to emphasise the qualities of speed and efficiency they pursue, the airlines logos really stood out from their corporate contemporaries.
The handwritten type also suggested the human element, the quickly jotted note or abruptly noted message on the calendar.
10 – Hawaiian Airlines Logos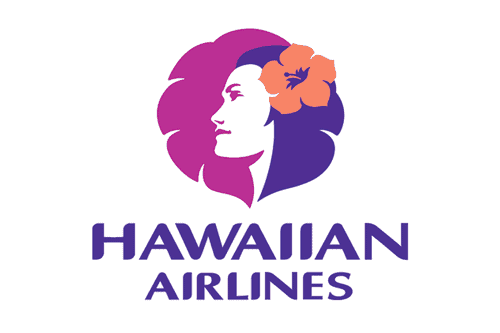 The largest airline in Hawaii, the 8th largest commercial airline in the US, Hawaiian Airlines is naturally based in Honolulu.
In its entire history, they have never had a fatal accident, and their logo represents the secure, safe element well with the human Pualani face as the symbol.
Organic and colourful in nature, the logo design aims to exemplify the relaxed 'vacation' stereotype to the consumer.
Other Notable Airline Logos for Inspiration
Air Asia
Playful type in a red circle, the Air Asia logo is arguably a little too similar to the Virgin Airlines logo!
Singapore Airlines Logo
The Singapore Airlines logo depicts a bird that's inspired by a silver kris, a dagger from Southeast Asia prominently featured in the region's myth and folklore. – Beebom
British Airways Logo
British Airways still has the famous "Speedmarque" logo design which was created by Newell & Sorrell in 1997 and inspired by the old "Speedbird" symbol used by air forces before World War II.
Delta Airlines
The Delta Airlines logo, also known as "the widget logo", was designed by Lippincott Mercer and launched in 2007.
Lufthansa Logo Design
Lufthansa is Germany's biggest airline. The first popular logo of Lufthansa airlines was prevalent in 1954, was redesigned in 2018.
Qantas Logo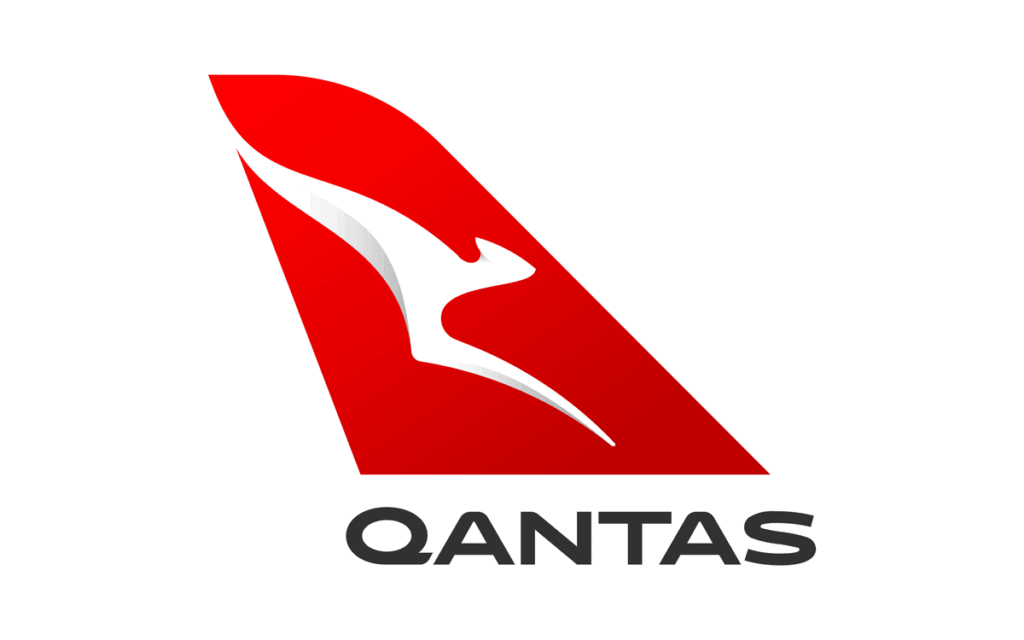 Qantas Airways, Australia's biggest airline has been around for a century. Their logo was inspired by the Australian penny coin.
Egyptair
The Egyptian airline's logo is Horus, the sky god in ancient mythology, usually depicted as a falcon or a man with the head of a falcon. Egyptair has used Horus as its logo design because of the ancient symbolism as a "winged god of the sun".
What important messages are conveyed in these airline logos?
Is there one of the airline logos you would choose based on their brand alone – leave a comment below!