15 Tips for Designing a Modern Office Workplace
Through the years, the concept of an office has transformed from being a collection of  never-ending cubicles  into beautifully crafted workspaces that foster productivity, creativity, and employee satisfaction. 
The transition from a conventional office environment to a more open and modern design has a significant effect on the overall well-being of employees. 
If you consider making office improvements, here are some tips to make your office more modern and conducive for your employees.
Go for a more open layout
One notable feature of modern offices is the  open layout design . Regardless of how big or small your office is, try to open up the space as much as possible. Remove the office partitions or reshuffle the cubicles or desks. 
An open office layout can make your small area seem more extensive, and it provides employees more space to collaborate and facilitates effective communication. 
Opting for an open layout can also give you more savings as you don't need to spend your budget on multiple cubicles or partitions. 
Create privacy or break-out spaces
Nowadays, modern offices have several work areas. Employees need an area where they can recharge and reset their minds to allow their creativity to thrive. 
They can also use these spaces for socialisation, collaboration, and a quiet place to work. 
Most modern offices utilise industrial elements which can be aesthetically pleasing when used correctly. 
Make sure that these break-out spaces are not reminiscent of a prison cell. 
Consider incorporating warm – but not overly bright – colours into your design to uplift your employees' moods and emotions. 
Minimise the noise
An open-layout design may mean a more noisy work environment. A noisy workplace can significantly affect your employees' productivity and morale. 
It is vital that you reduce office noise as much as possible. You can do this by:
Using  noise friendly flooring  such as vinyl floors instead of porcelain and natural wood
Encouraging your employees to wear noise-cancelling headphones
Choosing soft furniture such as sound-friendly chairs and fabric couches
Incorporating plants
Using acoustic wall panels and ceilings
Integrating wall partitions
Utilise active furniture
Most employees can burn out quickly from sitting at their desks for extensive periods. 
Not only can it increase their stress levels, but it could also cause some  medical issues . 
To encourage your employees to stand up and stretch their legs, consider using active furniture or standing workstations. 
Make sure to have various seating options such as saddle chairs, adjustable-height desks, and ergonomic chairs. 
Providing your employees with these options can avoid the physical stress of sitting for hours on end. 
Sale
VIVO Electric Height Adjustable 63 x 32 inch Stand Up Desk, Complete Active Workstation with 3 Section Black Table Top, Black Frame, Touch Screen Controller, DESK-KIT-2E1B
Create Instant Active Standing - Go from sitting to standing in one smooth motion with this complete workstation providing comfortable viewing angles and customized user heights.
Spacious 63" Surface - The large table top measuring 63.1" x 31.5" (28" at center) offers plenty of room for a variety of monitor and laptop setups along with important work projects and office supplies. Please Note: All 3 sections of the table top must be used.
Height Adjustment - Enjoy a height range of 29.5" to 49.6" with this frame's powerful, quiet motor and strong legs that let you transition from sitting to standing in seconds. The elegant controller touch screen features customizable memory settings and helpful timer reminders.
Strong 176 lbs Support - With all steel construction, this desk frame is able to support up to 176 lbs with maximum stability and sturdiness. The desktop is made of solid particle board for a scratch resistant surface.
We've Got You Covered - This complete standing workstation is backed with a 3 Year Manufacturer Warranty and friendly tech support to help with any questions or concerns. Please Note: This product ships in 2 separate boxes that may not arrive at the same time.
Incorporate mood-enhancing components
Since a modern office is focused on boosting an employee's overall satisfaction, you need to ensure that it is a place where they want to spend their time. 
Use features or decorations to elevate their user experiences, such as art, warm and fresh scents, and natural elements. 
Many modern offices use biophilic design, which means bringing nature or the outdoors into the workplace. 
As humans, we have a strong desire to connect with nature, so by integrating natural elements into the workplace, you can increase your employees' performance, productivity, creativity, and concentration. 
Aside from filling your office with plants, you can also incorporate wood, stone, and running water that mimics a fountain or a waterfall into your design. 
Invest in quality furniture
Your office furniture plays a big part in boosting your employees' work satisfaction. 
Make sure that you choose modern and high-quality furniture that will last for a long time. 
Keep in mind that if you opt for a cheaper option, you will most likely need to spend more than you have to in the long run. 
Go for trendy and modern office furniture that is functional and comfortable. 
If you have a limited workspace , it would be best to choose multifunctional and save-spacing furniture.
Make use of your outdoor spaces
When designing your modern office, make sure to incorporate or make use of your outdoor spaces. 
If you have a balcony, terrace, patio, or any open-air area, you can add a few tables, chairs, tents or umbrellas, to make it conducive to your staff. 
These spaces can even serve as a meeting area for your employees, where they can enjoy the scenery and get some fresh air.
Concentrate on your employees' wellness
Many  modern offices  have wellness areas for their employees. As a business owner , you must focus on your workforce's health and overall wellness. 
Fill your pantry with healthy snacks. Designate an area where they can exercise or do group activities. 
Consider implementing a no smoking and drinking rule in the workplace. 
Create a home-like environment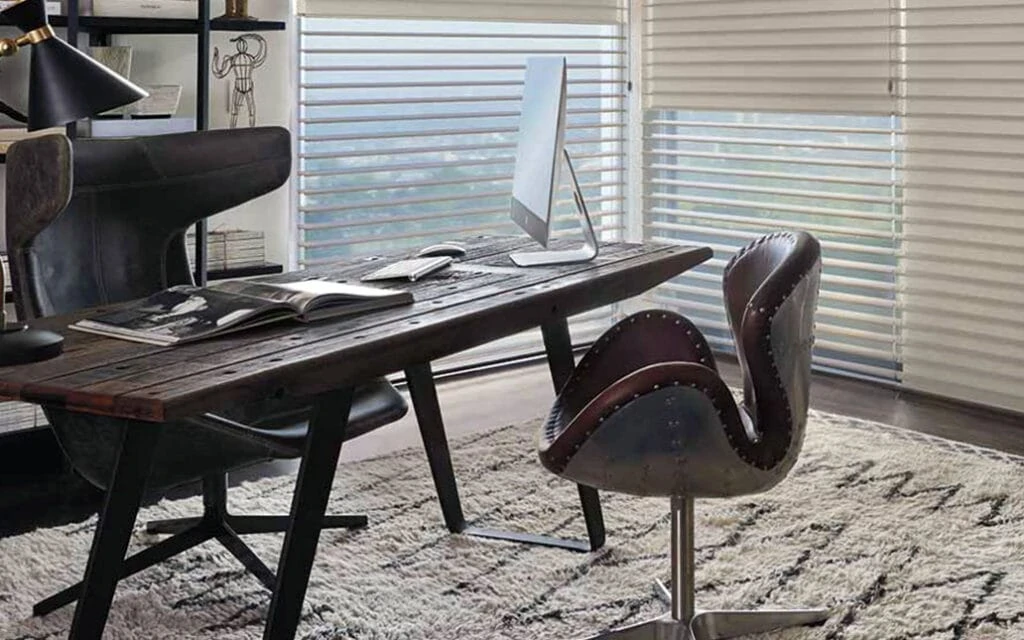 One of the growing trends in workplace design is to make the office feel like home. 
Your employees need to feel comfortable and motivated enough to perform at their best. 
You can use comfortable seating, bright furniture and add a few recreational types of equipment such as a pool table or a ping-pong set. 
Nowadays, some modern offices also allow their employees to bring their pets to the workplace to help people de-stress and refocus.
Invest in technology
One of the notable features of a modern office is a connected workplace. 
Your employees should be able to work wherever they are in the office, meaning they should have data access anywhere and anytime they go inside the office. 
It would help if you designed an office where there is a strong internet connection in every area. 
Aside from reliable Wi-Fi, make sure that almost everything is wireless. There should be wireless charging stations for their devices and cordless phones. 
In addition, ensure that the technology you utilise is compatible with all of your employees' devices. 
They should have no problem switching from their desktops to their tablets or laptops. 
Carefully plan your colour scheme
Another noteworthy feature of modern offices is the use of bright colours. Most traditional offices have a neutral and monotonous colour scheme. 
While using lesser shades may be a cheaper option from a business standpoint, it will only make your employees unmotivated to work. 
Studies show  that colour in the workplace has a significant effect on a person's behaviour and perception. 
Consider using shades of yellow, red, blue, and green. Yellow is often associated with optimism, while blue and green colours can enhance your employees' focus and efficiency. 
On the other hand, the red colour can make you intense and active, so you can use it as an accent colour instead to avoid your employees getting too excited. 
Ensure that your office is clean and organised
Turning your office into a modern workplace goes beyond the aesthetic. It is also essential that you keep it clean and organised. 
Remove any office clutter that can distract your employees. 
Ensure that the cords and cables are hidden in the walls as they tend to be an eye-sore and pose a safety hazard. 
If you have limited space to work with, be sure to keep your equipment and furniture as minimal as possible. 
Invest in storage solutions and utilise vertical shelving options to organise your office items. 
In addition, ensure that your office is cleaned regularly and thoroughly to prevent any health problems.
Make sure your design reflects your brand
When designing your modern office, it is easy to get swayed by the latest office trends. 
However, your office must reflect your  brand identity . When your clients visit your office, they should  associate your business  with your office design. 
Be unique and creative as possible but remember that your office is one of the faces of your company, so design with caution. 
Use glass office partitions
Utilising glass partitions is also one of the latest trends in modern office design. 
These partitions offer a sleek and clean look in the workplace that can promote openness, collaboration, and flexibility to employees. 
Incorporating glass partitions is a cost-effective way to save space in a small workplace while making it appear larger and more open. 
They also promote natural lighting enabling you to save on your energy consumption. Moreover, glass partitions are a great alternative to solid cubicles or walls. 
They are visually appealing and offer a more conducive area for meetings or private discussions. 
Focus on the lighting
A bright and well-lit modern office can make your employees more productive and motivated. 
Make sure that you design your office to be as warm and inviting as possible. 
When planning your office, install as many windows as you can to invite natural sunlight. 
Avoid using too many blinds and invest in quality lighting fixtures. 
Use eco-friendly lights such as light-emitting diodes (LED) as they are energy-efficient and longer lifespan. 
You can also invest in architectural lighting to make your modern office as conducive and aesthetically pleasing as possible. 
Make sure to go with a reliable lighting vendor such as  LF Illumination , as they have been crafting lighting technologies for the past decades. 
Turning your office into a modern workspace doesn't need to be complicated. 
Be creative when designing, and do not be afraid to go beyond the norm. 
Just make sure that whatever changes you incorporate are still aligned with your company's vision and identity. 
Last update on 2022-09-20 / Affiliate links / Images from Amazon Product Advertising API