Top 9 Google Ranking Factors that Matter
Have you ever heard this  SEO  joke: Where is the best place to hide a dead body?
On page 2 of Google's search results, of course!
Why so?
Because nobody ( 95%  of people, to be exact) ever goes there.
But jokes aside, it feels terrible to be lagging on the SERPs (search engine results pages). 
Moving up one place on the SERPs can guarantee nearly 30% more clicks, according to a Backlinko  study . And the first three organic results have the highest CTR (click-through rates) for any given query. 
So, how do you secure these coveted positions? 
By optimising your site for the essential Google ranking factors covered in this post. Let's learn more about them.
What Are the Most Important Google Ranking Factors?
Before you start working on your rankings, it's essential to know where you stand right now. 
But how?
First, you can check your page rankings by Google searching your target keywords in incognito mode. 
Second, if you have hundreds of pages, it's more practical to use  SEO tools  like SEMrush . 
Type your domain name into these tools and find the keywords you are organically ranked well for. 
Alternatively, you can track your rankings for the keywords you are targeting. 
Once you know your current SEO position, you can identify your strong and weak areas and work on them accordingly. To start with, optimise your website for these nine essential Google ranking factors:
1 – An Accessible and Secure Website
First and foremost, you need to create a website that Google crawlers can find and index easily. For that, you need:
A robust website builder
A sitemap to convey your site's context to crawlers. For WordPress sites, you can generate a sitemap via the Yoast plugin. For other sites, you can use free online code generators.
A robot.txt file to tell Google where it should and shouldn't look for site information.
HTTPS. Google's John Mueller calls it a "light-weight ranking factor," saying Google prefers HTTPS over HTTP, all other things being equal.
An SSL certificate, especially if you ask for visitors' personal information. Anyhow, search engines are cracking down on websites without SSL by not showing HTTPS in browsers. SSL enables data encryption, ensuring data integrity and fostering trust from visitors.
2 – Page Speed
Page speed has been one of the top Google ranking factors for years. Since providing a great user experience is a priority for Google, they prefer to display fast-loading sites on the SERPs. Moreover, your site should load well on all devices and operating systems.
You can use Google's PageSpeed Insights to check your site's load speed.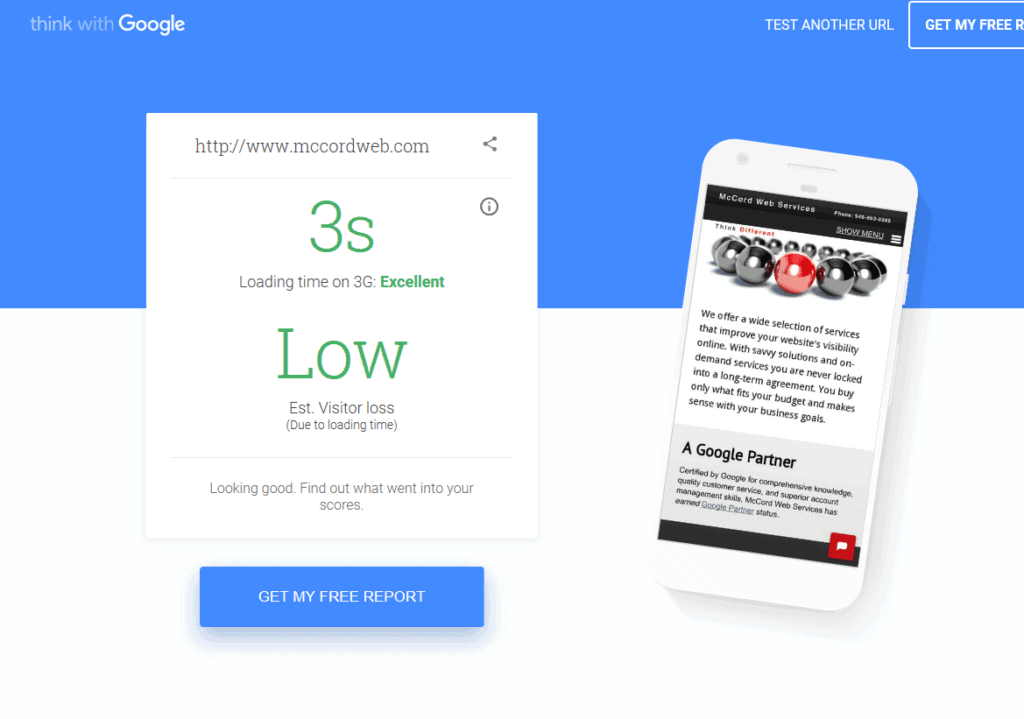 You will see insights about your site speed and learn actionable tips to improve your web performance.
If your site is sluggish, it's wise to invest in  dedicated web hosting solutions . By setting aside bandwidth and RAM for your visitors, these hosting solutions decongest your traffic and quicken your site loading. 
Also, start using Google Search Console if you don't already. They have an entire section dedicated to speed optimisation.
3 – Mobile Friendliness
Considering that nearly  50%  of web traffic comes from mobile devices, it's essential to mobile-optimise your websites.
To check how your site stacks up in this department, check out Google's Mobile-Friendly Test.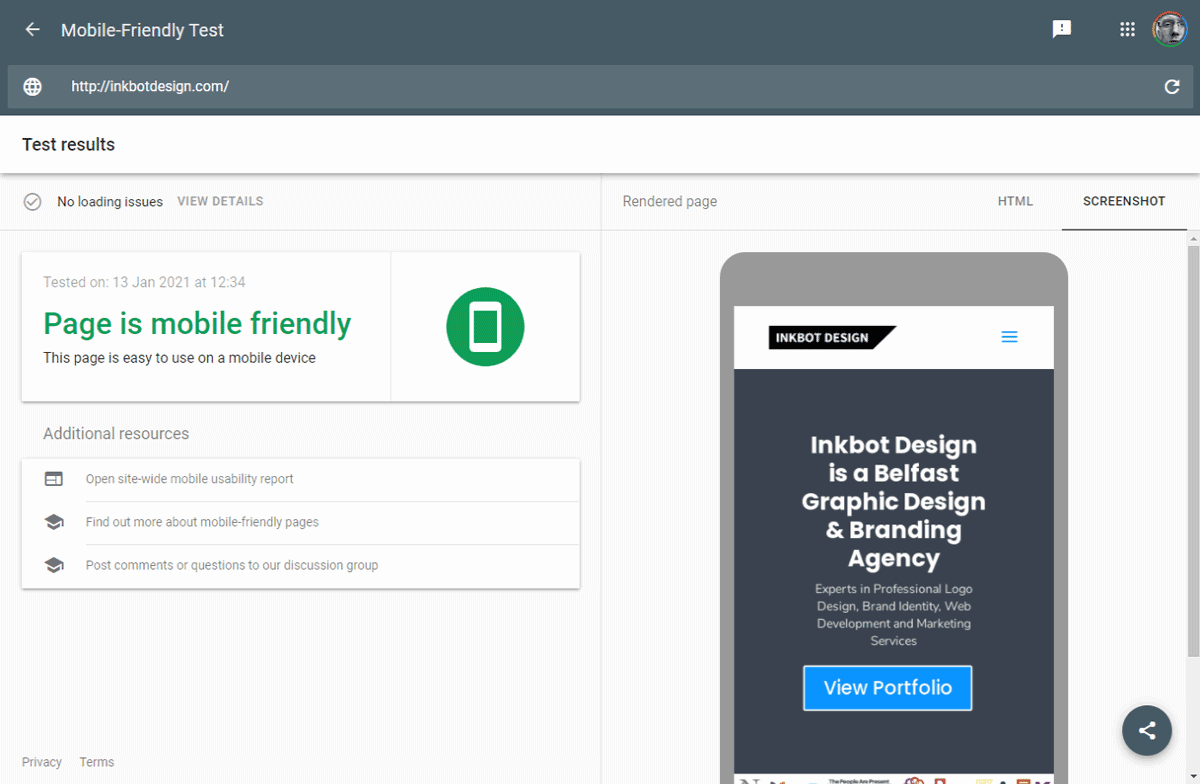 Image via  Google
Your website should not only load quickly on mobile devices but also render well on small screens. 
If users have to zoom in and out to access your site elements, they might end up abandoning your site in favour of a more mobile-friendly competitor. 
Basics of mobile optimisation include:
Build your site with a responsive design that automatically resets to different screen sizes.
Use legible fonts and plenty of white space.
Don't stack your menus too closely.
Ensure that ads do not obstruct actionable elements.
If you have ample time and resources , explore Google accelerated mobile pages (AMP). AMP websites download almost instantly on mobiles. 
Rumour has it that Google favours AMP websites owing to their superb user experience. One downside is that you will have to build a new site version according to AMP guidelines. 
4 – Domain URL, Age, and Authority
Google penalises exact match domains (containing main target keywords) with thin content. 
A better idea is to get a domain name that perfectly reflects your product/business and then optimises your content for it.
When it comes to website age, it's harder for sites less than a year old to rank. Ahrefs studied two million pages ranking in Google's top 10 results and found that nearly 60% of the pages were three or more years old.
Authority matters when it comes to SEO ranking signals. 
Authority is indicated by outbound signals (inbound links plus social shares) and content quality. Thanks to E-A-T, authors' authority is also an essential factor for Google. 
Google has broken down authority into two scores – page authority and domain authority, ranging from 0 to100. With tools like Moz's Open Site Explorer, you can check out these scores, along with things like new links and established links.
5 – Content Quality
Just like page speed and user experience, content quality matters a lot to Google. Your content should be high-quality, unique, and keyword optimised. 
When I say "high quality," I mean stay away from content that has been regurgitated a million times. 
If time is not a constraint, build proprietary content assets that people love to read and share. 
Writing informative content is a sure-shot way of keeping people on your website and bringing them back again and again. 
Another thing…
Avoid the pitfall of publishing duplicate content since Google flags it. 
If you are heavily into content republishing or syndication, use canonical tags to tell Google which pages to index if it encounters copies of your content.
What's more?
Include long-tail keywords (more than three words long) in your content. 
These are related to your head terms but are more natural sounding. 
By using longer keywords, you can rank well for voice searches as well. Moreover, these keywords have lower competition and cost-per-click compared to shorter keywords.
To find appropriate long-tail keywords, you can pick LSI (latent semantic indexing keywords) in Google's Related Searches section or auto-suggestions.
While it's smart to keyword-optimise your content, don't fall into the trap of keyword stuffing. 
Google crawlers are intelligent enough to spot and punish spammy content. Use your target keywords as organically as possible.
If we talk about the ideal content length, Moz found that Google indeed prefers long-form content. 
More content means more keyword-addition opportunities and more chances of getting on Google's radar.
There are other ways of catching Google's attention, as well. You can include FAQs and answer boxes in your content. 
Plus, try to frame your sub-heading as questions and include a properly formatted table of contents in long-form posts.
6 – Technical SEO
Using keywords strategically in your page code can earn you brownie points from Google. 
If you're more of a wordsmith than a techie, technical SEO may seem challenging to you.
To help you nail technical SEO, I've compiled some actionable points:
Include keywords in page titles.
Use header tags to highlight title hierarchy.
Write meta descriptions that promise value, entice readers, and contain keywords. Keep them between 155-160 characters.
Include keywords in your image alt tags to help Google build an association between images and content.
Use alt tags to make your site accessible to visually impaired people using screen readers.
Create a schema markup to help Google understand your content better.
7 – Links
Google aims to help tie scattered but related content pieces together to provide value to readers. This is where link-building comes into play. 
In your content, you can include three types of links:
Inbound links:  When an external website links to your content, you earn an inbound link (or backlink). 
You want to make sure that the inbound links you're getting are from authoritative websites since they pass on a bit of their authority to you when they link to you. 
So,  analyse your backlink profile  and get rid of links from low-authority websites. 
You can also enrich your profile by guest posting and syndicating content on reputable websites in your niche.
Outbound links:  When you link to external websites, that's an outbound link. 
It's a good practice to include quality outbound links in your content for two reasons. First, you redirect your visitors to additional study resources, which earns you their trust. 
Second, you gain Google's confidence by helping them achieve their objective of community building.
Internal links:  Connect your pages by linking them. If you have high-ranked pages, you can always link them to other relevant pages on your website. 
This improves your website's dwell time and again helps Google understand your content. 
Use contextual anchor texts for all of your links. Ensure that the anchor text matches the search intent of your visitors. 
To figure out search intent, type your potential anchor text in Google and check out the top-ranked search results. 
If there is alignment between that content and yours, the anchor text is a good bet. 
8 – Social Signals
A strong social media presence is another of the Google ranking factors showing that your content is useful and deserves a good ranking. 
A cognitiveSEO  study  of 23 million shares found that content that is shared widely is also ranked higher.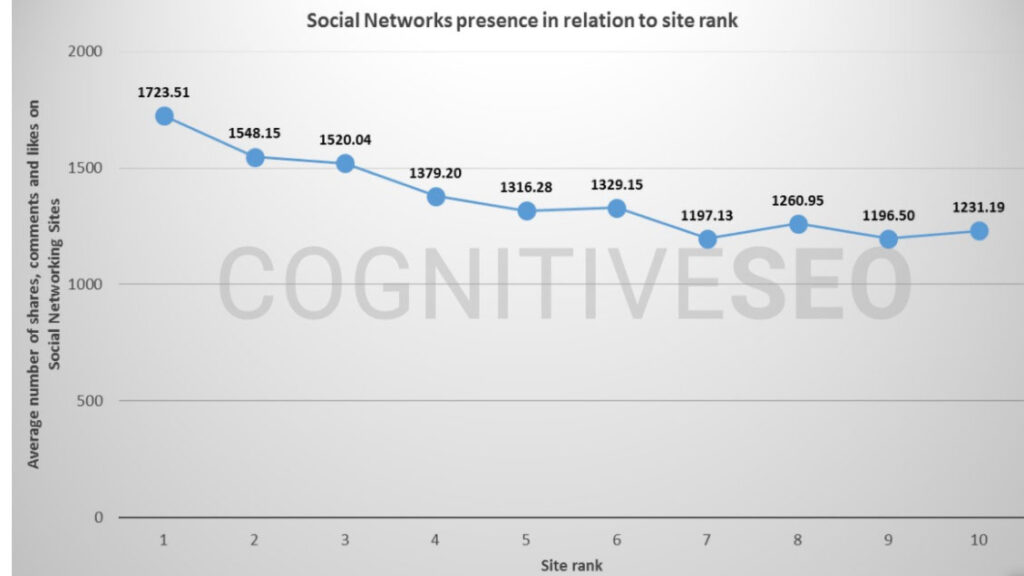 However, Google has never officially declared a correlation between social shares and rankings. Links from Twitter or Facebook are not equated to links from authoritative websites. 
Still, it's a fact that shared content earns more backlinks and drives more website traffic, indirectly boosting your ranking . 
So, you need to create shareable content that is optimised for target platforms. 
If creating social media content at scale is an issue, you can use tools like Buffer and HootSuite to curate popular content and rebrand it. 
What else?
It's also a good idea to leverage social media influencers to spread the word about your content. 
You can collaborate with influencers in your niche and have them write sponsored content just for you. 
Since influencers have engaged followings, their content tends to garner loads of engagement in shares, likes, and comments. 
This way, you can piggyback on influencers to give the right social signals to Google and boost your rankings. 
9 – User Experience (RankBrain)
Google's RankBrain algorithm uses artificial intelligence to rank content according to searcher intent. 
It displays search results by taking into account searcher location, personalisation, and search terms. 
Then, it determines the relevancy of the results by tracking three metrics:
Click-through rate
Bounce rate
Dwell time
Aim to get people to click on your page and keep them on-page for as long as possible. That would signal to Google that your content is relevant to searchers.
If you target the right keywords (with well-matched search intent) and your content is enticing, you can keep visitors on your page longer and give them a stellar  user experience . 
If not, try changing your keywords and revamping your content. 
If people land on your page and instantly leave to go back to search results (pogo-sticking), try experimenting with different page titles and meta descriptions.
Wrapping Up
That's all, folks! 
These nine Google ranking factors can help you climb up the SERPs effectively. 
But if you own a local business, there's something more you need to do to get on Google's good side. 
You need to keep your business information fresh, complete, and accurate. 
It also helps if you have a GMB (Google My Business) listing with glowing customer reviews.
Do you need any more information about SEO or these Google ranking factors? Let me know in the comments. I'll get back to you with answers soon.
Author Bio:   Shane Barker  is a digital marketing consultant for 15 years, emphasising Influencer Marketing in the last five years. He is specialised in sales funnels, targeted traffic and website conversions. He has consulted with Fortune 500 companies, Influencers with digital products, and many A-list celebrities.