Brand Development Strategy Tips for Creative Business Owners
What makes a  successful brand development strategy?
Your first instinct may be to think of a beautifully designed logo, a recognisable name, or a catchy tagline.
But, in truth, branding is much more than that. 
It's about using a multitude of elements to  position your company  as a trustworthy, reliable resource of products or services in your niche.
With this, it becomes clear that every business owner needs to invest in their company's branding to ensure its success and longevity.
And the same goes for  creative business owners .
The right brand development strategy won't just help you get customers. 
It will ensure that you connect with the right people. 
Let's consider the example of Coca-Cola and Pepsi as confirmation that shows the real power of branding , as well as how to create brand awareness correctly. – Cleveroad
This way, you can deliver to their expectations, building up a brand image that's in line with your values and ambitions.
Even more, well-thought-out strategies go a step further.
They allow you to use your advertising budget in a way that'll bring more  consistent results . 
And, what's best, you'll  minimise your spending , knowing that you'll only invest in campaigns that are the right choice for your creative business.
Why is branding important for creative businesses?
Whether you're a designer or freelancer, it's crucial to realise that branding plays an equally significant part in your success as if you were selling a physical product.
As you're operating in a highly competitive field, you need to stand out. 
And without a good brand development strategy, that's impossible. 
Not only do you risk low visibility, but you're also opening up space for becoming irrelevant in your niche.
Make this step of the brand-building process priority from the beginning and your brand will have the life and depth it needs to strengthen your business's image. – LucidPress
This results in you allowing your competition to scoop up  potential clients  without much of a fight.
What is more, as a creative business, you need to work extra hard at connecting with your customers.
While aesthetic appeal and functionality will be the main drivers of your brand identity , you also need to remember what inspires younger generations to shop with a brand.
For the most part, loyal customers won't choose you because of a cute design or frequent email marketing campaigns. 
More likely, they'll do so because of the  shared core values  you stand for.
What this ultimately means is that your band development strategy needs to be a clear and consistent set of guidelines. 
But for the uninitiated, if you scroll down to learn more, you are met with solid value propositions: Delivery reimagined as "food trucks with an oven." That sounds cool! "Automation done right" is the very last point, as it should be. – Marketing Land
It should address every single aspect of your business, from your mission and core values to the way you go about your marketing campaigns and how you interact with customers.
If it does all that, it'll be able to help you achieve the results you need as a creative business owner.
Brand Development Strategy Tips for Creative Business Owners
Do the Research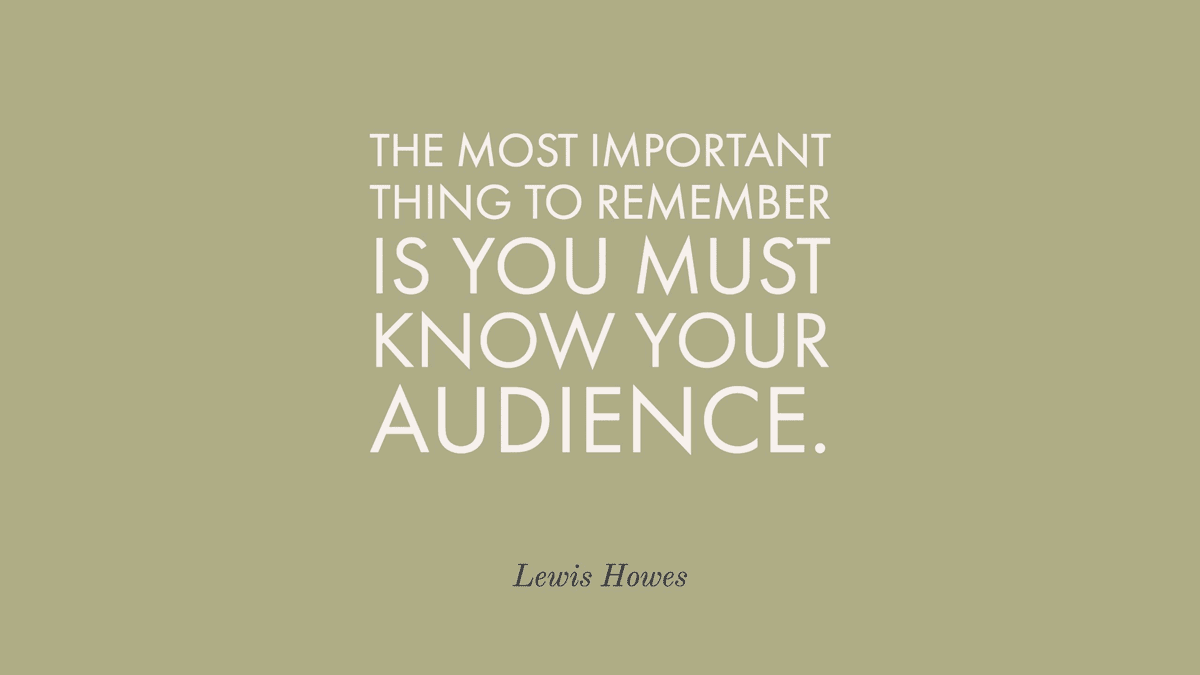 You'd be surprised to hear how common it is for businesses to get their branding wrong just because they skipped this crucial step.
In truth, without having in-depth insights into who your target audience is, what they want, and what you can do to win their attention, all your efforts are going to be wild guesses. 
Sure, they might turn out to work. But, you might also find them to be a waste of time and money.
Another very important thing with your market research is to know where your audience is,  both physically and in the digital world.  – Marketing Land
In the end, the best brand development strategy rests on the shoulders of solid research.
Identify Your Buyer Personas
One of the most valuable exercises any freelancer can do is to  create detailed buyer personas .
But what does this mean exactly?
Simply put, a buyer persona is going to be the representation of your ideal customer. 
Humanising your target audience and identifying their pain points will help drive strategic content creation, product development, and crafting a unique sales pitch.
A greater understanding of your target market and competitors will allow you to create a brand unique to the marketplace and cater to consumers' wants and desires. – Grant
Not paying enough attention to buyer personas is a common mistake for small business owners. 
You may have some assumptions, but basing your brand development strategy on a hunch instead of cold-hard data is a reckless move.
So how do you go about creating a buyer persona?
Ask yourself how old they are, what do they do for a living, how much do they earn, what are their interests, and where do they hang out online?
You can get a lot of this information from the tools you already use. 
For example, with Google Analytics, AdWords, Facebook, or Instagram insights, you can find data about the age, gender, location, income, education, and interests of your audience.
Plus, blogs are one of the most trusted resources , not to mention the fact you will have the material for posting on your social networks all the time. – Cleveroad
Moreover, you can see whether they're browsing on mobile or desktop, what pages/posts they're engaging with, what paths they're taking on your website, and even  what part of their screens they look at the most .
By putting in the time and effort to understand them on a deeper level, you will be in a better position to target them with effective messaging in the brand development strategy.
Research Your Ideal Customers
Once you have created one, two, or twenty buyer personas, the next step is to study them.
First and foremost, try to seek out online spaces where they may have left feedback, asked for solutions, or otherwise given indications regarding their requirements.
Reddit, Quora, and social media all make for popular places for consumers to seek out help.
You can reevaluate your brand building strategy whenever your goals shift by tweaking a little bit of each of these factors. – Marion
You can even take things a step further and study product reviews and testimonials . 
From there, you'll see the common pain points which haven't been addressed by your competition.
Secondly, reach out to your established clients, prospects, referrals, and third-party networks, then interview them.
Find out about their challenges, what they like about your services. 
Offer them an incentive to take the time to give you this valuable information. 
This can be something simple like a  gift card,  free consultations, or even a discount on your services.
It's also a good idea to request feedback from your customer service team.
As they're in direct contact with your clientele, they'll have knowledge of the most common pain points and issues your target audience commonly encounters.
If you're working with limited funds, consider automating some aspects of the process.
For example, the AliExpress Help Center includes many helpful FAQs and quick links that address the most commonly encountered issues by customers. 
While it's a way to cut costs on human customer service representatives, this page is also a great way to gain insights into the company's customers' needs.
Alternatively, you can contact your existing customers by email, as seen in the example below.
Your established client base will love that you care about their opinions and strengthen their  brand loyalty .
Determine Where Your Business Sits in the Market
Great brands are easy to recognise.
When we think of Nike, Starbucks, or Spotify, we immediately know what they sell and how they can meet our needs.
Each of these brands constitutes its own family, with multiple products carrying the same brand name. This strategy increases awareness of the brand name and increases profitability from offerings in more than one product category. – Lumen Learning
From stylish, quality footwear to an easy to use music streaming app, each  brand has crafted a unique identity.
Designers need to be able to achieve the same thing.
While you may have conducted extensive research to identify your target audience, your preparatory work is still not done.
The next step to take in your brand development process is to study where your company stands concerning your competition.
By doing a SWOT (strength, weaknesses, opportunities, threats) analysis, you can pinpoint what makes you unique.
This  brand development  process will help you create clear brand promises.
For example, take the supplements industry. 
It's ripe with opportunities for those interested in developing a business. 
However, the market is saturated with products that either lack trustworthiness or disregard the environmental impact of their operations.
The company Future Kind recognised these gaps in the market and found a way to stand out.
By doing an in-depth SWOT analysis, they realised that what helped them stand out wasn't just their focus on vegan supplements, but also the fact that their entire production process was  designed with sustainability in mind .
This helped them develop a positioning statement, which tells potential clients why Future Kind should be their number one choice.
For creative business owners, the process is the same.
A great brand development strategy won't just help you find ways to market your offer. 
More than that, combined with research and brainstorming, it will help you pinpoint the exact aspects of your business operations that set you apart from the competition and  appeal to your ideal buyer personas .
Defining What You Stand For
Once you've done the preparatory work, it's time to get vocal about what your creative business is all about.
While in real life, it's always best to let your actions do the talking, in business, you will have to make your values heard loud and clear.
But, to effectively communicate the values that'll help you connect with your ideal customers, you have to define them first.
Visual Identity
Your name and logo  will be the first point through which you connect with your customers.
Though you may be tempted to choose something generic, remember, they need to allow you to stand out. 
So, make sure you go with something that's a correct representation of your creative business.
What kind of personality do you want to put forth when people interact with your brand name?  
Are you quirky and fun? Or is your brand more sophisticated and serious?
In the world we live in, it is not enough to have a great product or offer stellar service.
People are attracted to a brand's relatability and want to interact with businesses that have a personality.
The success of this approach can be seen time and time again on  social media . 
People do not want to interact with brands that are bland and dull.
They want to get to know you and fall in love with your company as a whole person, not just a convenient service.
By spending time developing the personification of your brand, it will set the tone for everything else you do.
This is important to consider whether you are starting a new company, rebranding an established one, or creating a new branch of your business. – We Do Worldwide
For your visual identity, you can choose to go with a specific  colour scheme based on psychology . 
Or, you can adopt a minimalistic approach that'll let your products or portfolio shine, as shown in the example below.
Whichever direction you choose to go with, know that a well-thought-out visual identity helps you not only  become memorable , but it can also positively impact your conversions and sales.
Plus, it will make stylistic choices and interactions on  social media  that much easier.
Mission Statement
Once you've decided about how you'll represent your creative business visually, you'll have to come up with the right words to express what you stand for.
And you'll include this in your  mission statement .
Ideally, you will come up with a short message that addresses your clients' most pressing needs and the ways you can solve them.
You'll want to include your mission statement in the  hero section of your homepage , on your social media profiles, and in the About Us section of your website.
From your logo to your social media posts, from your home page design to your ebooks and conference presentations, the visual strategy creates a recognizable identity for your brand. – Killer Visual Strategies
For an example of a brand that does an excellent job at promoting its mission statement with everything they do,  look at Zoma Sleep .
The mattress manufacturer developed a line of mattresses and other sleeping accessories aimed at athletes. 
Their mission is simple: provide sportspeople with recovery-enhancing products that will allow them to perform better during training sessions and achieve winning results when competing.
The brand's mission statement is proudly repeated throughout everything they do, both on their website and social media.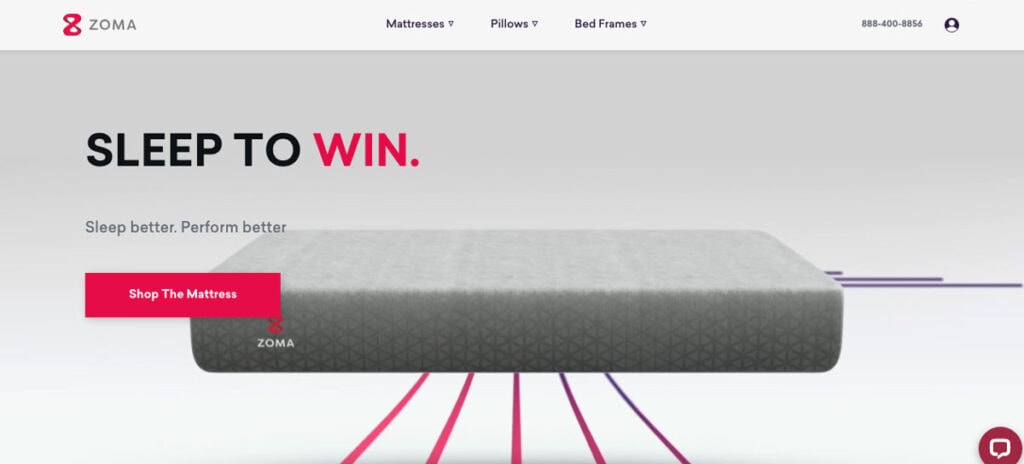 This way, they're ensuring that all prospective clients automatically associate them with performance-enhancing sleep and recovery.
Creative business owners can do the same thing with their mission statement.
For one of the best examples of a creative business using a mission statement to set itself apart from the competition, take a look at what  Redbubble  is doing.
Just like in the case of Zoma Sleep, they make their mission clear from the very first moment a potential customer interacts with their website. 
And, again, the same mission statement is present in everything they do, driving forward the message that the brand is both for creatives and people searching for original art.
Take a User-Centric Approach
No matter your niche and focus, the best way to communicate your mission and values is to  put your customers first .
Don't just tell them about what you do and your beliefs.
More than that, you need to show them all the ways they'll benefit from opting for your products and services.
On your website, you can include a benefits section. Point out aspects of your business operations such as customer service, product warranty, shipping information, and other technical details that contribute to a stellar user experience .
If your production process differs from your competition's, point out its benefits and how it contributes to meeting your clients' needs. 
It doesn't have to be intricate. A simple list of bullets, such as this one used by  Drink LMNT , will do.
If, however, you wish to go into more detail (which may be the case if you offer a multitude of creative services), you can create an in-depth About page. 
When you  add your personal flair , it'll show your potential customers what they can expect from your business.
Proactively Communicate With Your Audience
In addition to using your brand development strategy to define your business concerning all the other players in your industry, you should also look to it for guidance when communicating with your audience.
The best brand development strategy will always be the one that encourages you to  be consistent in your messaging  throughout all your platforms – online or offline.
So, once you've settled on visual identity , you want to apply it to everything you do – not just on your web, but on social media as well.
The same goes for your mission, values, the way you approach customer experience, and how you create lasting relationships with your clients.
Start With Content
Very few marketing strategies create a deep connection with the right audience. 
A content marketing strategy helps to draw in your audience and develop the story of your brand.
It focuses on creating engaging content that will attract, nurture, and qualify prospects.
Regardless of whether you prefer text, imagery, video, or audio, know that investing in a content marketing strategy is going to help you build a stronger, more recognisable brand. 
By taking the time to come up with content that your audience finds valuable, you will help  position yourself as a brand  that can solve their pain points.
By having a solid content marketing strategy, you can  increase the visibility of your brand,  improve your reputation, and become more relevant to crucial brand personas.
Apart from your website and content strategy, you need to consider the rest of your marketing materials . – Canny Creative
As a creative business owner , you can choose what approach to the content you'd like to take.
On the one hand, you may choose the educational path.
By sharing your expertise with potential clients , you're taking the first steps towards forging a healthy relationship.
Moreover, you're  positioning our business as an authority  on subjects related to your services.
As one of the best examples of a creative business doing this, take a look at the learning section on Canva 's website. 
Filled with information about various aspects of design and branding , these short courses are providing potential users with helpful info, as well as allowing the brand to become a leader in its field.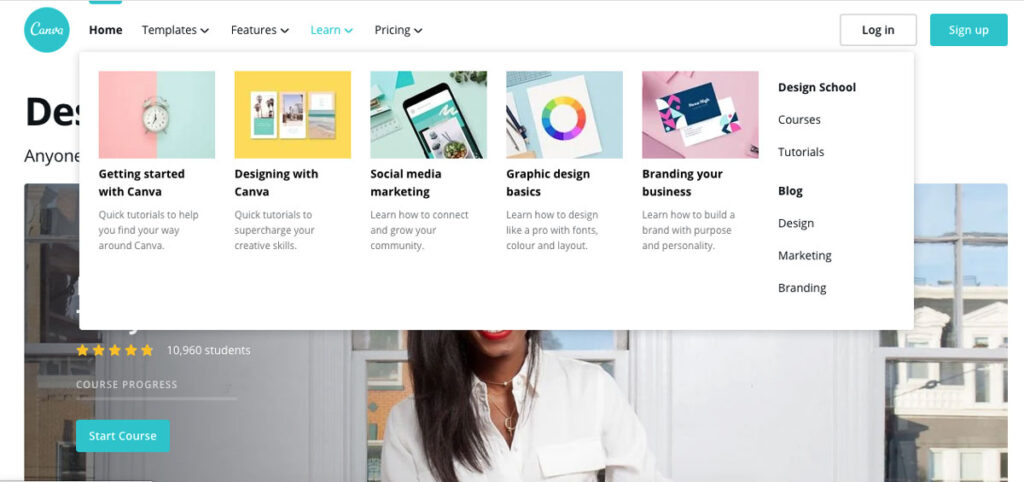 Alternatively, you may decide to go on a different brand development strategy .
Engagement doesn't just have to come as a result of learning. You can also drive engagement by getting personal.
Take a look at the  About page on Smash.vc .
Instead of going the traditional route of telling clients why they should opt for the company's services, the founder decided to tell his story in a way that'll show up-and-coming business owners about how his experience relates to their own.
By adopting this approach, he's not just taking the opportunity to display his expertise. 
But even more, he's finding ways to forge a connection that rests on similar experiences and solutions for the specific needs of lifestyle businesses.
Connect Through Social Media
Of course, don't forget that the work doesn't end on your website.
Without a social media strategy, you're just waiting for clients to come to you. And that can take a lot of time.
In 2020, the amplification of your brand image can be done effectively through various digital marketing activities: User Experience (i.e. your website) SEO & Content Marketing Social Media Marketing Email Marketing Paid Advertising (PPC) Together, these channels are fundamental to gaining brand awareness and growth. – Fresh Sparks
Instead, if you've researched your buyer personas, you'll know  what social media platforms  they spend their time on.
Moreover, the great thing about social media is that it doesn't just let you communicate with your clientele. 
It also allows you to listen, which will, inevitably, take you back to your brand development strategy drawing board, allowing you to recognise any arising needs that you can (or should aim to) meet.
As a creative business owner, you should aim to post content that will appeal to your clients.
It doesn't necessarily have to be your portfolio .
You can also choose to  share entertaining content  that shows off who you are, what you stand for, and what your followers can expect from you. 
The designer duo  Jacques & Lise  does this exceptionally well with a series of images and videos that show off their quirky illustrations.
Widen Your Reach
Finally, if your company is still new and you can't rely on word of mouth, you need to ensure that you get your message across and  reach your potential clients .
Sure, a brand development strategy gives you instructions on how to communicate with your audience.
But, you also need to invest in reaching as big a circle of relevant people as possible.
The final tip that pertains to communicating is to  employ SEO  to reach your audience.
Simple actions such as  using the right keywords  or optimising your website can go a long way to helping you get to the top of SERPs (search engine results pages) when users search for services in your field.
Measure Your Brand's Performance
Once you've completed all the steps listed above, you will have your strategy in place, a live website, and you can sit back and relax.
Wrong.
Now is the time to start analysing your efforts.
Ask yourself questions like:
● Are you meeting your  website traffic  goals?
● How many new clients have you picked up?
● Is your gateway content attracting potential clients ?
While it can be tough to look at the numbers, you need to know where you are so you can work on the final step in your brand development process.
Adjust and Improve Your Brand Development Strategy
Your brand development strategy is not going to be perfect.
It is an evolving asset that requires continued care and attention.
Hire a professional designer or branding agency with logo and identity design experience, to help make your brand stand out. – Fresh Sparks
As you learn about customers, grow your brand, and market demand changes, you are going to have to return to your brand strategy and make adjustments.
This is why measuring your results is so important.
As creatives, getting bogged down in the analytical details is less than exciting –  but it is necessary.
Analysing your brand's performance can show you how well you are doing, which areas have room for improvement, what your clients like, and any market trends you can exploit.
But developing your brand strategy is a gift that keeps on giving.
You want to present your clients with a beautifully packaged gift that meets their needs, and in return, you get their continued business.
Once you have followed these steps, you will have a solid brand development strategy in place.
This allows you to target your ideal customer and improve your position in the marketplace.
All that is left to do now is to put in the hard work to make it happen.