5 Reasons Why Video Marketing is Critical for Your Business
In an era of constant connectivity, the rules of customer engagement have changed considerably.
Today, audiences are bombarded with an unprecedented volume of promotional content across many channels.
From social media, to search engines and television screens, no aspect of our daily lives is entirely free of advertising.
With this constant bombardment of digital noise, it's no wonder that internet users have responded by turning away from traditional marketing.
For web-savvy customers, the only way to interact with businesses is on their own terms.
When individuals look for relevant products and services online, they're searching for value, authenticity, and informative content that can help them make the best decision, and they're not willing to wait for it.
According to a recent Microsoft consumer study , users are only prepared to prioritise a single source of information for 8 seconds before switching away, unless a further value is provided.
With all these challenges in place, the question is: how can any company hope to attract and retain increasingly sceptical consumers?
The Rise of Video Marketing Content
A picture might be worth a thousand words.
By that logic, one minute of video is worth 1.8 million .
Whether you're a B2B firm, or you're marketing directly to end-users, you need to be able, to sum up, your brand in a concise, yet appealing manner.
There's no better format to accomplish this than video marketing.
Today, video content makes up almost 80% of all traffic on the internet.
Across the digital landscape, on the news feeds, blogs, company websites and social networks we see video marketing content pushed like never before.
As a result, at least 64% of consumers now make purchasing decisions based on branded videos on social media, and 51% of marketers describe it as the most profitable content delivery channel available to them.
For businesses the message is clear, a video must become an essential part of their digital marketing strategies.
With that being said, be sure to check out this online video maker which can help you build fantastic videos in minutes.
What Video Can Do For Your Digital Marketing
Create Engagement
Within seconds of arriving on your home page, prospects need to be informed about what your business does, the products and services you have on offer, and what steps they can take to learn more about your offerings.
If you're attempting to communicate these critical details through nothing more than text and images, then you will find it difficult to capture the attention of a vast portion of your visitors.
Regardless of how attractively designed your website is, nobody wants to sit through paragraphs of text just to get to a value statement.
Adding a video to your homepage can significantly improve your odds.
Studies show that replacing landing page messages with a custom animated video creation can encourage users to stick around on your site for up to 2 minutes longer than they would otherwise.
There are multiple reasons for this.
Human beings are naturally drawn to movement.
Video content adds dynamism and excitement to an otherwise static interface.
Video marketing is an all-encompassing format.
It can integrate text, pictures, narration, and film content to create an interactive experience for the website visitor.
People are far more likely to share video content on their social media pages.
Human beings process visual information far more effectively than text.
Studies show that viewers retain up to 95% of a video message compared to just 10% of a comparable text passage.
Video is purpose-built for storytelling. Whether you're informing visitors about your brand or giving them an inside look into your offerings – video marketing lets you communicate with prospects in a far more intuitive manner.
Search Engine Relevance
In recent years, both Facebook and Google have adjusted their algorithms to align more closely with user intent.
In other words, they want to be able to connect searchers with relevant, high-quality information rather than just any keyword optimised landing page.
As we've detailed above, digital users increasingly prefer to interact with video over other forms of media, so search engines are prioritising pages that are optimised for this type of content.
According to marketing firm Moovly , a single video embedded on your website or social media page can increase your chances of ranking on a search engine by up to 530%.
Video's inherent shareability also makes it ideally suited for link-building strategies.
A unique, well-crafted explainer video is far more likely to earn a referral from an authoritative source.
Of course, those benefits carry over to any platforms where your videos have been cross-posted as increased social media signals will direct more traffic to your website and ignite more conversations around your brand.
However, to achieve these SEO benefits, you have to do more than just hire a video production service to prepare a professional piece of filmed content for your homepage.
To start with, you need to determine the best places to host your content.
Many digital marketers prefer to put their videos on YouTube and then directly embed them in their home pages.
This ensures that your site loads quickly and also exposes your branding to a whole new audience on the social sharing platform.
However, YouTube hosting will take away some traffic from your homepage.
If you're looking to keep all the clicks on your website, then you may want to choose a custom video hosting solution.
We also recommend integrating an accurate transcript of the video content .
Adding text helps to make your content more accessible to viewers who are unable to listen to the narration, while also creating a rich body of indexable content for search engine crawlers that are looking to categorise and sort the video.
You should look to ensure that the title and meta description of the video is engaging, and are optimised for at least one keyword.
Finally, make sure that embedded videos are supported by relevant text and images.
Video Content Builds Trust
Trust is an extremely scarce commodity in modern media.
With a constant influx of branded messaging from all corners of the digital sphere, consumers are looking for authenticity and transparency above all else.
Any business that's able to create a relatable image that still sparks customer emotions stands a great chance of dominating its target market.
With online video, you can push your brand's personality and message out into the world in your own words, and give customers an incentive to look further into your products and services.
You can use a wide variety of video content to build out your online presence.
A polished explainer video should form the cornerstone of your digital marketing strategy .
This piece of filmed content should provide an engaging overview of your business.
Amongst other details, you can cover how and where the business originated, what it aims to achieve, and the challenges it faces on the path to those objectives.
Another great way to create credibility is by getting a few of your significant clients to submit filmed testimonials .
Make sure that these videos employ good storytelling .
Ideally, the testimonial should illustrate a specific problem that the customer was facing and how your business helped to resolve it.
Video can also help to put a more human face to your business .
You can film and upload behind the scenes content showing your staff and facilities.
Encourage website visitors to submit questions, and post filmed replies on social media.
You can conduct live interviews with key members of your team, to provide a more in-depth look at your operations.
Tutorials can help with new and existing products and services.
Video Marketing Works Equally Well on All Formats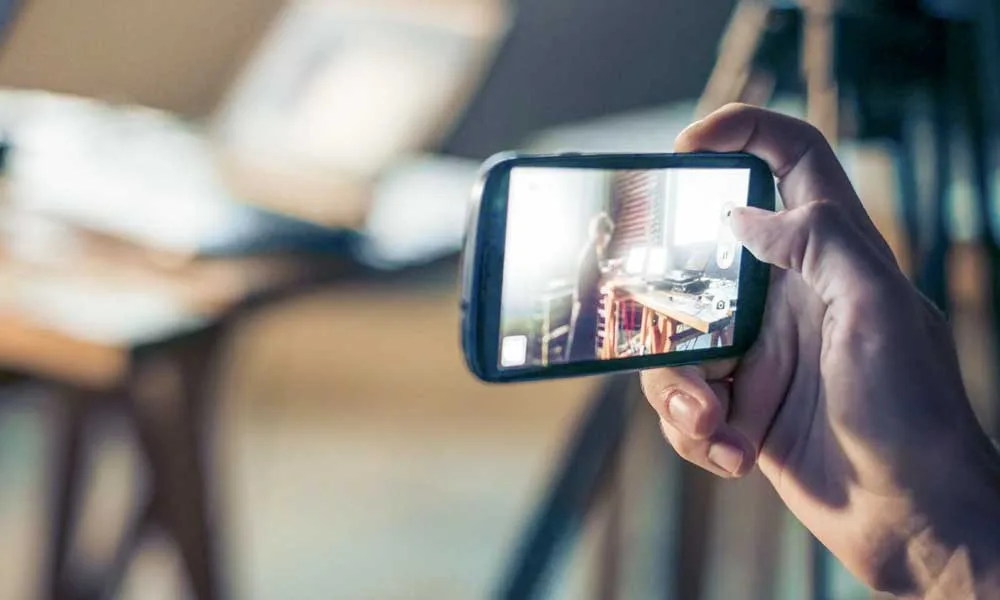 As of August 2017, the number of mobile Internet users across the world stands at 3.5 billion, which means that more people access the Internet using smartphones than desktops.
The majority of these users will start an activity on their mobile, only to continue it on their laptop .
Statistics like these show just how vital it is to create a marketing strategy that works equally well across all platforms.
While text and image-based content can suffer from the conversion to a smaller screen, video translates exceptionally well, in fact, 51% of all video plays are currently performed through mobile devices.
If you're looking to offer a seamless omnichannel experience, then video content is a must.
Video Drives Conversions
When it comes to measuring the value of your marketing expenditures, conversion rates are the only metric that matters.
Video performs exceptionally well in this area.
According to a 2017 survey from Wyzowl , companies that integrated video into their content marketing strategies saw an 81% increase in their sales.
Similar data from the Aberdeen Group shows that video improves lead generation by over 66%.
Now, it should be noted that a gimmicky product video will do little to improve your online profits.
If you want to jumpstart your conversions, then you need to offer real value to your audience.
That means taking the time to understand what your target viewers are looking for and crafting informative content that matches those needs.
As customer expectations continue to rise, businesses must apply the same care and attention to their video marketing content as they do to their copywriting, web design, and online advertising if they want to come out ahead in this increasingly lucrative arena.
Author Bio: As a Sr. Editor at a content writing service , Matthew and his team of blog writers, content marketers, and video designers at Content Development Pros has helped small and large businesses get results through content.