Artificial Intelligence in Design – Tools Enhanced by AI
We all know this buzzword that seems to be floating around and permeating every facet of our daily lives. The design world is no exception. 
It's a hot button topic that is frequently debated. And, while the implications of artificial intelligence are still mostly unknown, and the technology is still in its infancy, it can be fun to use our imagination to think of where it may be headed.
In what ways are the two concepts of design and artificial intelligence joining together to change the industry right now? 
Well, for one, the advent of the machine learning will push design companies to shift the way they think about the relationship between their customers and their products. 
The conversation on how to maintain a human touch when implementing artificial intelligence into the design process will continue for the foreseeable future.
A  survey by Adobe  showed that 69% of creatives agree that the use of AI will dramatically increase over the next five years. 
However, most of them don't believe that artificial intelligence will take their jobs away from them. 17% of these creatives pointed to AI as a change for the good in their careers; noting that it made their workflow simpler. 
The optimism in seeing AI as a tool rather than a threat is fueling innovation in the field, keeping demand high.
How Much Hype is There Around AI in Design?
When imagining the possibilities of how artificial intelligence can change different aspects of life or design, it is easy to get a little carried away. 
AI can hold so much potential to change things dramatically for the better—or, as some say, for the worse—but we also need to remind ourselves to stay grounded in the reality of the current state of AI. 
Being that we are likely decades away from realising a truly human-like artificial intelligence, it may serve us better to think of it instead as " augmented intelligence ." 
The design tech coming down the pipeline is geared more toward optimisation and speed, as opposed to real design processes.
Designers that utilise AI in their design processes can create designs faster and cheaper thanks to the increased efficiency and more productive features of their programs of choice.
With AI-enriched programs, designers can significantly reduce the time it takes to analyse massive amounts of data and find ways to improve designs faster. 
With this information, a designer can go through the refined data to find the best recommendations and adjust designs. 
In this way, the best designs can be created more expeditiously and multiple prototype/draft versions tested with their clients. All this accomplished in a fraction of the time and cost of traditional methods.
Besides, at a more fundamental level, AI can give designers better tools. We've already seen this in a few cases, with smart programs that can fill gaps in an image for graphic designers, or tools that analyse text for content writers. 
These tools don't replace the artist, but they make the design process much more efficient. As AI improves, so do tools like these.
AI Enhances & Compliments Design Psychology
Artificial intelligence, when used as a way to augment design, can help designers realise concepts they may not have otherwise imagined. 
In many ways, it can be used as a tool for inspiration, as well as efficiency. Many large brands are now incorporating designs imagined by AI. 
They are doing this because artificial intelligence can take vast amounts of data gathered on how colours, shapes, and other design elements can inspire a consumer to purchase a product.
Great designers know that there is a lot of psychology behind creating an eye-catching graphic to intrigue consumers into learning more about a product. 
An image can be worth a thousand words, and pictures can sometimes invoke more emotion than a catchy slogan . As highly-emotional creatures, we tend to gravitate toward images that evoke emotions in specific ways. 
For example, some say the colour green makes them hungry, or that bright colours like red or yellow can be energising. Beyond this, specific shapes and colour combinations can have signs that we don't consciously acknowledge. 
Haven't you ever seen a product that seemed appealing, just because of it's packaging? 
Gaining an insight into what emotions are evoked by any particular design on a more nuanced level will allow designers to maximise the effectiveness of their designs. AI can turn raw data into these kinds of insights. 
To show just how effective this tactic can be,  Nutella used artificial intelligence  to generate 7 million one-of-a-kind labels for their Italian market. 
It sold every single one of them in less than 30 days. On top of that, consumers who bought the product ended up posting more than 10,000 videos to social media showing off their unique jars. 
This was a brilliant move by Nutella and is a concrete example of how AI can help businesses devise new strategies in visually appealing to customers. 
Increased Efficiency For Designers
Estimates suggest that designers spend around 20% of their time doing mundane tasks that can easily be automated with artificial intelligence. Some jobs, though, like cropping images or adjusting colours, need a human eye to get perfect. 
But, companies like Adobe are working on making tools even more efficient for designers. 
Adobe Sensei uses artificial intelligence and machine learning to help designers create the perfect graphics faster and easier. Sensei can help improve the overall design and delivery of the final product.
But, Adobe isn't stopping there.  Adobe Scene Stitch  is working on a new suite of tools to identify various aspects of a scene and edit or even completely change it. It can be a real game-changer in the graphic design and video production industries.
Netflix is working on a tool to help  personalise artwork  for their shows and movie thumbnails that can translate titles into various languages. 
Once the algorithm translates the title, a designer needs to approve or reject the design. And, this technology can stretch far beyond thumbnails for Netflix.
Yet another example of using machine learning and artificial intelligence to optimise graphic design is a tool called  Tobii Pro Sprint . It uses optical tracking to see what elements capture a user's attention. 
UX designers love this tool because it helps them better understand how to optimise the flow of a website or graphic design to make more appealing designs. 
Last, but certainly not least,  EyeQuant  takes using artificial intelligence in graphic design to a whole new level by predicting what ads consumers will find most appealing with an 85% accuracy. 
This tool will dramatically cut the time designers spend going back and forth with their customers and the time to delivery. 
Machine Learning in Product Design Consistency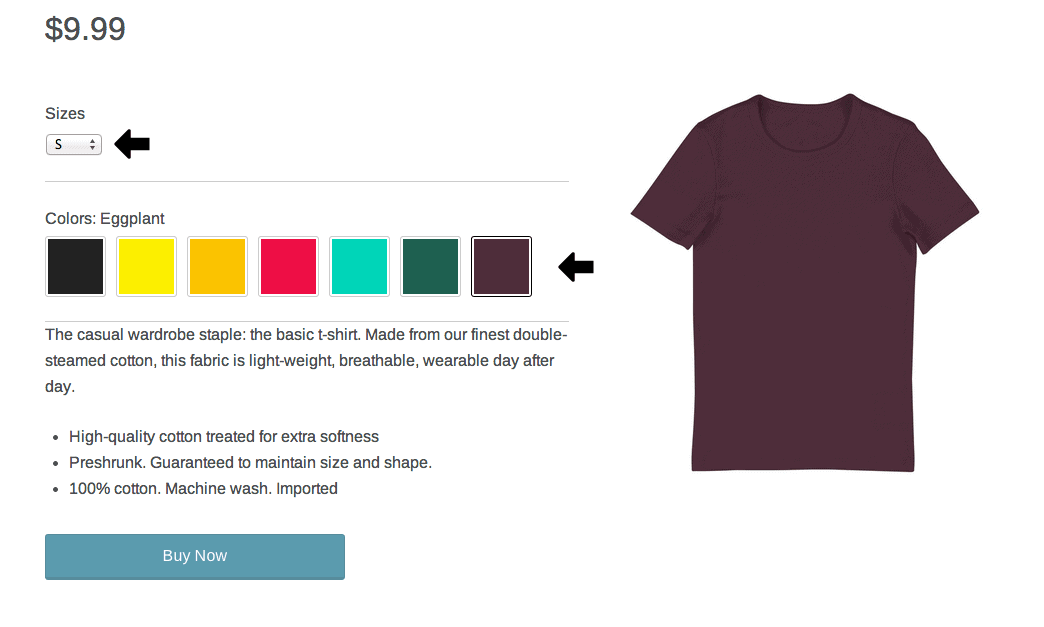 Arguably, one of the most vital areas of design that artificial intelligence can give designers a more robust toolbox is creating smarter design systems. Keeping a brand's design consistent is key to brand recognition. 
Artificial intelligence can help brands and designers better understand how users interact with all of the elements of their design systems. 
For instance, Wix and Squarespace use AI to guide website designers and help them with decision-making.
Key Takeaways
Sale
Machine learning in design is going to bring a plethora of new tools, concepts, and customised design elements to every aspect of the industry. 
Very soon, designers will have the ability to add ultra-personalised touches for clients and consumers that make it seem as though the designs were tailored  specifically  for them. 
Soon, we could see the Internet of Things (IoT) working together in such a way that branding design elements like ads or digital mascots will morph into precisely what a specific user wants to see. 
While the techniques of today may soon be replaced by artificial intelligence, it will no doubt give birth to a whole new world of design techniques. 
Many of these we can't even imagine right now. So, if you're wondering how you can best adapt to these innovations as they come, don't fret! 
Here are a few things to keep in mind as you explore the many new tools at your disposal.
Above all else, remember that humans are an incredibly adaptive and continually evolving species. As AI evolves, so, too, will our ability to adapt and create new roles we can play in the process. The future is going to be amazingly bright and designed beautifully!
Last update on 2022-09-20 / Affiliate links / Images from Amazon Product Advertising API