How to use Customer Feedback as a  Driving Force for Your Small Business
You don't need to be a high-pitch entrepreneur to understand one simple, golden rule behind successful businesses, big or small:
"If you are not delivering what the customers are looking for, you will always be replaced quickly by a more capable competitor." 
This insight is enough to understand how  important customer feedback is . What's left to talk about is:
What are the most reliable ways to collect reviews? 
What to do with the feedback once you have it!
This is what we will share with you in this article so sit back, grab your favourite popcorn flavour and read through the best guidelines you will find on how to use customer feedback as a driving force for your small business. 
Customer Reviews and Strong Business Setup: What's The Link? 
The strength of the business comes down to how satisfied their client pool is. 
It does not matter if you are talking about multinational organisations or small-sized businesses. 
Therefore, customer reviews are often the primary driving force behind services and products offered by a brand. 
Your customers' opinions matter, not just to PR & marketing, but to every team from customer support to product development to sales. – Hubspot
Useful feedback, whether positive or negative, can often help fill the gap that exists when the customers are not getting what they desire. 
There is another crucial point to consider here:  running away from bad reviews  will do you no good. 
Some small setups think that negative feedback can ruin the reputation that they are tirelessly trying to build. 
However, you need to understand that you can work towards improvement without knowing what you are doing wrong. 
Tip!  There is one thing common about all successful businesses: They have spent years trying to engage with their audience who then help to shape their products/services in the best manner possible. 
Mere collection of feedback is not enough. 
It is also essential to respond to the commend in an encouraging tone, so the users feel comfortable reaching back with reviews in the future as well. 
Customer support channels are the ideal place to begin your support team brings more value when they approach every interaction as an opportunity to collect quantitative and qualitative feedback on real experiences with your company. – HelpScout
This was just a quick overview of why customer feedback is essential and what you can do with it. 
We will now explore different ways in which the right audience can be reached with questions and reviews.  Stay tuned!  
4 Ways To Use Customer Feedback As Driving Force For Your Small Business 
Customer feedback is important for future product development, improving the customer experience and overall customer satisfaction levels. – Intercom
Although social media has developed as the primary platform for the exchange of comments and reviews, sometimes it is not enough. 
This is because users don't often rush to a brand's website, Facebook account, or Instagram page unless they had an extremely happy or abysmal experience with the services. 
That leaves much room for people who were either too lazy to go the extra mile for providing feedback or did not have anything "extraordinary" to share. 
Therefore, if you wish all types of customers into account, then you must provide various platforms and opportunities where they can share feedback easily. 
On-Site Communication
It is crucial to provide a portal where customers can reach out to support service, whether they are present on-site or visiting the website. 
Many brands have now introduced a live chat widget on their web-pages. 
Here the users can ask questions at any time and rate their experience at the end of the conversation. 
Gathering feedback doesn't just help you keep your customers happy ––it can actually be used to seriously improve and grow your business. – Copper
Additionally, every top brand has a blog , and honestly, blogging allows you to share the updates about your services. 
At the same time, it makes your small business more approachable, and customers put their opinions through comments.
What should you do with disappointed clients?
Remember that their feedback is equally valuable. 
Therefore the team should immediately work on solving the problem. 
Tip!  HelpCrunch is a commendable   communication software. You can use it to automate "Rate-us" messages or save chat history for reviewing later. 
When a client rates you well on-site, it is best to encourage them to share reviews on third-party platforms. 
They might not do so immediately, but as they are good reviewers, you can follow them up later or send in a reminder mail.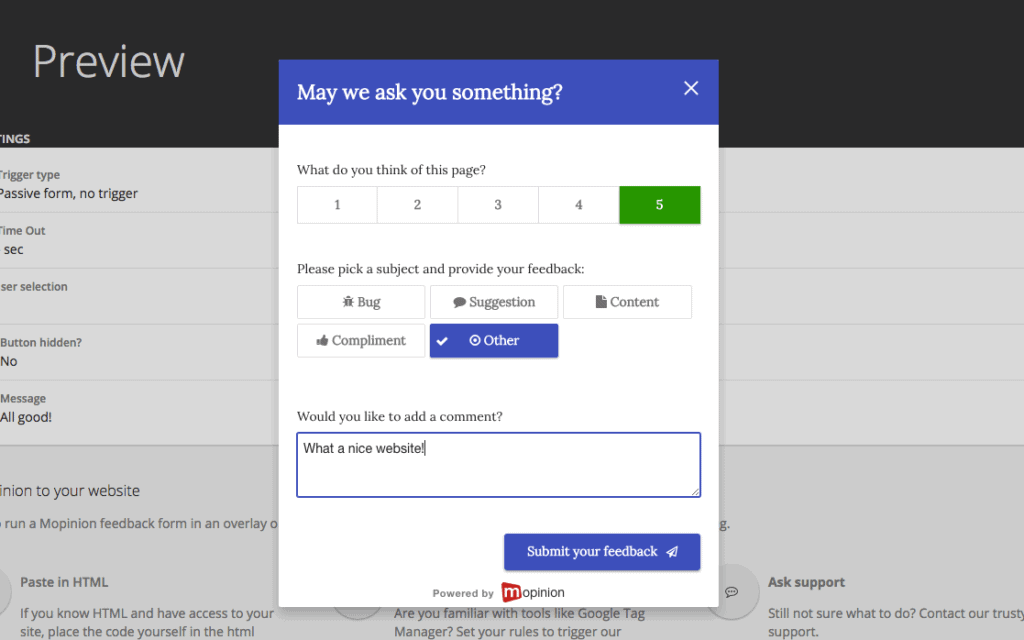 Scoring Surveys 
Putting forward a scoring survey is a great way to encourage customers to share the "level" of satisfaction they had using your services. 
In most cases, a scoring survey is designed with a 1-10 ranking scale that pops up when a customer accesses your website or business page on social platforms. 
If a user leaves an abysmal rating ( 2 or 3), we recommend you immediately get in contact with them to hear about their problem. 
Ideally, the metadata will include attributes such as how long the person has been a customer, how much they spend, the date the feedback data was submitted, and the source of the feedback e.g. open-ended customer survey question. – Intercom
On the other hand, you can encourage people with good ratings to leave more detailed feedback on third-party review sites. 
Review Sites 
Third-party review sites are an excellent source for collecting valuable feedback. 
Although it is not a primary place where most people leave opinions, they can still be used to raise awareness about your business and  attract more clients . 
For instance, if you are starting a compatible router brand, then you can see dozens of competitors review on the web. 
Furthermore, you need to make sure that you select a platform with an excellent reputation. 
At the same time, it is preferable to be choosy with third-party sites. 
According to data collected by Invesp, 90% of customers read online reviews before visiting a business website and 88% of customers trust these opinions almost as if they were personal recommendations. – Survicate
Tip!  Do not suggest customers leave reviews on a long list of websites. There are solid choices they won't do it on any!
Here's a List of Few Trustworthy Websites for Customer Feedback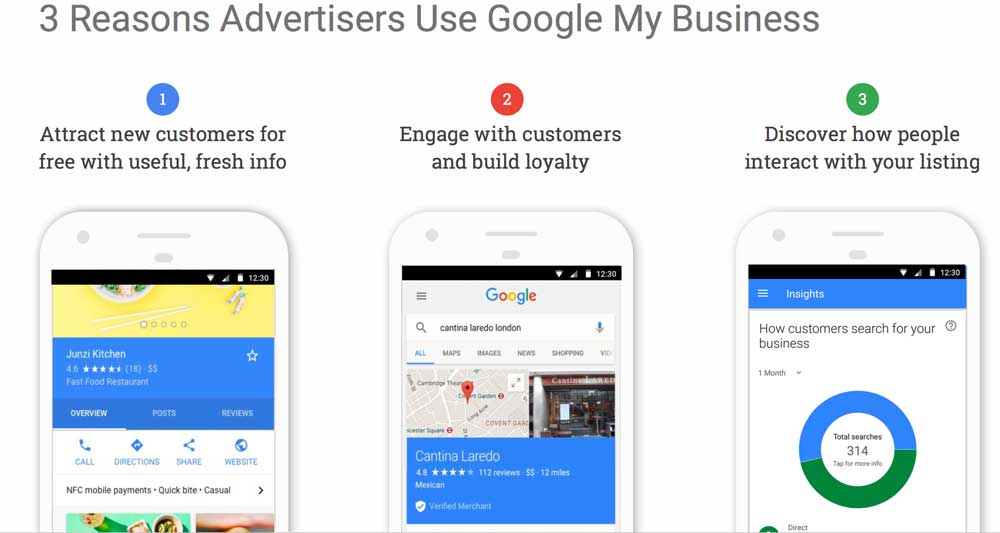 Google My Business 
It was launched merely as a map listing, but Google my Business has now grown to be one of the most admired platforms in the world of online review. 
You can use Google My Business to get in contact with the company with a simple one-click calling. 
There is also a Google Maps feature that would direct the interested audience to your location. 
Yelp 
Yelp was created to help small businesses grow. 
Currently, statistics show that almost 82% of the buyers around the globe check Yelp for reviews before getting a product or a service. 
Did You Know?  Yelp gets more than 139 million visitors every month. 
G2
G2 has a more technical and complex system as compared to other review sites. 
Before a customer can post a review, he/she needs to create an authenticated account. 
To help keep customer feedback more organized (and therefore easier to use), you can categorise it in two different ways: by type and by focus area. – Copper
Furthermore, comments and remarks will not be posted immediately. Instead, it needs to be approved first by the publishers. 
If you want to review a product, you will be asked to answer at least 40 questions which can take about an hour. 
A majority of customers often leave the site without completing the questionnaire, but that makes the remaining ones even more valuable. 
If you are looking for legit reviews about marketing solutions, CRM, ERP or best online payment solutions for your business, G2 has the most intelligent algorithms for reviews. 
Capterra
Capterra works much like G2 in a sense that it also has a complex validation system before posting. 
Capterra further confirms the identity of the reviewer and runs background checks to verify that the person is not affiliated with a brand or the competitor in the market. 
2 – Devise Strategies To Find Out What They WANT vs What They NEED 
This is where the concept of "consumer behaviour" comes into play. 
Every customer needs in terms of services they are interested in. 
If you do not deliver, they will find another competitive source in the market. 
Have in mind that every brand is replaceable, so if you don't aim to meet their expectations and provide unique customer experiences, they will find a brand that will. – Paldesk
At the same time, there are also some personal preferences categorised as "buyer's wants". 
This may vary from one to another. 
For example, a thirsty person on the street may buy coke, but there will be few who will prefer plain water. 
Why is it important to look into the customer's wants and needs? 
These measures are essential when designing marketing campaigns .
Well-thought ads can play an essential role in promoting a product. 
They can be used to portray how your services will cater to different needs and wants of society. 
Making sure your ad is targeting the right aged audience is also essential.  
You don't want to sell  security cameras  to teenage people. Because they won't even have the money to buy a house, how will they afford security cameras? 
There is more to this than just simple maths! 
Sometimes campaigns can be used to trigger a need in the society which not many customers were pointing towards. 
A "unique" product has more chances at success as compared to changes that the customers "thought" they wanted. 
Listening to customer feedback makes customers feel involved and important Nothing shows your customers that they are important better than asking for their opinion and acting accordingly. – Survicate
For example, a crispy tortilla wrap was something nobody had talked about, but it turned out to be a huge success. 
On the other hand, Macdonald's Mclean low-fat burger was apparently "wanted" by many. Still, it was a flop once launched. 
Therefore, it is essential to conduct market research with a perspective of Research and Development. 
If too much attention is given just to customer feedback, businesses would only introduce minimal improvements without any innovation in the products. 
3 – Pro-Tip! Social Influencing Culture Is Here To Stay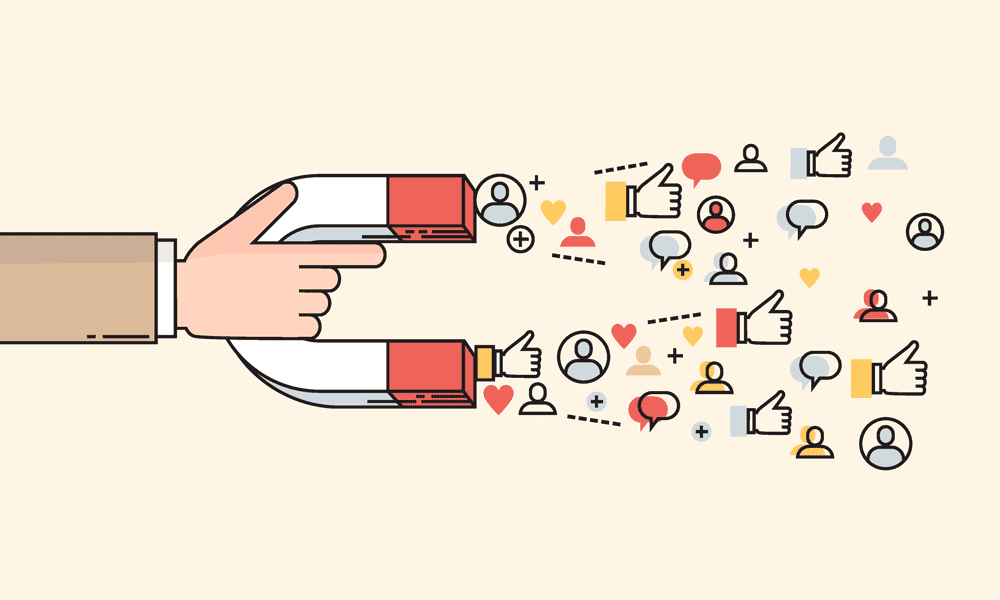 What beats third-party websites when it comes to gathering reviews? 
Yes. You are right! Social Media! 
Jokes apart, we can agree that more people leave their opinion on Facebook pages instead of review sites such as TrustPilot or G2. 
Direct comments or mentions on social networks aren't the only way for your business to collect customer feedback either many networks include built-in polling tools. – HelpScout
Therefore, it is crucial to building a robust social presence on platforms like Twitter, Instagram, Facebook, and LinkedIn. 
Moreover, getting social influencers to review your product or services can be a trump card you can always use. This is beneficial for two reasons. 
Firstly, an insight provided by an expert can help you shape your business in a better way. 
Secondly, the review will reach out to a broad audience who might not have heard about your services before. 
Reviews from social influencers can be provided in the form of blog posts , YouTube videos, posts on other social platforms, etc. 
4 – Negative Feedbacks Are Often More Helpful! Listen Closely
What should you do with negative reviews? 
Negative customer feedback is hard to hear, which means sometimes it's too easy to write it off. – WordStream
The last thing you would want to do with negative customer feedback is to shove them to a side and never pay attention there. 
In contrast, negative feedback often provides a more sincere brand reflection than flattering remarks. 
There are two types of reviews in this category. 
Sometimes, customers leave a nasty comment after having a short, inadequate experience with the service or the product. 
However, there can be times when a loyal customer is disheartened with something unsatisfactory and leave a negative (yet sincere!) opinion on the event. 
It is essential to pay attention to the second type of occurrence. 
These are the clients who were aware of your services and were happy with their experience until something went wrong. 
In any case, such customer complaints should not be left unintended. 
The first thing to do is to thank the customer for their honest remark. 
Secondly, you should also apologise and promise a better impression next time. 
According to a Salesforce survey, about 70 per cent of consumers polled were more likely to be loyal to companies that understood their individual needs and offer tailored customer service.  (entrepreneur.com)
With the primary task aside, a more important job is to figure out what went wrong and to rectify the situation immediately. 
When you have fixed the problem, you can ask the customer to change their review, if they wish to.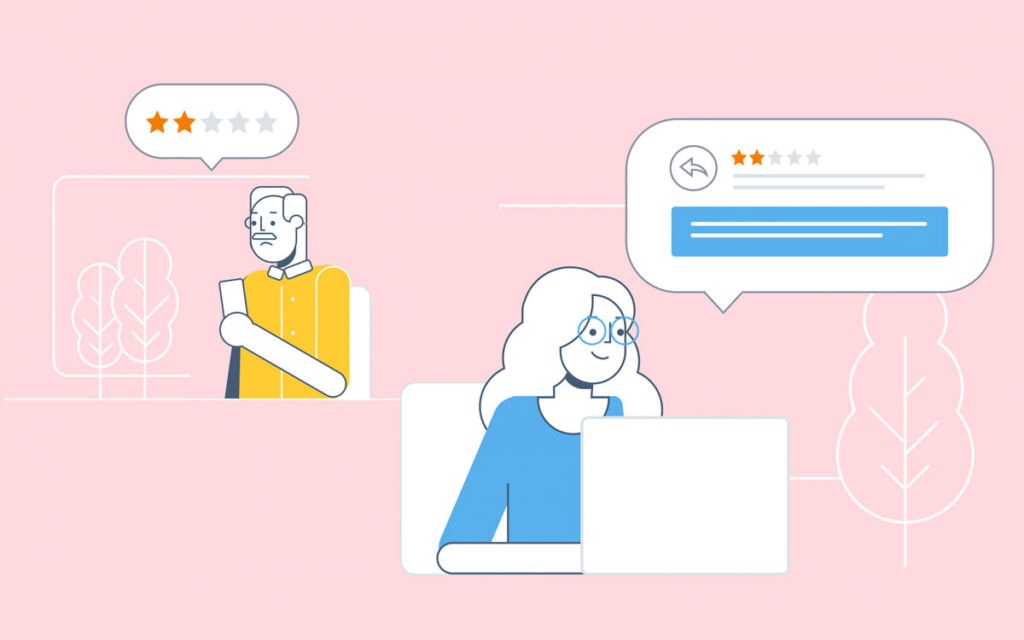 Take-Home Message  
Conclusively, it can be said that customer reviews are of utmost importance and therefore, must be collected in the most transparent manner possible.
When it comes to reviewing platforms, the more, the merrier! 
Although collecting reviews from many third-party sites, and social media pages can be a daunting task, it is essential for directing your small business in the right direction. 
At the same time, the importance of negative feedback can not be understated. 
They are the true reflection of how your product looks to the general pool of buyers. 
If you can't satisfy them, your business isn't going anywhere, regardless of the investment you make. 
Many studies confirmed a close connection between customer satisfaction and business performance. – Start Question
Lastly, coming up with innovative ideas is equally important. 
Customer satisfaction should be a priority, but it should not hinder you from launching something that an ordinary mind might not have thought about. 
We hope the tips and guides here are helpful shortly if you wish to drive small business to greater heights. 
Do you have anything to add? 
We are looking forward to your reviews. Don't forget to drop them in the comment section below!