Logo Design File Formats Explained – Vector vs Raster Files for Client Deliverables
So by working with Adobe Illustrator , or any other tool , and putting in months of efforts, you have finally created a logo.
Now, you will save and export the final file.
So you think you've made it. Nope, you haven't yet.
You may be familiar with how to design a logo using graphic design software.
However, using some logo design tool and finishing the design task isn't enough.
To establish yourself as a professional logo designer there is a little more than what you think you have done.
You have to focus on scenarios in which a logo design will be used.
Clients may use it in black or white format, make it appear large or small, it might be printed, posted on a website, and more.
Whatever the scenarios, you would never want it to look shoddy, but beautiful.
Moreover, to make sure it looks good, you would want to do all you can, right?
Well, for that you need to send a bunch of logo design files to your clients.
Each of the files will be required for different purposes.
Therefore, it becomes essential for you to know what files you are going to send and why.
To lend you a helping hand, here are the various logo design file formats explained.
Whether you are a novice designer or an expert, the file formats explained here will help you for sure.
1 – 100% Vector File Format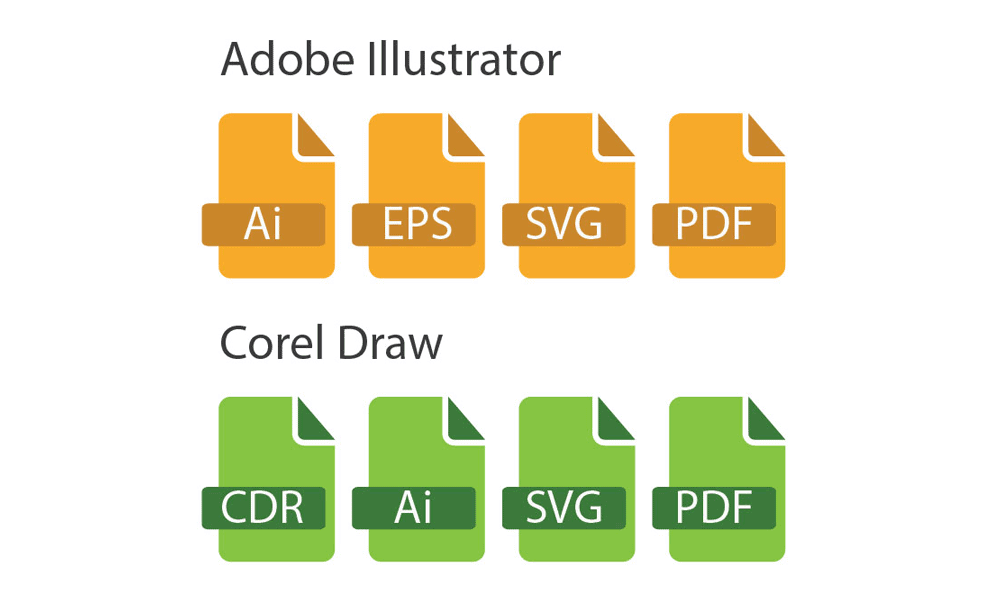 An image in vector format is created in mathematical, geometric shapes.
The shapes include lines, points, and curves.
The connection of the shapes is explained in a mathematical equation form that allows the image to be enlarged or shortened in a way without decreasing the quality.
When you create your own logo , you are advised to design it in Adobe Illustrator (another vector tool will do the same).
Illustrator specialises in creating designs in this format.
These are the types your clients need you to send.
It is because it eases the process of printing the design on various materials like leaflets, brochures , bumper stickers, pens, exhibition stands and more.
As these formats are for printing purposes, you need to provide them in CMYK colour form.
CMYK means C= Cyan, M= Magenta, Y= Yellow, and B= Black.
The four colours are used to make the shades in a full-colour printing page.
Why a vector file?
This question might have come into your mind.
It is because the vector file format is very flexible when it comes to resizing.
You can scale your logo to fit any size with ease.
The other good aspects are that you can convert vector file in PNG and JPG formats too.
You will find various vector files discussed here.
2 – PNG — Portable Network Graphic File Format
After you have designed a logo, png file format helps you use it for any digital purpose.
It also comes handy when you need digital graphics with transparency.
For example, you want to put your logo on a coloured background or on top of an image.
Remember, PNG file format isn't suitable for printing purposes.
You won't see any drop in quality if you compress or decompress the size of the logo.
You can display it with oodles of colours and with a transparent background.
All in all, it is a gold standard file format that your client can use in presentations and newsletters too!
3 – PSD (Photoshop Document) File Format
Do not think much about what a PSD file is.
It is the default file format of Adobe Photoshop .
This proprietary file allows the designers (even clients) to work or modify the individual layers of the logo even in a saved version.
When your logo design is ready, Photoshop helps the users to flatten the individual layer and convert the flat logo into GIF, JPG, TIFF and other file formats so that you could share it.
Remember, once you have flattened a PSD file by conversion, you cannot convert it back to PSD format.
So, it becomes essential to saving the data in .PSD format after each use.
Also, do not overwrite it or you may lose previous work done on it.
4 – SVG (Scalable Vector Graphic) File Format
SVG images or logos are especially suitable for the Web.
This format proves to be useful when you have to run an animation on your website where you enlarge your logo.
This is where the SVG file format comes to the rescue.
You can enlarge the image without giving up on quality.
Button, logos, icons and other graphic images that you want to put on the Web should have SVG format.
It is one of the top vector file formats.
It is XML-based web-friendly format that you can open using Adobe Illustrator.
(For clients— save your logo in this format only in case you've to send the file back to the designer for modifications).
When you deliver this file, make sure to save it with a coloured or transparent background.
It is for different purposes.
Some printers don't find any problem in accepting SVG files.
However, you need to make sure you have delivered the compatible and right format.
5 – EPS (Encapsulated PostScript) File Format
Although the format is little outdated, it still has its relevance.
It was launched in 1992 by Adobe .
However, before the company launched its page layout application— InDesign , its efficiency was measured using QuarkXPress that was the industry standard application of its type.
At that time importing native illustrator files for using vector images wasn't present too.
Now, this feature is available in it.
However, at that time designers had to save their AI files in EPS format.
However, with the launch of InDesign, Adobe simplified the placement of native Photoshop and Illustrator files into the document.
Do you know who needs EPS files?
Well, those working in the printing industry or using earlier technology need this format.
6 – JPG (Joint Portable Graphic) File Format
Jpg file format is widespread.
People use this extension frequently while saving their images or logos.
Even those working with this tool from DesignHill can save their file in this format.
It is used widely in the office or home printing needs by importing the image in MS Office applications like PowerPoint or Word.
Well, it comes as a handy format to be used on the website in HTML and FrontPage editors too.
Be it a designer or a client; everyone likes sharing this file format as it's easy to compress and reduce its size.
That's what makes it most suitable for archiving and sharing.
However, keep in mind that every time you compress a jpg file, it loses its quality too.
So in the end, you can get a pixelated logo or image.
However, being a designer, you can save it in 300dpi or above resolution for different sizes.
Converting this format into others, or other file formats to jpg is also possible.
A designer can also convert pdf to jpg.
Likewise, you can convert png to jpg and vice versa.
One more thing worth remembering is that JPEG or JPG file formats are the same.
The only difference that it includes is the number of characters.
JPG extension exists because there was no facility to use a longer name extension in earlier Windows versions.
So, don't get confused in between the two.
Now, you can design your logo in jpg format if your client needs it.
7 – PDF (Portable Document Format)
Adobe pdf is yet another file format to save your logo.
The multi-platform document is usually used for saving files in a standard form.
This makes it easier for the clients to see the file on various platforms.
Remember, you need to create this format from an existing file rather than starting from scratch.
In case the client sends it back to you for editing, you need to open this pdf file in Adobe Acrobat.
Likewise, you can use Photoshop and Illustrator for logo editing too.
Use Adobe Acrobat Reader to open a pdf file.
Clients, on the other hand, can use pdf files to print their logo on stickers , labels, posters, clothing, and more.
Bottom Line on Logo Design File Formats
When it comes to designing a logo using software or other tools, understanding the right file format is essential.
Go for PNG format if the logo is meant for the digital purpose; pick vector files if you are sending the logo for printing on brochures, cards, clothing, stickers, and more .
If the SVG format is not acceptable by the printer you choose, then it's cool otherwise switch to EPS or PDF formats.
If you are a client and sending your logos to a designer for changes, it's better to send them in EPS or SVG formats or send the files in the formats they ask for specifically.
We hope you understood all the logo file extensions discussed above.
Don't hesitate to share any other file format that we have missed or not included herein.
We would love to know your preferences.
Whether you are a designer or a client, knowing the right file format is going to help you for sure.
Keep the good work of design going!