7 Types of Digital Marketing Materials You Must Have
Whether you are a freelancer, designer, marketer, or small business owner, you are responsible for growing the business you manage, and you know marketing is an essential part of that.
While, on the one hand, you need to work on all the strategic aspects of your marketing, eventually, you need  effective marketing material  to put your plan into action and achieve your goals. 
For centuries print was the most conventional medium in which people created marketing material. Business cards , brochures, flyers, adverts, and banners were the most common examples. 
Advertising commercials and radio soon followed it. For the last twenty years or so, digital marketing materials have become one of the critical types of materials to be created.
What are digital marketing materials?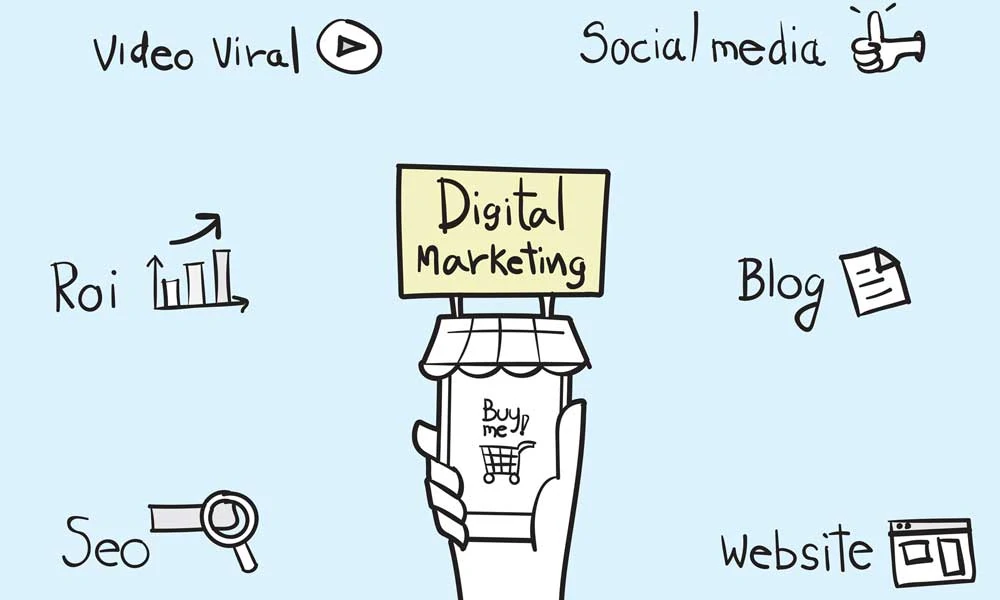 Digital marketing materials are online marketing collaterals that help you implement your marketing strategies to drive your brand and business growth .
Why do you need digital marketing materials?
Digital marketing materials are excellent ways to spread brand awareness of your company and attract and convert your target audience. 
1 – Wide reach
Digital marketing materials are available to the entire world. It crosses geographical borders, providing 24×7 access to everyone accessing the web.
You don't need to print your material and distribute them physically to each person in your target audience. 
Your audience also doesn't need to go to any physical location to pick up the materials and browse them. You don't have to spend valuable resources sending them leaflets by mail. 
2 – Durable
Printed materials, especially those on paper, look old and faded after some time. You need always to have fresh copies available to share with your audience. 
Digital marketing materials constantly maintain the same look, no matter how old the material is. 
Of course, you can refresh and tweak the design at regular intervals to keep a modern feel, but you don't need to change it and do a reprint completely. 
3 – WYSIWYG
Designing digital material is also very intuitive because you see the design while you are creating it, you know exactly how the final version will look, and you can fine-tune it precisely.
So, What You See Is What You Get (WYSIWYG).
When I worked as an art director, I had to sit with a giant colour palette book every time I created a print design on Adobe .
Because every colour looks different on the screen and in print, when I chose a colour on my computer, I had to check what that colour code would look like in print. 
And it was even more complicated when I had to match two colours! Then I had to sit with two books. 
Digital materials save all that hassle.
4 – Cost-effective
Since you don't have to print fresh batches of your marketing materials regularly, you save money with digital marketing materials. 
Of course, there is still the cost of the design if you don't do it yourself, but it's much cheaper than regularly printing company brochures , flyers, and leaflets. 
5 – Conversion driver
You can use digital marketing materials to gently guide your audience on their online  customer journeys from awareness to purchase.
Attract them with your content and social media marketing to drive them to your website, where you can convert people to leads or clients.
6 – Environmentally friendly
If those things matter to you, an added advantage of digital marketing materials is that they save a lot of paper and other physical materials.
Your digital materials stay on the internet, making them better for the environment.
7 types of digital marketing material your brand must have
1 – Website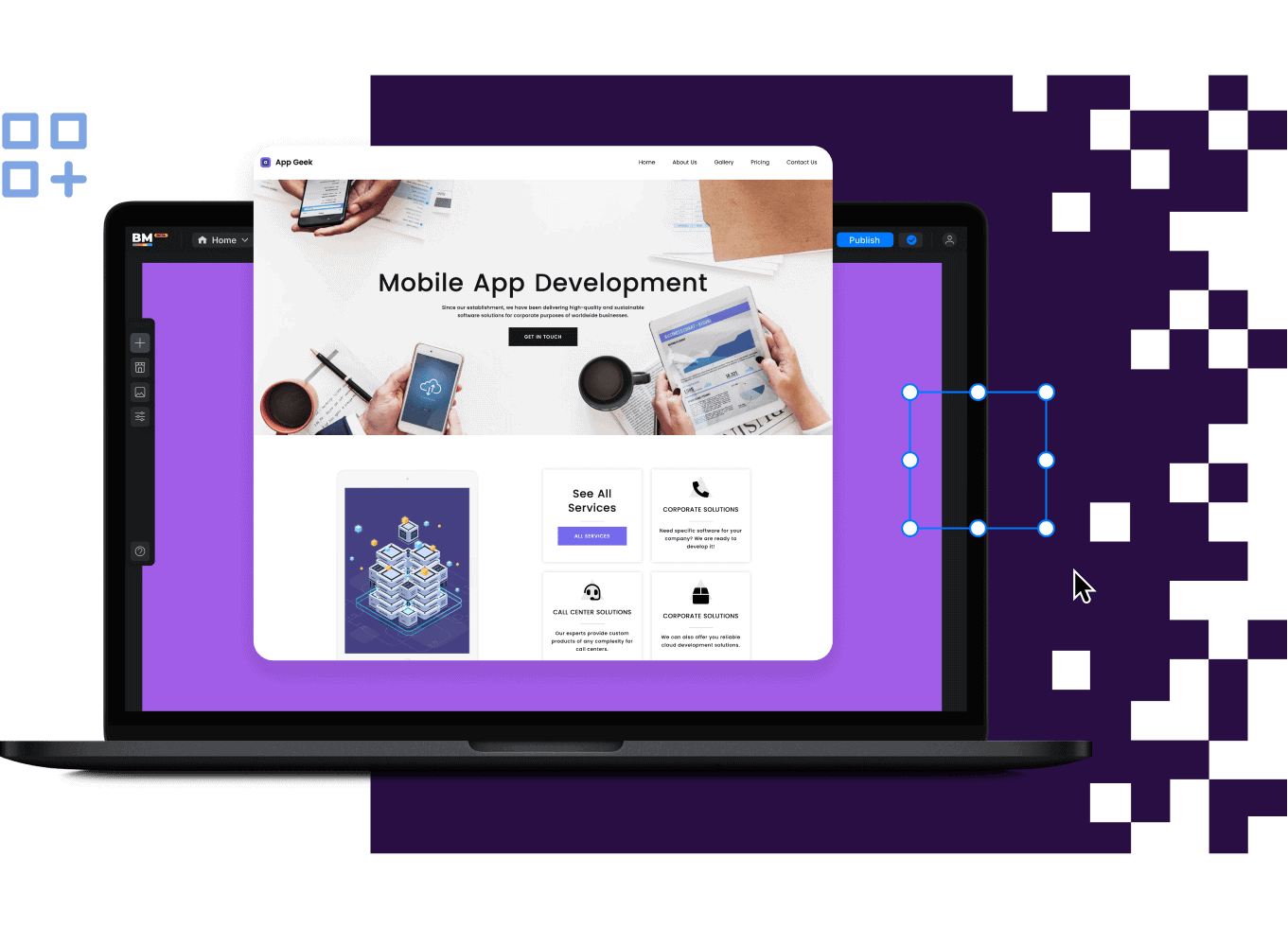 Until a decade ago, most companies would print thick brochures that contained details of everything about the business. 
The mission, vision, brand story , details of products and services, and everything else about the company were included in the brochure.
Some companies still have brochures, but a website is the most important, non-negotiable marketing material. It is your (online) brochure and much, much more.
That is where you should include all your brand and business information and provide contact details/ forms for people to contact you.
A website is the most important digital marketing material your brand should have because it:
Builds credibility and trust
Drives lead generation
2 – Blog posts
A blog is where you put up helpful information about everything connected to your unique value proposition and expertise.
Even if you create other pieces of content like videos, webinars , and emails, you still need a lot of descriptions or texts on your websites to help search engines understand the context of your website.
Blog posts are excellent digital marketing materials to answer your audience's questions and optimise your website for search engine visibility. 
Blog posts are essential for your business because they:
Demonstrate thought leadership and expertise on your topic
Help you rank for more keywords in search engines
Get your website noticed and drive traffic
Boost SEO with internal linking
Provide a platform for audience engagement, like with blog comments
Note:  It takes time for search engines to find and rank your blog, so the sooner you get started with blogging, the better your search engine optimisation is.
3 – Product and service pages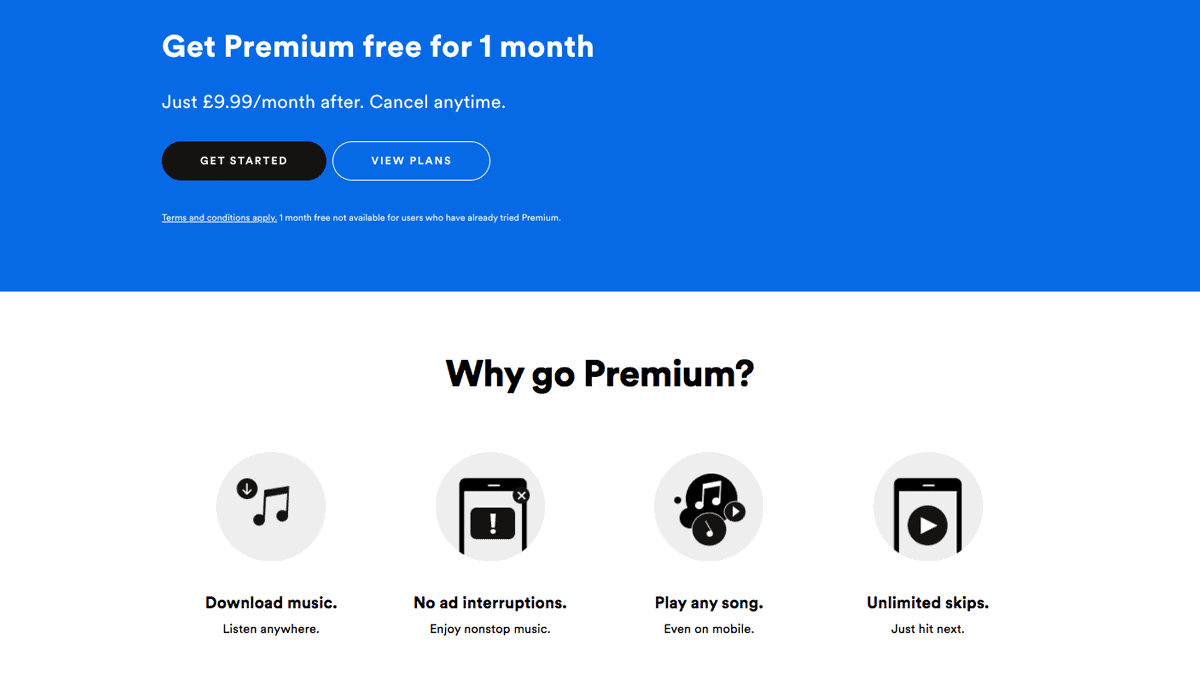 Just as you do in a brochure, you need to provide people with information online about your products/ services. So, try to make these pages on your website as complete as possible.
Add all the details your audience will need to decide if they want to contact you/buy/from you/check out your blog.
Here are some tips for creating compelling product and service pages:
Write thorough descriptions
Include images and videos if applicable
Feature reviews whenever possible
Make sure the pages are search engine optimised
Add calls-to-action
Note:  Ensure that you have a direct contact us page for your audience to contact you for consultations or questions. Make the line of communication as open as possible but avoid listing your mobile number on your website. 
4 – Social media posts
There are over one hundred social media sites globally, and chances are, your potential customers hang out on at least one of them.
So even if you are not a social media fan personally, you should consider creating posts for your content and offers and sharing them on social media.
Social media posts drive website traffic, increase brand awareness, amplify awareness by social reshares, and drive engagement with your audience.
Some tips for creating social media posts:
Choose the relevant social media platform, go where your audience is
Don't try to be present on all social media, be selective and targeted
Use your social media posts to build your brand and relationships, not just drive conversions
Consider social media ads for immediate traffic and specific offers if you have the budget
5 – Videos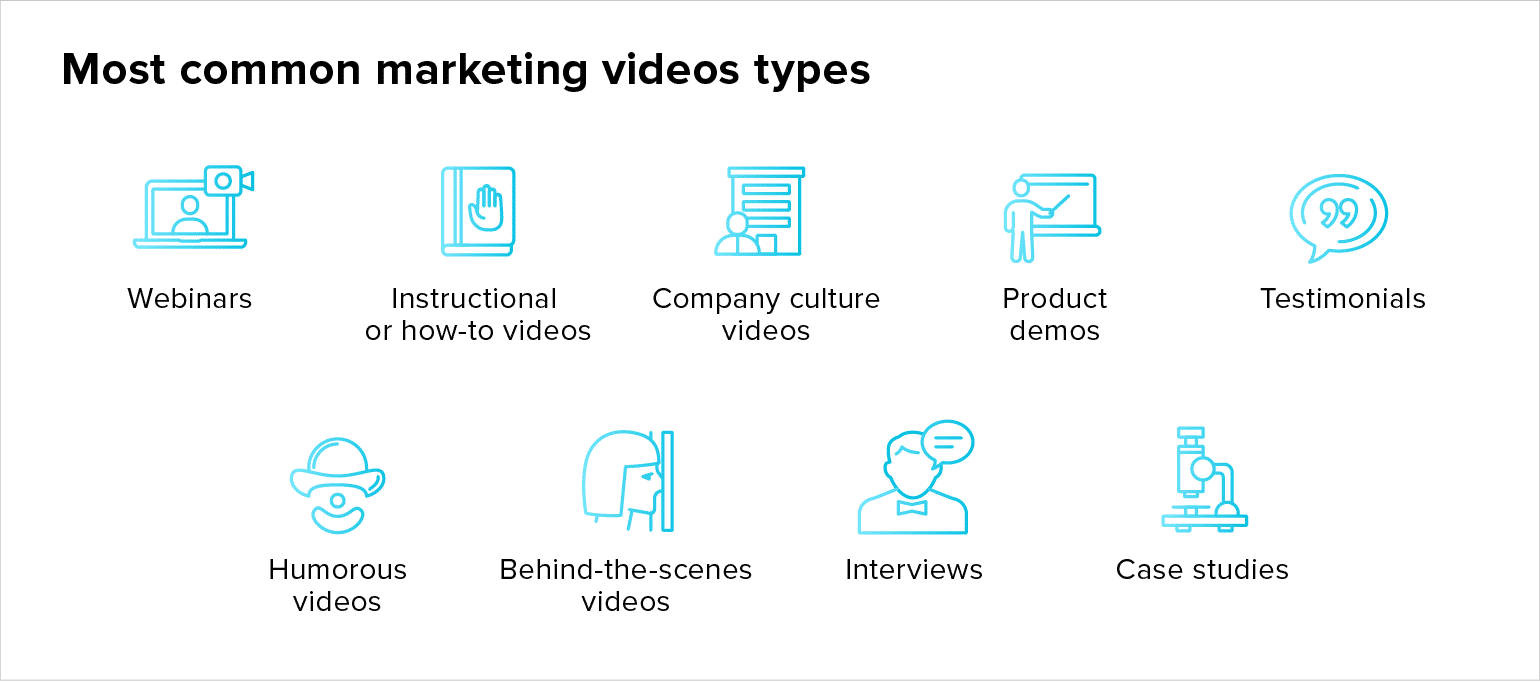 Videos have become an essential content marketing medium in the last few years. YouTube is the second biggest search engine after Google.
A  Wyzowl study showed that 84% of marketers said videos helped them generate leads.
Videos for your website, blog posts, and social media posts, should then be digital marketing materials you need to consider creating if you haven't already.
Bet you think it must be tough to do videos! And expensive!
Remember that it is also possible to shoot videos with a smartphone, avoiding the need for expensive equipment. There are free video editing websites where you can quickly fine-tune and style your videos.
If you want to create online tutorial videos, many screen recording software options let you get started for free. 
Here are some tips to help you get started with video production:
Choose the stories you want to tell and the ones that match your brand
Decide which video type and length you want to use
Work with a script, and rehearse before you shoot the final version
Many people watch videos on mute, so use subtitles
Post longer videos on YouTube and shorter ones on social media, like IG reels
6 – Lead magnets
We saw above that websites, blog posts, and social media posts are crucial for your marketing, especially to get traffic to your website.
But that is just the first step. Once visitors land on your site, you need to build a relationship through  email marketing (still one of the most effective marketing methods) with them, so they keep revisiting your site and engaging with you.
A lead magnet is a free giveaway that you share with your audience for their email address.
Five types of lead magnets that are highly effective:
eBook
Video course
Case study
Statistics
Webinar
7 – Emails
So, your site visitors have given you their email addresses and permission to contact them.
The ball is in your court!
Connect to them and build a relationship through personalised email marketing.
Send your audience emails that are specific and personalised. If you sell pet food and someone signs up for a lead magnet related to dogs, you may think twice about sending them information related to cats. 
Some regular emails you can send are:
An introduction email to let them know who you are, what emails you will send, at which frequency, etc.
Emails with discount coupons and offers
Emails announcing your latest blog posts or other content
Abandoned cart emails when the visitor hasn't completed a transaction
Periodic newsletters announcing the latest updates about your brand
How the digital marketing materials work together
You can create a complete digital marketing campaign to grow brand awareness and sales with the above-mentioned digital materials.
Step 1:  Develop an optimised website with complete information about your brand. Create detailed product/ service pages.
Step 2:  Create blogs, videos, and social media posts to drive traffic to your website
Step 3:  Create a lead magnet to capture emails and stay engaged with your audience through email
Are print marketing materials obsolete?
Digital marketing materials may be crucial for your business and the kind of materials you create, but print materials are still available.
Here are some print materials that are very effective and relevant for business growth:
Business cards
When you meet someone nowadays, you exchange your company details, and if you want to stay in touch, you exchange phone numbers. 
But in case you haven't had a chance to talk much, or you want to let the other person know more about your brand, you hand out a business card.
They can look up your website and even contact you when they have a minute. 
It is not advisable to have a mobile number on your website, but you can have one on your business card. 
Leaflets/ flyers
Leaflets and flyers are great ways to cross-sell. 
If it's your store, you can just put up some leaflets to give a potential customer more information about your company.
You can also collaborate with other stores or businesses to share your leaflets, spread awareness about your business, and drive your audience to your website.
Retail merchandising
Supermarkets, especially, excel at retail merchandising.
You will usually see giant banners announcing offers or new products within the store. They also have clear signages, helping the shoppers on their customer journey. 
Tips to get started on your digital marketing materials
Before you start creating your marketing materials, you need to consider a few points:
1 – Prioritise the material type
While it is essential that you create all the digital marketing materials mentioned above, you have to decide which one is crucial for your business and get started.
While we would recommend building/optimising your website as a first step, you may decide that social media is a huge traffic driver for your business.
Focus on only 2-3 materials at a time. Otherwise, creating everything together could become overwhelming (and expensive).
2 – Decide on the creator and check the skill level
As we see from above, not all materials are the same. 
A blog post, a video, a product page, and an eBook are very different kinds of material, and the same person may not be able to create all of them.
Depending on the materials you will prioritise, decide whether you plan to create them yourself or outsource them to experts.
If you want to do them yourself, evaluate your skill level and start with courses or online research to help you get started.
3 – Allocate a budget
Unless you are a graphic designer, video producer, and writer all rolled into one, and you can do each job fabulously, you may want to hire professionals to create the different digital materials.
However, as a small business or an entrepreneur, you may not have the budget to do that, and you may want to do everything yourself.
It is, of course, possible to design many elements with DIY design platforms like  Canva  and write your blog posts.
You have to decide on the budget you can spare for your digital material first and go from there. 
4 – Work on your time management
If you are a business owner trying to do everything yourself (and you totally can), one of the biggest challenges is having the time to do so.
You could spend much time, even months, trying to master content writing , working with SEO tools, and creating designs. 
Depending on the material and the skill level, you have to decide if hiring an expert to design your marketing material would be better. At the same time, you spend your time running your business.
Conclusion
The seven types of digital marketing materials mentioned above are not the only digital materials you can create. They are just the most essential.
Depending on your brand story, skill level, budget, and time, you can invest in many more types of digital materials:
eBooks
White papers
Infographics
Podcasts
Case studies
The list keeps growing. 
You have to decide which ones are most relevant for your business and brand and will help drive website traffic , brand engagement, lead generation, or sales.
Which digital marketing materials do you think are the most relevant? Which ones have worked for you so far? Do share in the comments!
Author Bio: Poulomi Basu is a marketing and  branding specialist  who helps small businesses and entrepreneurs develop their brand stories and optimize their websites with SEO techniques and content writing. Her mission is to help and coach small business owners to achieve their business objectives through digital marketing. You can find her sharing tips and thoughts on  LinkedIn ,  Twitter , and  Pinterest .