Best Tablets for Graphic Designers
We all know how hard work can be for graphic designers. 
Fortunately, for them, in the last few years, new technologies have been developed, that makes their job a lot more stress-free, precise, and productive. 
Programs, applications, and gadgets have come to the scene and advanced the world of graphic design . 
One of the gadgets that have come out is graphic design tablets.
Today, when designers take on projects they know that it is going to be more of a challenge, the level of editing has risen, and now clients can demand whatever they set their mind to. 
So when it comes to drawing tablets that don't need a computer, every graphic designer has to have one.
You will see various tablets for graphic designers on our list that we deem the best in today's market.
1.     Microsoft Surface Book 3 Graphic Design Tablet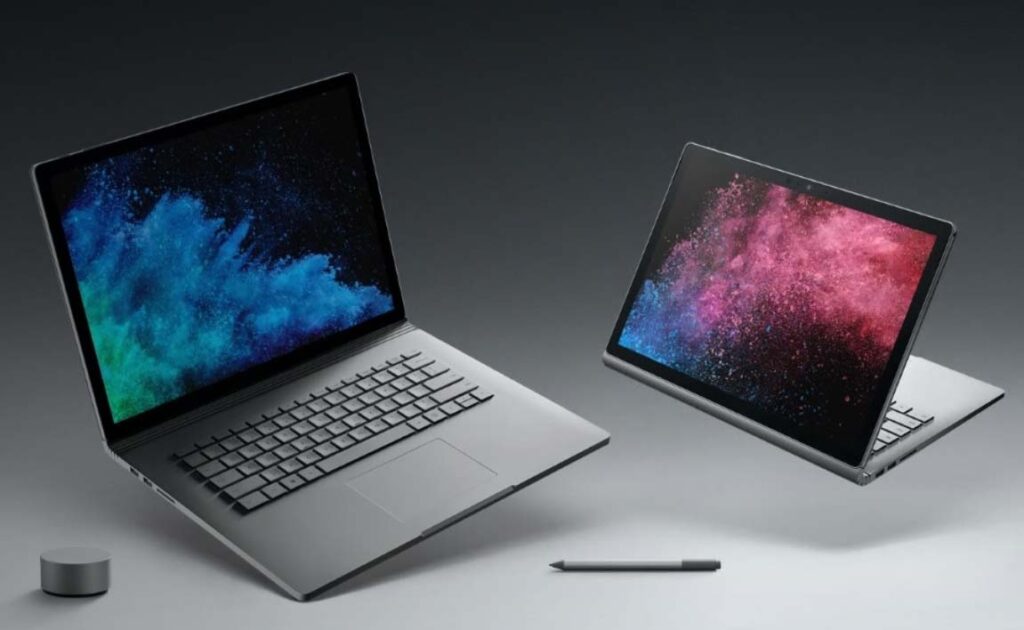 Sale
First, on our list, we have the Microsoft Surface Book 3. 
What can we say it is a pretty versatile device that can be either a tablet or a laptop. 
It can be a fantastic choice for professionals if they want to do multiple tasks at once. 
It has two models that differ from each other by the size of the screen, on is 13'', and the other one is 15''. 
A vast area where you can do all your work, unfortunately though, the stylus doesn't come with the device.
It is a pretty light machine only weighing 1.5kg, which means that you can take it everywhere you go. 
It has a 1.9 GHz Intel core i7 processor, and 16 GB of RAM. The whole design of the device is smooth and sophisticated.
When we say that you can take it anywhere, we mean it. 
With its capacity to go without charging, you won't have to worry about running out of battery. 
It can hold up to 17 hours of continuous work. 
It is a stand out device that has the most prominent display for tablets for graphic designers considerably.
2.     Wacom Cintiq Pro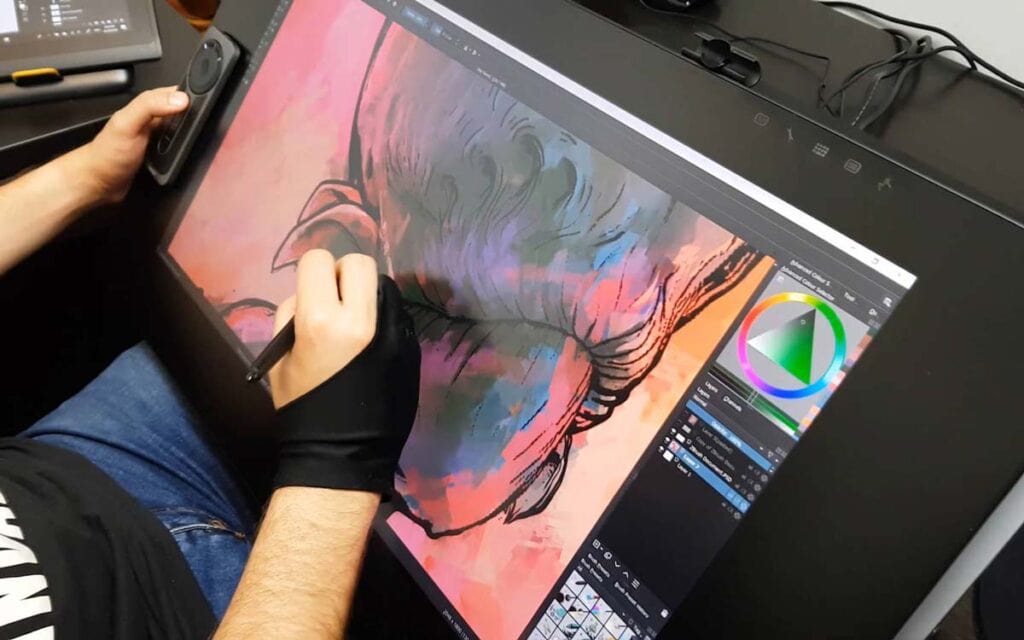 Sale
Wacom Cintiq Pro 24 Creative Pen and Touch Display – 4K graphic drawing monitor with 8192 pen pressure and 99%
Adobe
RGB (DTH2420K0), Black
Stunning 23.6" touchscreen display with 4K resolution so you can see every detail of your creation in pinpoint accuracy
True-to-life color with 99% Adobe RGB & 97% sRGB color performance and 1.07 billion colors (10 bits color)
Includes a Wacom Pro Pen 2 with tilt recognition & 8,192 levels of pressure sensitivity. Optical bonding eliminates parallax, mimicking the precision & feel of pen and paper
Multi-touch gestures, an on-screen keypad, radial menus and the included ExpressKey Remote for one-touch shortcuts
Connect Cintiq Pro 24 to your Mac (OS X 10.11 or later) or PC (Windows 7 or later) with the included cables for USB-C, HDMI or Mini/DisplayPort
Coming in next on the list is the Wacom Cintiq Pro. 
This tablet is the one that most professionals in the field of design have, and for good reasons. 
The 4K screen, the Wacom stylus that comes with the device, it is regarded as one of the best wacom tablets in 2020.
The drawings and illustrations that you will do on this device are going to look much better because of the 23.6 inches touchscreen display that has a massive range of colours. 
The stylus has a little advantage from the rest of its predecessors. 
It has a parallax that no matter which angle you are using the work precision will still be the same. 
It also has about 8192 pressure levels, so you know that sensitivity on this tablet is astonishing.
This tablet also has multi-touch controls, and you can program the buttons on the side to do your preferred shortcuts. 
What is interesting and can also be considered as an advantage is that this device is compatible with both Windows and Mac.
3.     Apple iPad Pro 
The Apple iPad Pro is not so much a tablet that professionals would use, but it can still do the job. 
The newest models that came out are both for graphic design and everyday use. They come in two different sizes, 11'' and 12.9''.
The bad thing about this device is that the Apple Pen doesn't come with the device itself, so you have to purchase it separately. 
Nevertheless, it has a fantastic display and having the stylus just makes working on your graphic design projects an absolute joy. 
It has a decent battery that can go without charging for around 10 hours, enough to get the job done if you are not home.
Like we said earlier, this tablet can be used as a typical tablet for browsing the net, checking social media, watching videos, all while still having your project open in a different tab. 
Two types of models differ from each other by their storage space. One that has 64GB and another one the goes up to 1TB.
4.       Microsoft Surface Go tablets for graphic designers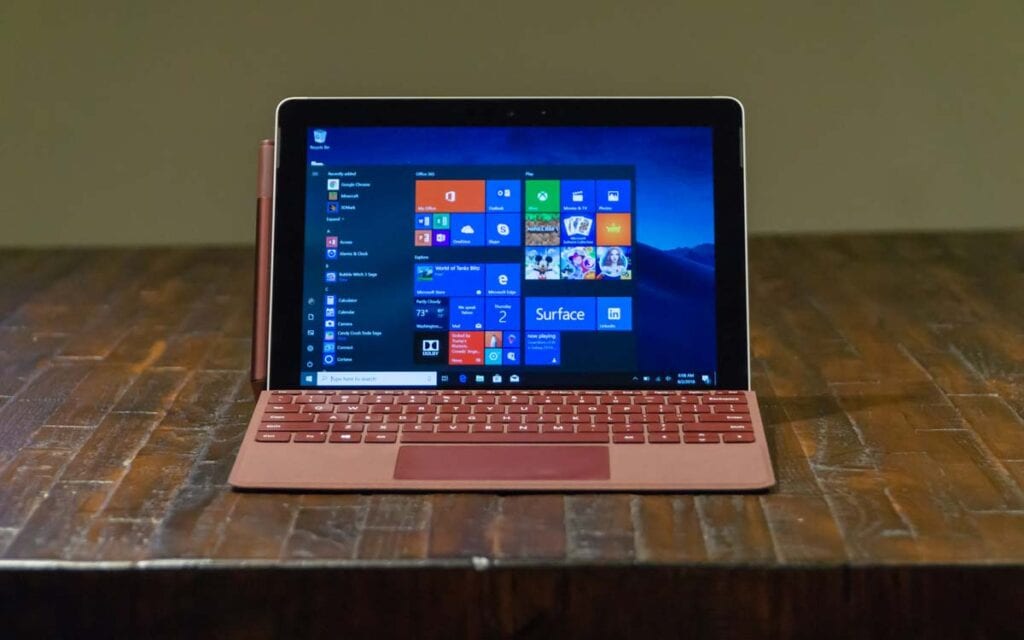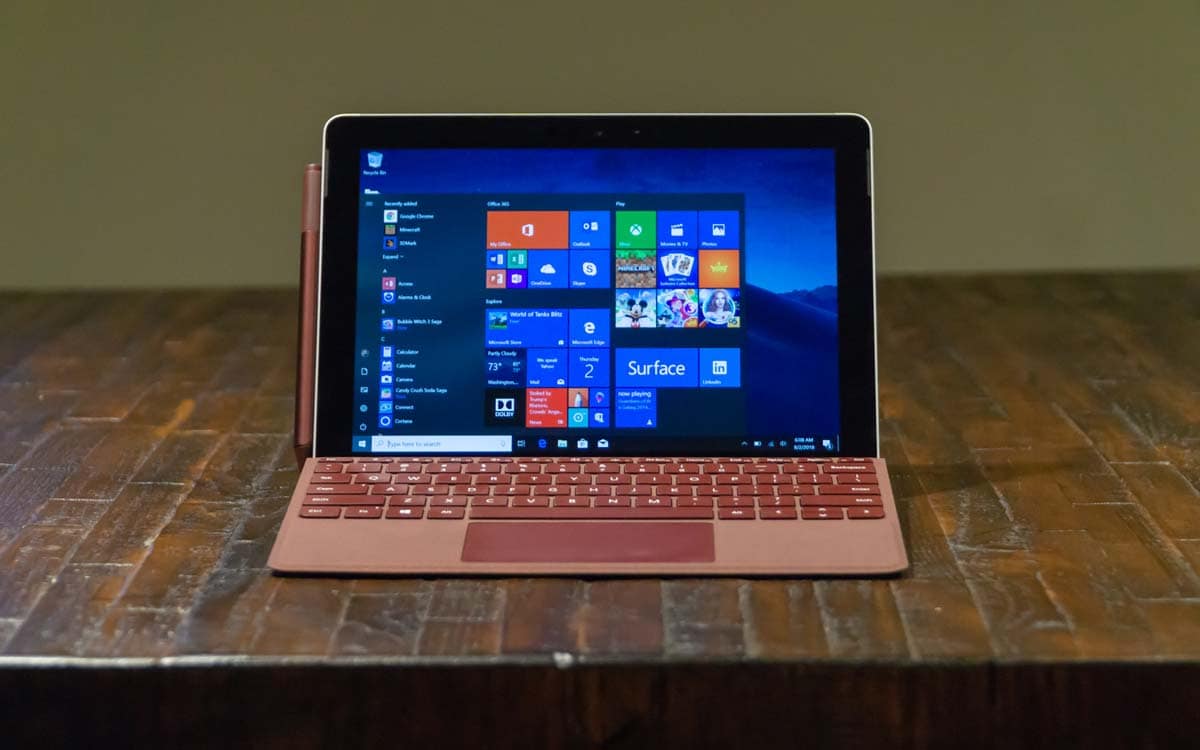 Sale
Microsoft Surface Go (Intel Pentium Gold, 8GB RAM, 128GB) (MCZ-00001)
High res 10 inch PixelSense: Display designed to be viewed, touched, and written on
Lightest surface yet, starting at 1.15 pounds. Touch: 10 point multi touch
All day battery life, with upto 9 hours of unplugged power. Ambient light sensor
Runs Windows 10 Home in S Mode, streamlined for security and superior performance
Includes multi tasking USB C, fast charging surface connect, and headphone jack. Use it in Laptop, Tablet or Studio Mode
Our second entry from Microsoft comes in the form of the Surface Go. 
Unlike the previous Surface model, this one has a little bit smaller screen coming in at 10''. 
But like the previous one on the list, this also can be used as a tablet and a laptop . 
It usually has a Windows operating system, and it has an Intel Pentium Gold 16GHz processor.
It is a unique tablet because of its PixelSense tech. To put it more simply, you can use hand movements to navigate the content in front of you. 
The sad thing is that the stylus doesn't come with the device. 
The main thing is to draw, but you are going to have to pay a little extra if you want to do that.
It is twice as light as the Surface Book 2, coming in at 558grams. Because it is super light, you can carry it anywhere and do your work at any place. 
It helps that the battery can last about 9 hours, quite enough so you can finish what you start if you are not at home. 
You can get a device with two different storage capacities, one with 64GB and another with 128GB.
5.       Samsung Galaxy Tab Graphic Design Tablet s
Sale
Samsung Galaxy Tab A 10.1 128 GB Wifi Tablet Black (2019)
Minimal bezel. Maximum view. Watch, stream and browse on a 10.1 inches Full HD corner to corner Display. The lightweight premium metal design goes anywhere you go
Big sound for big entertainment. The perfect complement to a wide, immersive picture, Dolby Atmos Surround sound fills the room with cinematic clarity.
Binge worthy Battery. Browse, watch Or shop for up to ten hours on a full charge
Room for everything. Never delete songs, photos or videos, thanks to ample built in memory. Plus expand your storage up to 512GB anytime With a Micro SD card
Last but not least, the final device on our list for the best tablets for graphic designers is the Samsung Galaxy Tab. 
Like the iPad Pro, this device can be used by professionals, but it can also be used for everyday tasks. 
You can perform various tasks at one in on this device because the 10.5'' screen and the 1.8GHz processor allows for a smooth operating machine. 
Because it is a Samsung device, obviously it has an Android operating system.
Coming in at 531grams, you can take the device with you anywhere and do you work wherever you like. 
Plus, 15-hour battery life will ensure that charging won't be on your mind when you are out and about. 
When you do get home, the fast-charging option comes in super handy, going from 0 to 100% in just 3 hours.
You can also check social media, watch videos, and other things while your projects are still running in the background. 
The downside to this device like a couple of other devices on this list is that the Samsung Pen doesn't come with the device, so you have to pay a little extra for it.
How to choose the best tablet for graphic design?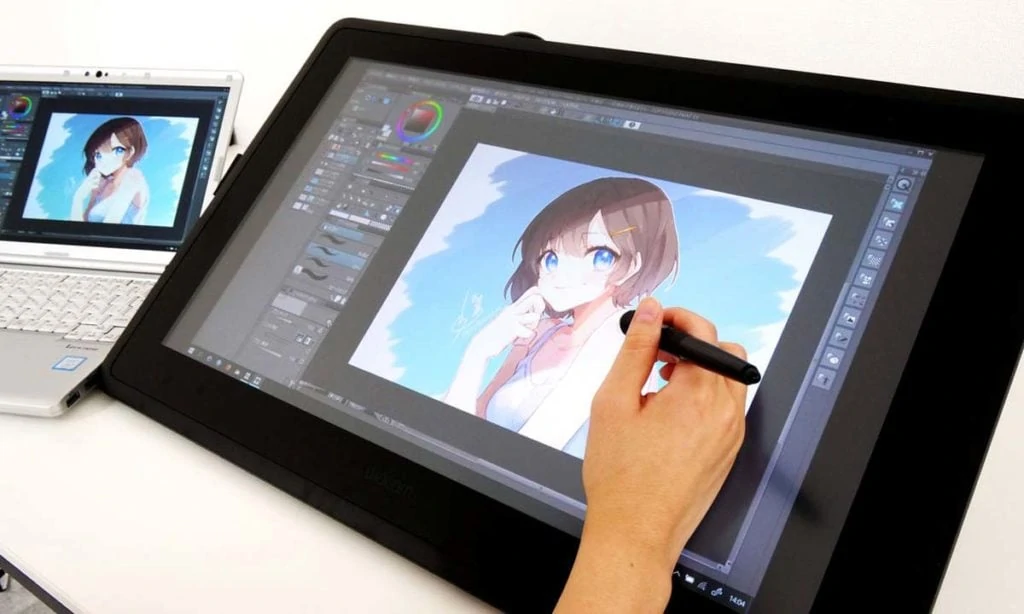 Still today, many graphic designers are sceptical about the new technology that is coming out. 
The only thing we can say is that until you don't try it out, you wouldn't know. 
So many people have said that one you get hooked on them there is no other device that you want to do your work on. 
We step in to help you choose the best tablets for graphic designers for you because you can get lost in all the new brands, features, sizes, etc.
Multiple features should be considered essential and necessary for every drawing tablet to have to be regarded as a device that professional graphic designers can use. 
Such features are active area, stylus, pressure sensitivity, and hotkeys.
Active area
Many people think to get the biggest one on the market, and you won't have any problems. 
To some true extent, but it all depends on what you are working on. 
If you are a designer that has to draw large-scale content that goes for the most significant display, but for other projects getting an active area a little bigger than 12×12 is quite enough.
Stylus
There are two types of styluses in today's market, the ones that use batteries and the ones that don't. 
The only significant difference between these two types is the weight. Typically, the ones that have batteries will weight a bit more than the ones that don't.
Pressure sensitivity
The perfect amount of pressure sensitivity gives you more mobility when working on your projects. 
You gain more control as you up the sensitivity. 
It is said that pressure level sensitivity can't be lower than 1024 because then that device can't be considered as a graphic design tablet.
Hot Keys
Hotkeys or better known as shortcut keys are a little feature that will always come in handy to any graphic designer. 
These buttons can be programmed to access any app on the tablet and perform any command. 
These keys are easily customisable, and graphic designers use them to save time and effort while working on their project. 
Before, very little devices had this feature, but today they are considered as a necessary thing that no graphic designer can do without. 
Every new model that comes out has more and more of these hotkeys, and recently the physical buttons have been replaced with touch buttons.
What do you consider as the best tablets for graphic designers this year? Let us know in the comments below!
Last update on 2022-09-20 / Affiliate links / Images from Amazon Product Advertising API